Is Couscous Gluten Free? – Our Guide
Preparing couscous is a quick and easy meal for a side or summer salad, similar to pasta and rice, but when following a gluten-free diet, you need to be careful about consuming couscous. 
Couscous is in fact made from semolina or durum wheat which means it contains gluten and therefore should be avoided if you follow a gluten free diet.
We've gone into further detail below about what couscous is made from, gluten free alternatives, how to make gluten free couscous at home and a few recipes for using gluten free couscous for some cooking inspiration. 
What Is Couscous Made From?
Since couscous can have a similar appearance to rice and pasta, it can be surprising to learn that this food is not gluten free. As we mentioned above, couscous is a gluten-containing food because it's derived from grains of durum wheat which is one of the three main proteins that contain gluten. 
The couscous is moistened from the wheat to make small balls of pasta like texture from the durum wheat semolina flour grain. 
Are There Gluten-Freef Alternatives To Couscous?
Unfortunately, there are not many alternatives to traditional couscous, with most being made from semolina or durum wheat, you might be able to find that some supermarkets stock gluten free couscous or find couscous made from cassava, corn or egg whites.
The best way to find a gluten free alternative to couscous is just by using a similar carb alternative. 
We've listed some great options below which have a similar texture. 
Brown rice – Short grain brown rice could be a great alternative as a gluten-free couscous option and is also very good for you if you suffer from celiac disease.  Learn more here Is Rice Vegan.
Millet – Millet has the texture of cereal like sorghum and is perfect for making gluten-free food like couscous, especially for options like salad or stir-fries.
Cauliflower rice – Cauliflower rice is neutral tasting like couscous and also has a small-sized shape and texture, you can now find this rice easily on the frozen sections for a quick and easy meal.
Sorghum – Sorghum is one of the best gluten-free grains for meals like salad thanks to its nutty flavours, it is slightly larger than couscous, however.
Quinoa – Quinoa is a go-to alternative to couscous when it comes to shape and size, the only difference is its slightly crunchier texture.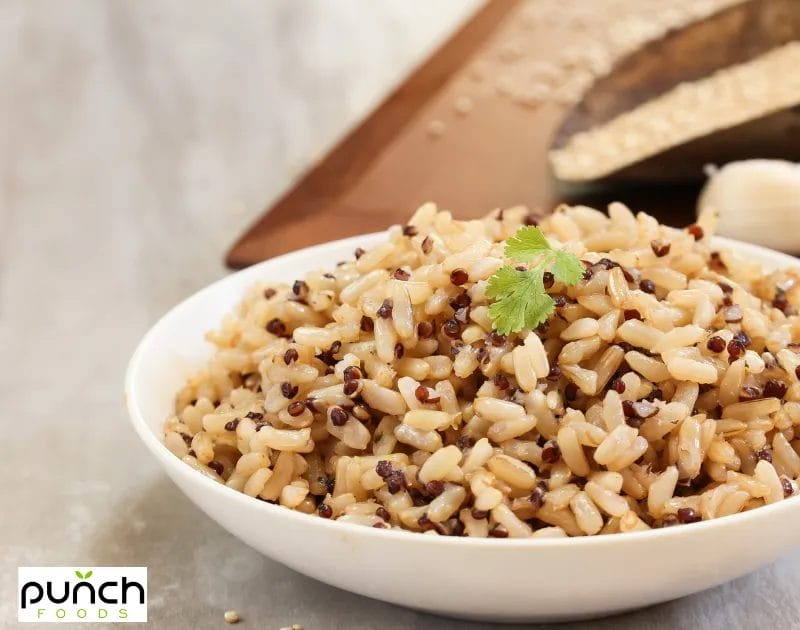 We made a list of The Top 10 Gluten-free Cereals that may help you find an good alternative for couscous.
How To Make Gluten Free Couscous At Home
One of the easiest ways to make sure your couscous is gluten free is by simply making your own at home with cornmeal. 
We've listed the ingredients and method down below. 
Ingredients 
One cup of cornmeal is made for polenta. 
A teaspoon of salt. 
1.5 cups of water.
Two tablespoons of oil.
Method
Pour your cornmeal into a pot then add in the salt and oil, and stir to make sure it's all covered. Add in the water and bring the cornmeal to a boil then move to a low heat which will allow the corn to steam. 
Steam for about 15 minutes until the corn feels dry on top then allow it to cool down for about 40 minutes. 
Move your boiled cornmeal to a bowl, take a fork and break it up, if you have a processor, you can pulse it a few times to help break it up even further. 
Gluten Free Couscous Recipe Ideas
If you've managed to find some gluten free couscous or you are using an alternative gluten-free brand, we've got some excellent recipe ideas for you to check out below for some healthy, gluten-free diet meals.
Gluten-Free Couscous Salad 
Ingredients 
60g of chickpeas. 
150g of gluten free couscous. 
200g of cucumber. 
Two tomatoes. 
50g of black olives and feta cheese. 
One red pepper. 
Pinch of paprika.
Methods
Drain and rinse your chickpeas then preheat your oven to around gas mark 4 then place your chickpeas on a baking tray and sprinkle on your paprika and seasoning, bake for about half an hour. 
Make up the gluten free couscous and while it's being prepared, cut up your cucumber, tomatoes and red pepper finely. Add the veggies to your couscous and your olives, then top with your crispy chickpeas and feta. 
To make a quick dressing, combine olive oil, white wine vinegar, lemon juice and some seasoning. Drizzle on top and serve!
Gluten-Free Lentil & Couscous Mix 
Ingredients 
Two cups of quinoa or gluten-free couscous. 
Two celery stalks. 
One onion diced. 
Three roasted peppers chopped. 
Half a cup of artichoke hearts. 
Three cups of greens. 
Two cups of green lentils cooked.
Dressing
One garlic clove diced. 
Two tablespoons of balsamic vinegar. 
1/4 cup of olive oil. 
Tablespoon of mustard.
Method
Start by mixing all of your dressing ingredients then set it aside for later. 
Now add all of your salad ingredients into one large bowl and toss it with half of the dressing, add the rest as you desire. 
Frequently Asked Questions About Gluten & Couscous
What are some gluten-free couscous products? 
Finding gluten-free instant couscous isn't easy at supermarkets, some trusted brands to name are; Wholesome kitchen, Clearspring organic, Goldbaums, Tesco, Viva Mais.
We would always recommend double-checking their gluten-free version has no cross contamination.
Is bulgur wheat gluten free? 
Bulgar is a cereal made from wheat gluten so is unfortunately not gluten free, a good substitute could be shelled hemp seeds.
What can I eat gluten free couscous with? 
Couscous is a very versatile food, it pairs well with your favourite vegetables roasted to make a salad, fresh fruits like strawberries or protein sources like chicken.
Can people with celiac disease eat quinoa? 
Quinoa is regarded as gluten free and okay for people with celiac disease to eat, however, it can contain similar protein gluten which might spark an allergic reaction in some people depending on their immune system.
What are some gluten-free options instead of couscous?
Some gluten free alternatives to couscous for people with celiac disease and gluten intolerance are; short rice, quinoa, millet, cauliflower rice and sorghum.
Final Words 
Overall, couscous is unfortunately not gluten free since it comes from semolina and durum wheat which contain gluten. You can find gluten free couscous in some supermarkets but it is very rare. 
To still enjoy a similar food to couscous we would suggest making your own with cornmeal or using a similar alternative such as quinoa or cauliflower rice which have a similar shape and texture to couscous.
Did you know that sometimes sweet potatoes are considered Couscous gluten-free? Find out in this article to know more: Are Sweet Potatoes Gluten Free
Hey'all I'm Amy, a born foodie and diagnosed with celiac disease 7 years ago. I refused to cave into tasteless, boring gulten free food and create my own!
On my blog you'll find info & cool facts along with recipes, all on gluten free foods!