Does Caramel Contain Gluten? – Our Guide!
If you're looking to make a caramel dessert or maybe add this sweet treat to your baked goods, you might be wondering if the caramel is gluten free? 
Caramel is gluten free since its ingredients are just water, sugar, vanilla, salt and milk, however, some pre-packaged sauces or baked goods still might contain gluten so you do need to be careful.
In our guide below, we will discuss if caramel is good for you, how to make gluten free caramels, as well as some other sweet treats which contain gluten and are gluten free. 
Is Caramel Good For You?
Caramel is very high in brown sugar and therefore should be eaten in moderation if you're a candy person, this can also be bad for your dental health if you are eating a slab of caramel. 
However, in moderation caramel is actually great gluten free sweet choice to have and does provide a good source of sodium when using quality sea salt in the recipe and even has anti-oxidants. 
How To Make Gluten Free Caramel Treats 
As we mentioned above, caramel is simply a mixture of sugar and some milk, but pre-packaged sweets might contain gluten due to other added ingredients. 
The safest way to make sure that your favourite candy does not contain gluten is by making your own at home with our recipe below.
Ingredients 
Two cups of sugar. 
Teaspoon of vanilla extract. 
Pinch of sea salt. 
Cup of unsalted butter.
Two cups of heavy cream for whipping. 
One cup of evaporated milk. 
Cup of brown sugar. 
3/4 cup of corn syrup. 
Method 
Start by calibrating your thermometer by putting the candy thermometer in a pot of boiling water for ten minutes, make sure that the heat setting reads around 212 degrees. 
Line your pan with some baking parchment then take a large pot and combine the cups of sugar, caramel butter, sea salt, corn syrup and evaporated milk plus whipping cream. 
Keep the mix cooking on medium heat then take a rubber spatula to keep stirring the mixture, remove the mix when the candy thermometer reads 248 degrees, and stir in the vanilla extract. 
Pour the caramel into your baking pan, wait another ten minutes then sprinkle your sea salt on top and allow the caramel to set inside of the pan. 
Lift the caramel out by using the parchment paper then slice it into rectangles using the sharp pizza cutter. 
Now the question we have is Is Caramel Vegan? Find out here.
Common Candy Containing Gluten 
If you are a lover of candy, you might be surprised to learn that a large amount of candy does contain gluten, look for the following ingredients below to see if your candy contains gluten. 
Wheat. 
Barley. 
Spelt. 
Rye. 
Farina. 
Malt vinegar. 
Kamut. 
Triticale.
We've listed some common kinds of candy which often contain gluten down below. 
Hersheys – 5th Avenue bars, Take 5 bars, Whoppers.
Mars – Pretzel M&Ms, Crispy M&Ms, Certain holiday M&Ms, Original Milky Way bars, Dove Milk Chocolate Cinnamon Graham and Cookies and Cream, Mars bars. 
Nestle – Crunch, Kit Kat, 100 Grand Bars, Nerds, Wonka Bars, Wonka Gummies, Kazoozles, Everlasting Gobstoppers. 
Jelly mix – Chocolate Malt Balls, Bridge Mix, Black Licorice Buttons, Licorice Pastels. 
Common Gluten Free Candy 
Although some candy does contain gluten, the good news is a lot of candy is gluten free too for a sweet treat, we've listed some popular types of candy down below which are gluten free! 
Hersheys – Heath Bars (all), Kisses (only some varieties), Milk Chocolate Bar (some sizes), Milk Chocolate Bar with Almonds (some sizes), Milk Duds (all), Nuggets, Reese's Fast Break bar, Reese's Nutrageous bar (standard and king size), Reese's Peanut Butter Cups (all except for seasonal shaped items), Reese's Pieces (all except for Reese's Pieces Eggs).
Jelly Belly – Chocolate Bridge Mix, Chocolate Deluxe Mix, Chocolate Malt Balls, Licorice Bridge Mix, Licorice Pastels. 
Cadbury – Caramel Egg, Caramel Nibbles, Chomp, Creme Egg, Crunchie, Curly Squirlies, Curly Wurly, Darkmilk, Eclairs, Eclairs Velvets, Flake.
Mars Wrigley – Ballisto, Big Red, Doug, Eclipse, Ethel M Chocolates, Galaxy.
Smarties – Original Smarties, Smarties Candy Money, Smarties In a Pouch, Smarties Lollies, Smarties Mega Lollies, Smarties Mega Tropical Lollies, Smarties Theater Box.
Tootsie roll – Charleston Chew, Charms, Child's Play, Cry Baby, DOTS, Dubble Bubble, Fluffy Stuff. 
Others – Chewits, Skittles, Love hearts, Starburst, Flying saucers, Haribo gold bears, Millions, Barrett milk bottles.
Frequently Asked Questions About Caramel & Gluten
Is caramel dairy free? 
No, a lot of caramel contains whipping cream, milk and butter which all contain dairy, this doesn't mean you can't make caramel dairy free, however. You can find out more here Does Caramel Have Dairy
Which gluten is found in sweets? 
Any ingredients such as wheat, barley and rye can all be in candy which makes them not gluten free.
How do you know if candy is gluten free? 
The best way to determine if candy is gluten free is by double checking the ingredients label for any gluten containing ingredients, always check the allergens too which will be in bold.
Is caramel color gluten free? 
Yes, most caramel color is gluten free, but always check the ingredients label to be on the safe side.
Does sugar contain gluten?
No sugar is gluten free and is safe to eat on a gluten free diet. 
You can find out more here Is Confectioners Sugar Gluten-Free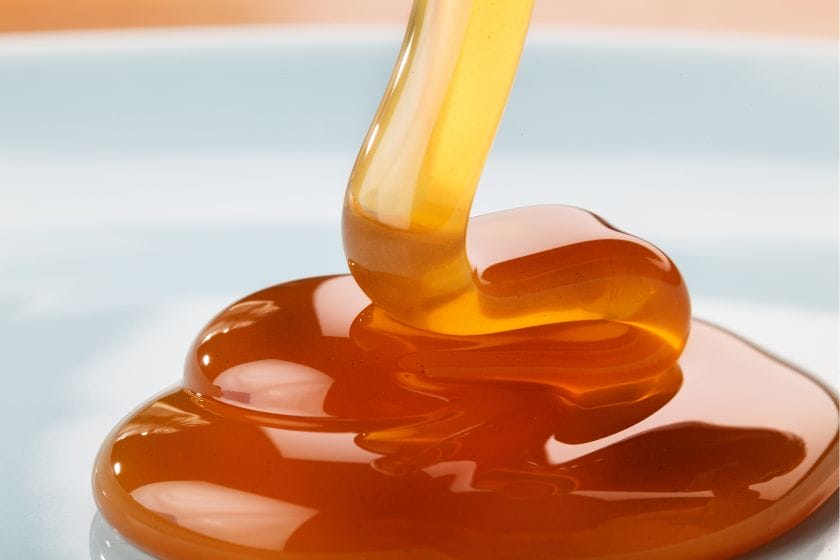 Last Words
Overall, caramel is gluten free due to the main ingredients being sugar, milk and water, however, you always double-check the ingredients label when buying store-bought caramel options since these can sometimes contain gluten. 
Most sweets and candy are gluten free, but to be on the safe side you can always make your caramel at home with our easy recipe above!
Hey'all I'm Amy, a born foodie and diagnosed with celiac disease 7 years ago. I refused to cave into tasteless, boring gulten free food and create my own!
On my blog you'll find info & cool facts along with recipes, all on gluten free foods!