Cheesecake Factory Vegan Options 2022
Finding delicious, vegan-friendly options at a restaurant can be tricky, but not anymore with the Cheesecake Factory. With their robust menu, they have something for everyone, including vegans. Despite the fact that this factory is best known for its creamy, dairy-filled desserts, there are still several vegan options to be found here.
For 2022 and beyond, look out for some of these favorited vegan options: Guacamole & Chips, Little House Salad, Korean Fried Cauliflower, Impossible Burger, Veggie Burger, Evelyn's favorite pasta, French Fries; Avocado Toast, Edamame, California Guacamole Salad, Vegan Cobb Salad, Pasta Pomodoro, and more.
Customers who don't eat meat or dairy products will be happy and satisfied with these dishes. Plus with such a wide range of offerings, you may never get bored with their nutritious yet mouth-watering vegan eats.
Avocado Toast
Cheesecake Factory's Avocado Toast is a favorite among vegans and non-vegans alike. This dish is made with thick artisanal bread, topped with heaping amounts of fresh avocado, and garnished with radish, arugula, virgin olive oil, marinated tomatoes, lemon, and red onion.
The rich and creamy avocado balances perfectly with the acidic tart flavor of the garnishes and adds an even crunchier texture to the already crusty artisanal toast.
The avocado toast from Cheesecake Factory has become so popular because it takes the traditional smashed avocados on bread to a whole new level.
Impossible Burger
The Impossible Burger is quickly becoming a fan favorite at The Cheesecake Factory. As one of the only vegan options on their menu, it has become incredibly popular among vegetarians and vegans alike. The Impossible Burger closely mimics the taste and texture of meat, with nearly the same protein and fat content.
At Cheesecake Factory, you can enjoy the Impossible Burger served on a vegan brioche bun with lettuce, non-animal product based 1000 Island dressing, onion, pickles, and tomato.
This burger option will make even the staunchest meat lover change their views causing them to realize how delicious vegan food can be!
Vegan Cobb Salad
The Vegan Cobb Salad from The Cheesecake Factory is an entirely different take on the classic dish. Instead of trying to imitate animal products, they've created a vegan version that's bursting with flavor and nutrition.
It starts with a bed of mixed lettuces, topped with a colorful selection of raw and cooked vegetables such as carrots, bell peppers, tomatoes, cucumbers, and radishes
It is then supplemented with seeds, grains, and nuts for added texture and flavor. To finish it off, they drizzle it in their signature tangy balsamic vinaigrette.
Pasta Pomodoro
Pasta Pomodoro is the newest vegan item on the menu at Cheesecake Factory. This traditional Italian pasta dish is made from scratch using cherry tomatoes imported from Italy, fresh basil, fresh spaghetti, and house-made marinara sauce.
All of these individual ingredients come together to create an amazingly flavorful dish. The whole cherry tomatoes add a juicy bite that pairs perfectly with the wilted basil throughout the mix. With Cheesecake Factory's generous portions, you can also take some home for some delicious leftovers!
Guacamole & Chips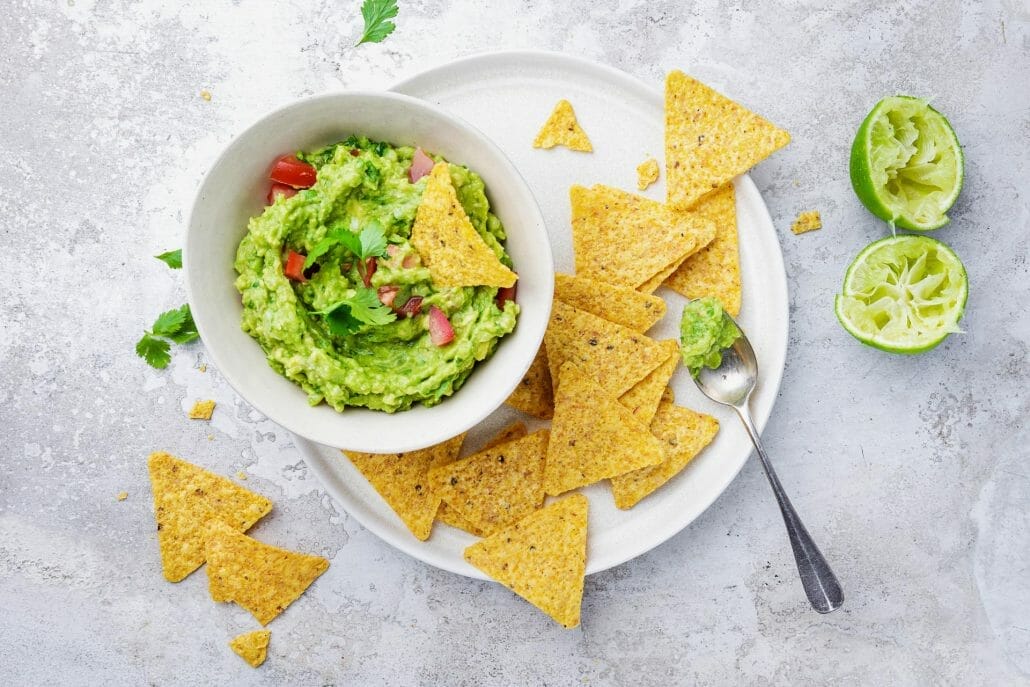 If you're looking for an appetizer that's delicious, vegan, and easy to make, the guacamole and chips from The Cheesecake Factory are the way to go. This delectable start to any meal is naturally vegan and easy to modify – all it takes is tomatoes, lime juice, garlic, avocados, and onions.
To make The Cheesecake Factory's guacamole more genuine, they add fresh chiles and cilantro, as well as a helping of sour cream and fresh tomato salsa. If you'd like it vegan, just ask for extra salsa.
Thanks to The Cheesecake Factory's masterful preparation of guacamole & chips, you can enjoy an authentic Mexican-inspired snack or appetizer knowing you're indulging in a vegan treat. And with no added ingredients making the meal non-vegan friendly, it's a win-win situation.
Evelyn's Favorite Pasta
Evelyn's Favorite Pasta is the perfect meal for vegan lovers who dine at The Cheesecake Factory. This mouthwatering dish consists of spaghetti loaded with onions, garlic dip, peppers, broccoli, eggplant, zucchini, tomato, kalamata olives, and loads of freshly chopped herbs. It has a hint of spring in every single bite.
For vegans who are concerned about their food not having enough flavor to satisfy their palate, you can request that the parmesan vegan cheese grated over the top be replaced by some red pepper flakes for an extra kick of spice.
The kalamata olives give off an umami flavor that will leave you wanting more of this vegan delight. Plus, the veggies and spaghetti are cooked to perfection- still al dente yet soft enough to devour!
French Fries
If you are searching for a vegan option at the Cheesecake Factory, then look no further than French fries! This universally loved side dish is vegan and incredibly delicious.
At The Cheesecake Factory, you can find delicious fries both russet and sweet potatoes which are fried to the right level of crispiness and warmth – an outer layer that crunch as you bite and pillowy innards.
You can get French fries as a side dish to make your veggie burger even more delicious, or as a vegan appetizer to share with friends. But let's face it: no one would judge you if you had a heaping plate of French fries as your main course either!
Greek Salad
The Greek Salad at The Cheesecake Factory is a great vegan option if you want something light and healthy. This Americanized version of the classic Greek salad consists of red onions, tomatoes, cucumbers, addictive vinaigrette, kalamata olives, skinny mustard vinaigrette, lemon vinaigrette, and drizzled in an herby. However, unlike the authentic Greek salad which has no lettuce, this one does contain greens.
If you are feeling adventurous (or just really hungry!), you could even order the appetizer salad accompanied by a healthy plate of French fries as well – after all, one healthy and one fried dish kind of cancel each other out.
Little House Salad
The Little House Salad from the Cheesecake Factory is a great vegan starter option! It's a simple green salad that consists of mixed greens, sliced tomatoes, and julienned carrots. The perfect way to get your appetite ready for the main meal.
People interested in vegan dressings should be aware that not all of the Cheesecake Factory's colorful salad dressings are vegan. But they do have a handful of vegan salad dressings that you can choose from including balsamic vinaigrette, mustard vinaigrette, lemon vinaigrette, French mustard, light vinaigrette, Chinese plum vinaigrette, shallot vinaigrette, Thai Vinaigrette.
Veggie Burger
Vegans who don't want a meat-like Impossible Burger should try the veggie burger at the Cheesecake Factory, which is delicious. The patty is made with mushrooms, brown rice, onions, and black beans, so it has a meaty and hearty flavor.
The mushrooms and black beans add a heartiness that makes the chewy, flavorful whole grains even more delicious.
Edamame
Edamame is an incredibly popular bar snack that can be found at Japanese sushi restaurants all around the world. The soybeans are served both hot and cold, in their pods with a light dusting of sea salt. They provide a great alternative to peanuts and other similar snacks, as they are far healthier and pack in more protein than most.
The Cheesecake Factory offers edamame steamed and served in their pods in traditional Japanese style, providing a great accompaniment to your meal while giving you the lean proteins that vegans especially require.
Vegans can get around 20g of protein from just one cup of edamame, making it a great source of this essential nutrient.
California Guacamole Salad
If you're looking for a vegan-friendly option at The Cheesecake Factory, the California Guacamole Salad is a great choice.
This vegetarian taco salad offers a large portion of homemade guacamole, on top of fresh greens, with corn, tomatoes, onion, black beans, cilantro, radishes, and crunchy tortilla chips.
For a vegan-friendly food salad, take out the feta cheese and request lemon or shallot vinaigrette instead of avocado dressing, which contains cream.
Korean Fried Cauliflower
Korean Fried Cauliflower is a vegan alternative to fried chicken wings and classic Korean glazed. It is made at Cheesecake Factory by dry coating the cauliflower in baking powder, rice flour, and seasonings.
They dip the pre-prepared tempura into a house-made chili sauce until it's completely covered, drop the food item into a frier to get the perfect temperature, and then add some diced green onions and sesame seeds as garnish.
Hey'all I'm Amy, a born foodie and diagnosed with celiac disease 7 years ago. I refused to cave into tasteless, boring gulten free food and create my own!
On my blog you'll find info & cool facts along with recipes, all on gluten free foods!