Do Croissants Have Eggs?
If your craving some croissants for a Sunday brunch, or maybe you feel like popping to the shops to stock up on some croissants, you might want to reconsider if your following a vegan diet.
Croissants are typically not made to be vegan, this is due to main ingredients such as butter, milk and egg, we therefore recommend only buying specially made vegan croissants.
In our small guide below, we will discuss in more detail what ingredients make croissants non-vegan, if croissants are healthy, brands of vegan croissants and an easy recipe for making your own vegan croissants at home.
What Ingredients Make Croissants Non-Vegan?
Now we know that croissants should typically be avoided on a vegan diet, let's go into more detail about which particular ingredients make croissants non-vegan friendly.
Croissants are made from flour, salt, butter, milk, eggs, yeast and sugar.
Butter – Butter is key to making croissants with, and comes from milk, making them 100% not vegan.
Eggs and milk – Eggs and milk are both derived from animals and therefore not vegan friendly.
Flour and sugar – Sugar and flour are mostly made vegan nowadays but not all are 100% free from animal derivatives.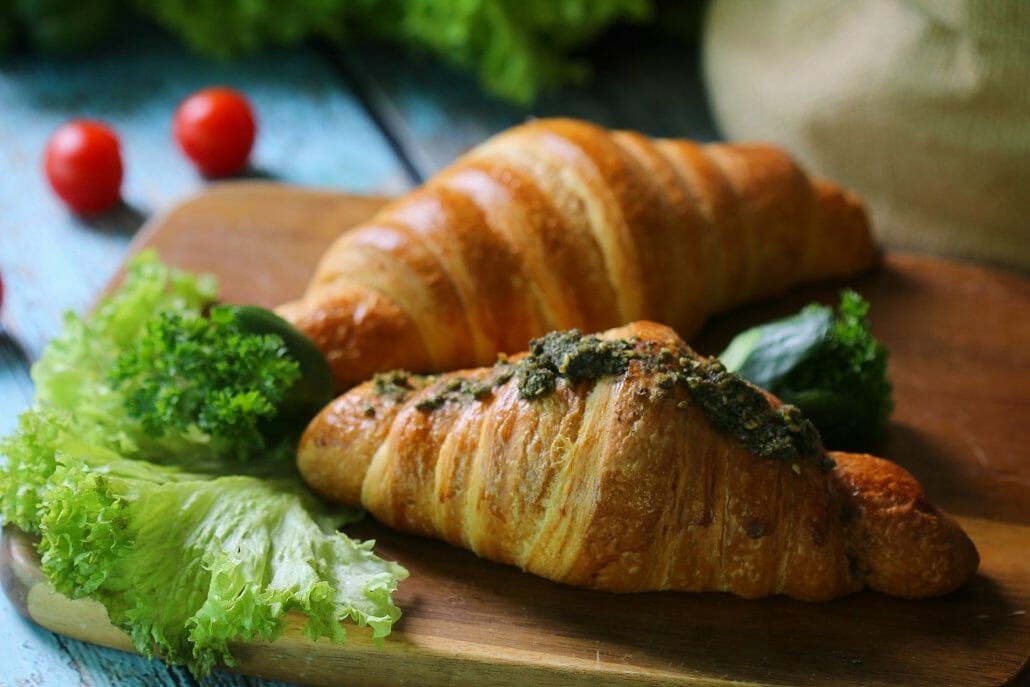 Are Croissants Healthy?
Apart from not being vegan, you might be curious as to if croissants are healthy too?
Croissants are essentially simple carbs mixed with butter, which is high in saturated fat and therefore not healthy, we would only suggest having these flaky pastries in moderation to avoid consuming too much fat in your diet.
Brands Of Vegan Croissants
Although the majority of coffee shop and store bought croissants are not vegan, that doesn't mean you can't find any vegan options with some hunting!
We've listed some great brands of vegan croissants to check out below.
Pret very berry croissants – Replaces dairy butter with shea butter and uses sunflower oil.
Go vegan whole wheat croissants – Made with a sourdough starter and vegan margarine.
La Boulangere vegan croissants – Shea fat and sunflower oil to get that flaky texture!
Caffe Nero raspberry croissants – Made with plant based oils and raspberry jam, what more could you want?
Deli France croissants – Spelt flour, quinoa seeds, full of goodness.
How To Make Your Own Vegan Croissants
If you want to avoid the risk of eating non-vegan friendly croissants but love them as a weekend tradition, you can easily make your own vegan croissants at home with a few ingredients.
We've listed a simple how to recipe below.
Ingredients
Four cups of all purpose flour.
One tablespoon of salt.
Three tablespoons of sugar.
One pack of dry yeast.
300ml of water.
Two spoons of oat cream.
250g of margarine.
Method
Begin by making the dough by mixing the flour, sugar, salt yeast and water then knead and allow it to rest in the fridge for 30 minutes.
Next slice up the margarine on baking paper then roll up and and roll out to make a perfect flat square.
Take the dough out the fridge and form into a rectangle, roll out the place the margarine on one side and close it with the dough on the otherside.
Now roll it out again then fold the bottom of the dough ¾ of the way up and the top a quarter of the way until it meets, making a long rectangle.
Let it rest in the fridge for an hour, unpack then fold the bottom 1/3 of the way up and the top over to make a square, cut into ten triangles then place on a baking tray.
Brush them with some soy milk, let them rise for an hour then bake for 15 minutes at 200 degrees.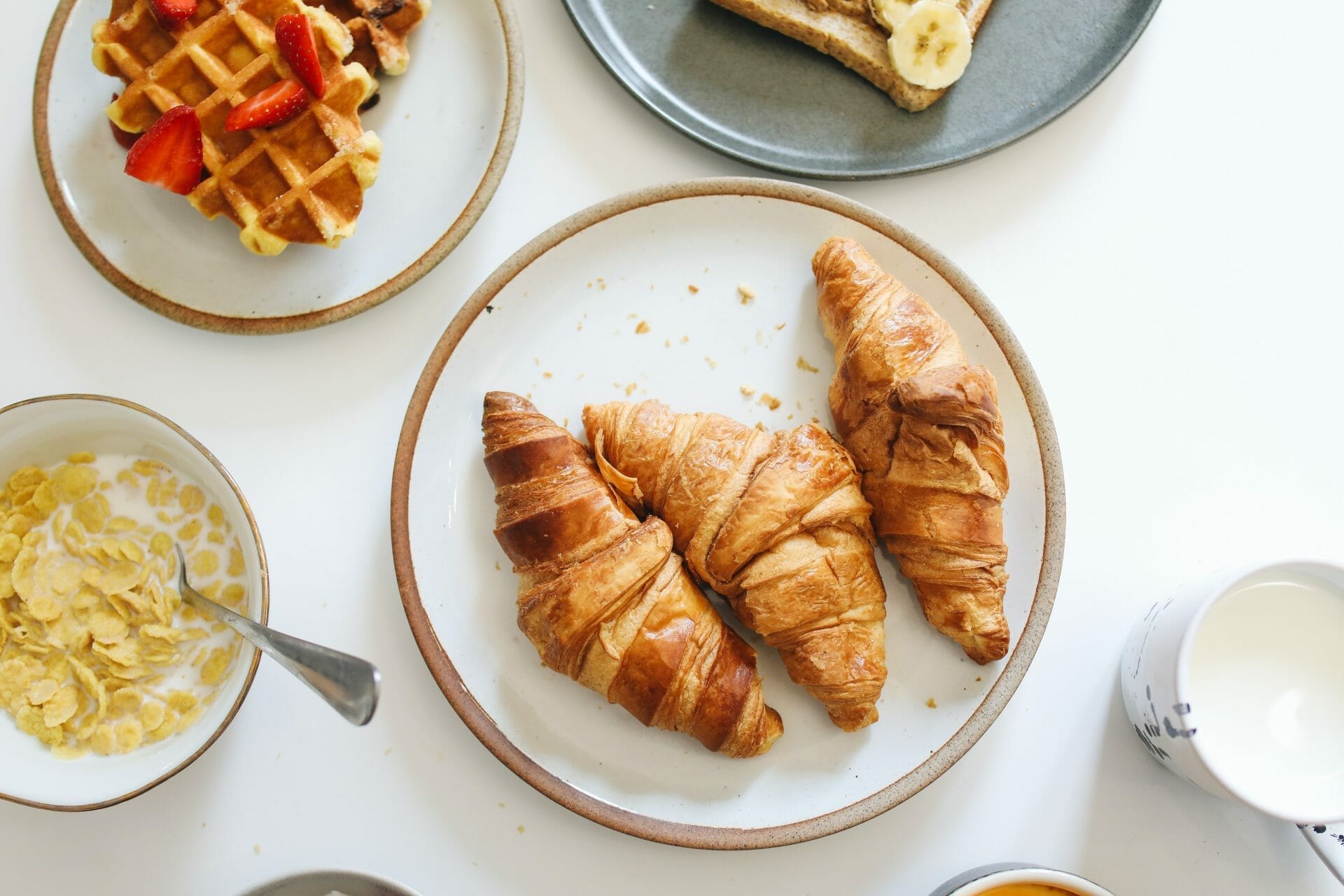 FAQs About Vegan Croissants
Is margarine vegan?
Margarine is vegan and contains no animal products since it is made from vegetable fat, making it a great substitute for butter.
How many calories do croissants have?
A small croissant can have anything between 150-180 calories due to the saturated fat content.
Can vegans eat pastry?
Most pastry contains butter so vegans should be cautious, however, most can be made vegan by using margarine.
Are croissants gluten free?
Most croissants are made using a wheat based flour making them not gluten free.
Last Words
Overall, croissants are not vegan since they are made from butter, milk, sugar and flour and eggs. This being said, there are some vegan croissant options which are made from margarine instead of butter and vegan milk.
Always double check croissants ingredients before consuming as a vegan and stick to a well known vegan brand when shopping.
Hey'all I'm Amy, a born foodie and diagnosed with celiac disease 7 years ago. I refused to cave into tasteless, boring gulten free food and create my own!
On my blog you'll find info & cool facts along with recipes, all on gluten free foods!