Are Croutons Vegan?
Are croutons vegan? In most cases, the answer is yes! Making your vegan croutons is an easy way to use up stale bread and add extra texture and flavor to your favorite vegan soups and salads. All you need are just two ingredients for the base plus some salt and pepper. This also helps to reduce food waste.
You should be aware though that commercially produced croutons often contain dairy or eggs in their flavorings even if the bread used is naturally vegan. Be sure to check the ingredients thoroughly before purchasing to make sure it's suitable for vegans.
For those looking for a healthier option, try using the fresh bread of choice such as wheat bread. Slice the bread into cubes and lightly mist it with water before sprinkling on the spices and herbs. Bake in the oven at 350 Fahrenheit (or 177 Celsius) for 10 minutes or until desired browning is achieved.
Fortunately, making your vegan croutons at home is quick and easy. All you need are 2 ingredients plus salt and pepper and you can use up any stale bread that you have lying around!
Not only does this reduce food waste, but it also means you can enjoy delicious homemade croutons that taste much better than store-bought ones. So, if you're looking for an easy way to make from-scratch vegan croutons, give it a go!
What Are The Ingredients Used To Make Croutons?
Making croutons is a simple process: all you need is bread, oil, and seasoning – easy enough! The first step to making croutons is to cut the bread into small cubes or strips. Once that's done, you toss the pieces in oil and seasoning.
This could be anything from garlic powder and oregano to soy sauce and sesame seeds. Next, pop them in the oven or pan-fry them to give your croutons a nice, crispy texture.
The ingredients used vary depending on the flavor of the crouton you want to make. For example, Olivia's Croutons' Organic Garlic & Herb variety is made with organic wheat flour, canola oil, spices (garlic powder, oregano), sea salt, and yeast extract.
Meanwhile, their other flavors contain butter or cheese as well as non-vegan ingredients such as milk powder and egg whites. All in all, though, croutons are a quick and easy way to add some extra crunchy goodness to salads and soups!
Non-vegan Ingredients
When it comes to packaged croutons, you'll want to read the list of ingredients closely if you are sticking to a vegan diet. Most common seasonings found in croutons such as pepper, salt, garlic powder, and Italian seasoning are vegan.
However, some non-vegan ingredients may be lurking too and so you'll have to be on the lookout for them.
These include butter, cheese of various kinds, whey, milk, and honey which all should be listed on the packaging. If any of these are present, then you'll know that the croutons won't fit into your vegan lifestyle.
Additionally, if you're a strict vegan then beware of sugar filtered through bone char, unknown natural flavors, and some preservatives which can also appear on ingredient lists.
The safest bet when it comes to finding vegan-friendly croutons is to make your own at home where you know exactly what goes into them!
Homemade Vegan Croutons
Homemade Vegan Croutons are the perfect way to add a little crunch and flavor to any meal. All you need is some vegan-friendly white bread, oil, and seasonings of your choice. Make sure to use vegan-approved wheat bread brands, like those listed in the article; otherwise, your croutons won't be fully vegan.
Once you have made your vegan croutons, it is important to store them in an airtight container to ensure the freshness of bread pieces. This will help keep the white bread from going stale and losing its crunchiness.
If you are looking for a restaurant-style crouton, Olive Garden offers a vegan version of their signature croutons which can be found on their website. However, nothing beats the freshness of homemade croutons so if you have the time, definitely give it a try!
Once you've got all your ingredients gathered up, try this simple homemade vegan crouton recipe! With a few basic ingredients, plus your choice of seasonings, you'll have a tasty, crunchy topping that adds the perfect texture and flavor to salads or soups. Enjoy!
Ingredients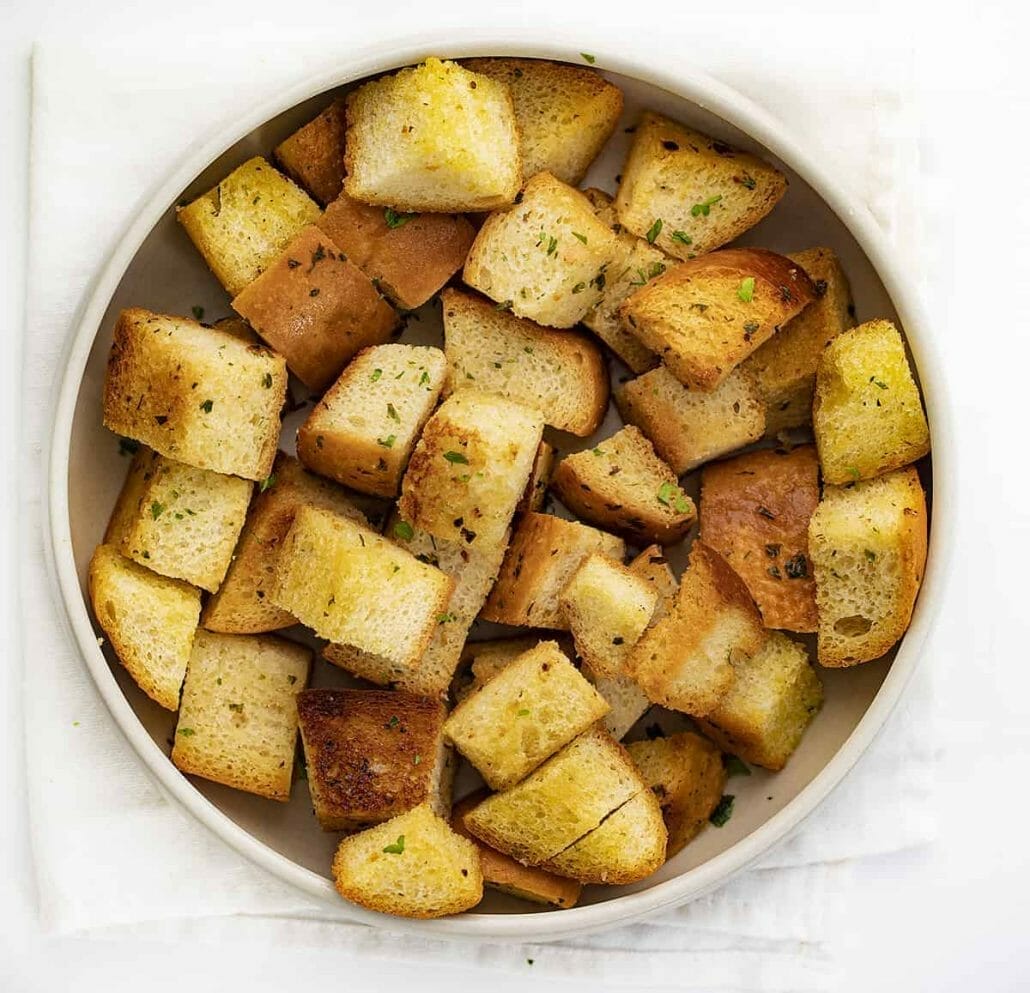 Croutons are an easy and delicious accompaniment to many meals, and they can be made vegan-friendly with just a few simple ingredients.
To make them, you'll need four slices of cups bread (gluten-free if desired), one teaspoon each of garlic powder and onion powder, as well as one tablespoon of dried parsley. All you'll need to finish it off is water in a spray bottle.
That's all it takes to create your vegan-friendly and tasty croutons that can be used for salads, soups, or tofu scrambles!
Instructions
Instructions for making vegan croutons are easy and simple. Begin by preheating your oven to 350 degrees Fahrenheit (or 177 degrees Celsius), then line a baking tray with a silicone baking mat or parchment paper.
Next, slices bread into small cubes – a serrated knife works best for this – and leave the crusts on or off as desired. Prepare the spices you're going to sprinkle onto the croutons and use a spray bottle to finely mist one side of the cubes.
Quickly sprinkle the spices and herbs on top of the cubes before they become soggy. You may decide to flip them over at this point and apply another layer of spices if more flavor is desired, but it's not necessary.
For Oven Baking: Place croutons on your prepared baking tray and bake for approximately 10 minutes at 350 Fahrenheit (or 177 Celsius). Check them halfway through cooking time as all ovens vary, determining the amount of browning you prefer – more browned usually equals crunchier while less brown results in softer croutons.
Hey'all I'm Amy, a born foodie and diagnosed with celiac disease 7 years ago. I refused to cave into tasteless, boring gulten free food and create my own!
On my blog you'll find info & cool facts along with recipes, all on gluten free foods!