Are Domino's Wings Gluten-Free?
Dominos are one of the most popular pizza fast food delivery options worldwide, and luckily, if your gluten free, you can still enjoy the vast majority of options on their menu without restrictions, but what about their wings, are they gluten free? 
Dominos wings are indeed mostly gluten free depending on the sauce, making them a great choice to order with a gluten free pizza.
We've put together a more detailed guide below discussing if chicken wings are gluten free, which items at Dominos are gluten free and some tips for ordering gluten free at Dominos. 
Are Chicken Wings Gluten Free? 
Before we get into which chicken wings from Dominos are gluten free, as well as their other food options, lets begin by discussing if regular chicken wings are gluten free. 
Chicken wings without any additional ingredients during cooking are gluten free since chicken has no gluten content, however, the breaded coatings and the deep fryer chicken wings are fried in can have gluten ingredients and there is a huge risk of gluten cross-contamination.
Always double check for traces of gluten when eating out or buying pre-made chicken wings.
Our Guide To A Gluten Free Dominos Menu
If you fancy a Dominos takeaway and want to make sure your food order is gluten free, we have a great Domino's gluten-free menu for you to check out below.
Pizza 
Gluten free crust in small size. 
BBQ sauce. 
Hearty Marinara sauce. 
Robust inspired tomato sauce. 
Parmesan garlic white sauce. 
Pizza Toppings
Banana peppers. 
Anchovies. 
Beef. 
Corn Meal.
American cheese. 
Black olives. 
Chorizo. 
Feta cheese. 
Cheddar cheese. 
Green olives.
Hot sauce. 
Ham.
Philly steak. 
Grilled chicken. 
Black olives.
Italian sausage. 
Jalapeno peppers.
Onions. 
Pineapple.
Parmesan Cheese (Grated).
Spinach. 
Tomatoes.
Domino Sides
Chicken and apple salad. 
BBQ chicken wings, hot, sweet mango and plain.
Garden salad.
Roast red peppers.
Extras
BBQ sauce.
Blue cheese sauce. 
Garlic sauce. 
Italian dressing. 
Marinara dipping sauce. 
Ranch dressing.
Garlic oil. 
Raspberry dressing.
Tips For Ordering Gluten Free Dominos 
If you're planning on getting a Domino's for dinner, we have some important tips for getting the right gluten free order below.
Always inform in advance that you have a gluten allergy or celiac disease so they are cautious with your food.
Avoid ordering here if you are worried about cross-contamination, it's not worth the risk.
Domino's has had negative reviews when it comes to gluten free food, do not order here if you're worried about a negative side effect.
What To Avoid From Domino's
All of the special chicken items contain gluten. 
Bread twists, sandwiches, desserts and pasta have gluten.
All gluten free pizzas are likely made in the same area as regular pizza crusts are and cut with the same pizza cutter which can cause cross contamination.
Watch out for the croutons which come in a packet on the side with salads, these contain gluten.
Some sauces contain gluten such as; Alfredo Sauce, the five Cheese Dip and the Cheesey Marinara Dip.
The chicken taco pizza topping contains gluten.
Does Domino's Have Vegan Pizza?
As well as gluten free options, you might be wondering if any of Domino's food options are vegan too?
Domino's currently have one vegan pizza crust on offer, but with no cheese, luckily there are lot's of toppings which are vegan that you can add to jazz up your pizza instead. 
It is worth noting that the gluten free pizza crust is not vegan since it contains eggs.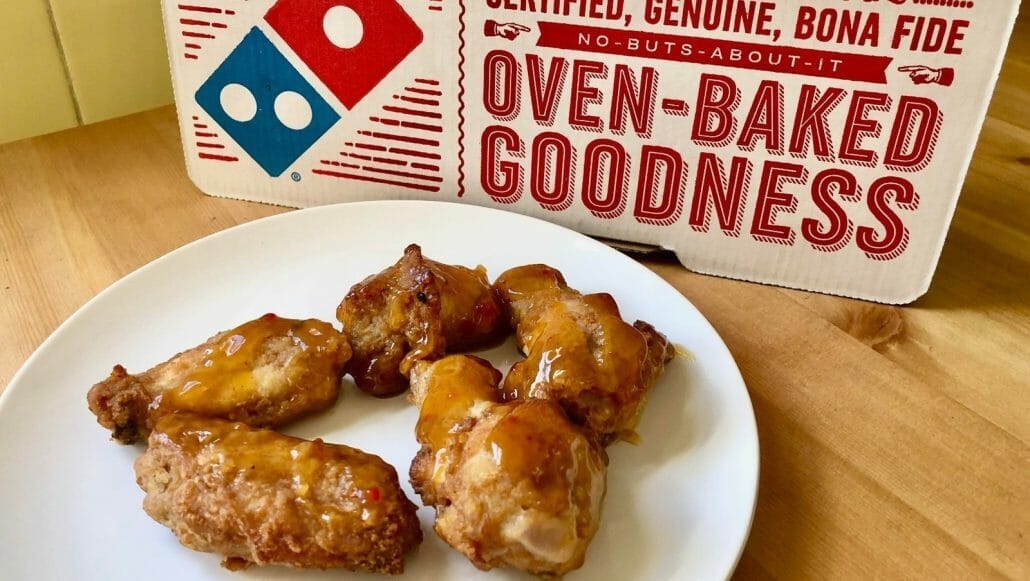 Can Celiac's Eat From Domino's?
Since there is a gluten free pizza crust at Domino's, you might be curious as to if it is safe for celiac's to eat from this food chain too.
If your are a celiac Domino's does not recommend you eat from the food chain, this is because gluten free pizzas are prepared in a common area, which means there is a risk of cross contamination.
FAQs About Domino Chicken Wings & Gluten
Which pizza choice is gluten free from Domino's?
Pizza for customers which have a gluten allergy is made with the gluten free crust and gluten free sauce plus toppings.
What gluten ingredients do regular chicken wings have?
Most of the time, regular chicken wings are breaded or deep fried which means they contain flour and therefore gluten. Even when deep fried in gluten free flour there is a risk of cross contamination.
Are the United Kingdom Domino's chicken wings gluten free?
Most of the UK Domino's menu is gluten free, there are some sauces which contain gluten, we've listed in our guide above which chicken wings are gluten free.
What gluten ingredients does pizza have?
Pizza is normally made from wheat, rye or barley therefore has gluten in it's crust, other sauces and toppings can also have gluten.
Which dressing is gluten free from Domino's?
The Bleu Cheese, Fat-Free Raspberry Dressing and Balsamic Dressing is all gluten free at Domino's.
What pizza sauce is the healthiest from Domino's?
The marinara pizza sauce from Domino's tends to be the healthiest and lowest in sodium.
Is the pizza giant from Domino's gluten free?
No, the only gluten free crust pizza from Domino's is available in the small size, other sizes have gluten ingredients.
Last Words
Overall, Domino's wings are mostly gluten free depending on the sauce you choose, some do have gluten in however, the gluten free options are; BBQ, sweet mango, plain and hot.
Do note that these gluten free wings and pizzas are prepared in a general cooking area, so there is always a risk of cross contamination.
Hey'all I'm Amy, a born foodie and diagnosed with celiac disease 7 years ago. I refused to cave into tasteless, boring gulten free food and create my own!
On my blog you'll find info & cool facts along with recipes, all on gluten free foods!