Are Fruity Pebbles Gluten-Free?
Fruity Pebbles are delicious cereal treats made by Kellogg's. They come in several flavors including chocolate chip, marshmallow cocoa pie, strawberry, banana nut, apple cinnamon, and blueberry.
Fruity Pebble Cereal is gluten-free and safe to eat for people with celiac disease. These cereals are gluten-free and suitable for those with Celiac Disease. The following varieties of Fruity Pebbles are listed as gluten-free:
Marshmallow Cocoa Pebbles
Fruity Pebble treats
Cocoa pie Fruity Pebbles
Magic Fruity Pebbles
Marshmallow Fruit Pebble
Post Foods makes Fruity Pebbles gluten-free by removing the wheat ingredient from the recipe. They also disclose allergen content and warning labels on their packaging. This means that if you have celiac disease or gluten intolerance, you can enjoy Fruity Pebbles without worrying about cross-contamination.
Ingredients Used In Fruity Pebbles
Fruity Pebbles cereal is made with rice, sugar, hydrogenated coconut oil, salt, turmeric oleoresin (color), blue 1 (yellow five), contains less than.5% of natural and synthetic flavors, red 40, yellow six, blue two, BHA (helps protect flavor), vitamins and minerals.
It also contains zinc oxide, vitamin B6, vitamin A palmitate, sodium acetate (sourness), ascorbic (vitamin c), nicotinamide (niacinamide), thiamin mononitrate (vitamin B1), folate, vitamin D, reduced iron, riboflavin (vitamin B2).
Gluten-Free Fruity Pebbles Treats Recipe
Fruity Pebbles Crispy Treats are a delicious gluten-free alternative to traditional rice Krispy treats! They're made with only six ingredients and require less than thirty minutes to prepare. Plus, they're super easy to customize with any flavor combination you'd like.
These tasty treats are great for parties, holidays, birthdays, or anytime you want something special.
Ingredients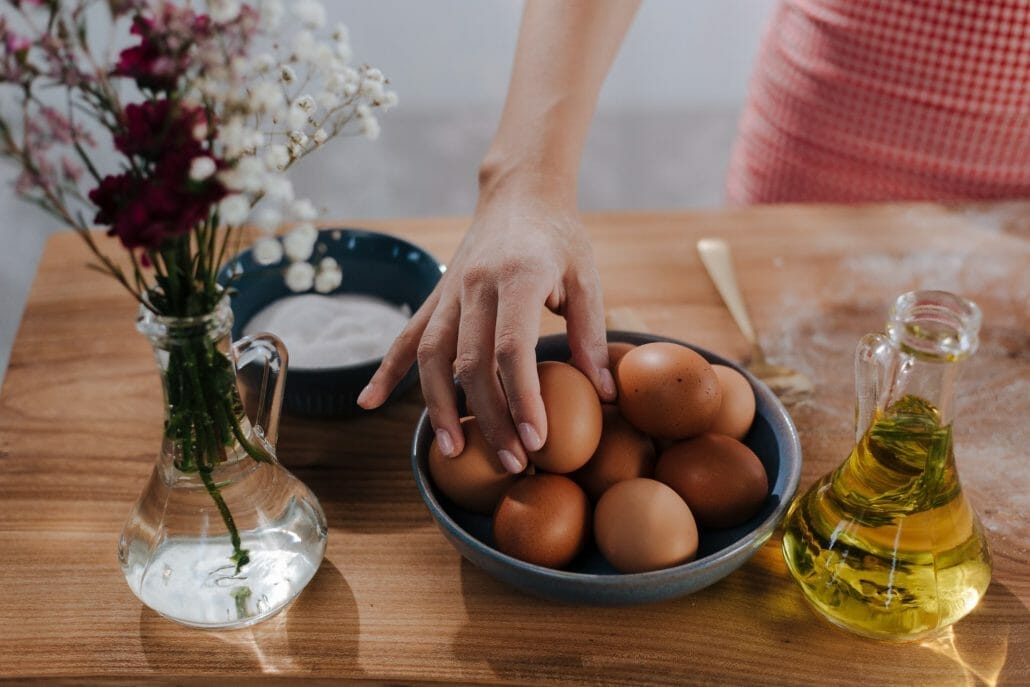 There are two main types of ingredients used in baking: dry and wet. Dry ingredients include flour, sugar, cocoa powder, cornstarch, etc. Wet ingredients include eggs, cereal milk, oil, water, etc. You'll find that most recipes call for a combination of both dry and wet ingredients.
This recipe uses only four main ingredients: Fruity Pebbles Cereals, mini marshmallows, butter, and vanilla. You'll find that most of the recipes on our site use just a handful of ingredients, so if you don't already have those items on hand, you won't run out of ideas.
Finally, you'll need to figure out how much butter you'd like to add to your recipe. Some recipes call for a lot of butter, while others call for less. Experiment until you find the right ratio for your liking.
You may notice that there are several variations of the same recipe. Each variation uses a different combination of ingredients. Some recipes call for only flour, others call for only cereal milk mixture, and still, others call for a mixture of both.
This recipe uses only four simple ingredients: rice crispy cereal, mini marshmallows, butter, and vanilla. These ingredients are used in almost every single treat recipe on the site. You'll find that most of our recipes use these ingredients:
You may notice that there are no eggs in any of our recipes. Eggs are not required for baking, but if you'd prefer to add them, feel free to do so. Just remember that egg substitutes tend to dry out baked goods, so try adding a bit of extra liquid instead.
We recommend using organic sugar whenever possible. Sugar cane juice is made from sugar cane, which is grown without pesticides or chemicals. Organic sugar is available at most grocery stores.
There are two types of crispy rice cereals: regular and gluten-free. Regular rice crispiest are usually found near the breakfast section of the store. Look for a box labeled "gluten-free" or "no wheat" to avoid cross-contamination.
Mini marshmallows come in several varieties. Some are flavored, and others are plain. Try experimenting with different kinds until you find ones that work well with your classic recipe.
Butter is another ingredient that is used in nearly every recipe on the site. It adds moisture and makes the treats softer and chewier.
Now that you've chosen your main ingredients, let's talk about the final ingredient: vanilla. You'll notice that I added a small bit of vanilla to my fun recipe. Why do I recommend adding a tiny bit of vanilla? Because it adds a subtle sweetness without overpowering the other flavors.
Vanilla extract is a must-have flavoring agent. It gives the treats a sweet, creamy flavor.
To finish off the recipe, sprinkle on a tiny bit of salt. It balances out the sweetness and brings out the natural flavors of the other ingredients.
Step-By-Step Procedure
This recipe for gluten-free fruity pebbles treats is super simple to prepare. All you do is mix together two ingredients, pour them into a pan and let them cool. Then you just slice them into bite-sized pieces and enjoy!
You'll need a large mixing bowl, a measuring cup, a large spoon, a large spatula, a cutting board, and a baking sheet lined with parchment paper.
Start by lining an 8×8 baking pan with parchment. I like to leave a little bit of parchment hanging over the edges of the pan so I have handles to pull the treats out later.
Put the cereal and marshmallow mix into a large mixing bowl.
Blend them together until they're mixed evenly.
Set aside 1 cup of mini marshmallow candies and melt the remaining marshmallows and butter in a large saucepan over low heat. Stir frequently until the marshmallows and butter are melted and well blended. Remove from heat and stir in the flavoring ingredients.
Immediately pour the marshmallow mixture over the cereals and mini marshmallows and gently stir until the cereal mixture is evenly coated with the marshmallow mixture.
Gently pat the mixture into the prepared baking dish and smooth the surface with your fingers or a spatula. Be careful not to pack the cereal mixture too tightly, or your treats will be dense and harder instead of lighter and softer.
Let the cereal treat cool for at least 20- 30 minutes, then cut it into desired sizes.
Tips And Tricks
This recipe for gluten-free fruity pebbles treat is super simple to make. Once you've made the dough, simply roll it into balls and bake them at 350 degrees Fahrenheit for 10 minutes. Then let them cool completely before adding any toppings.
You'll find that these fruity pebbles are softer than regular ones, making them ideal for snacking on or serving as dessert. Plus, they taste great! Try topping them with chocolate chips, sprinkles, coconut flakes, nuts, dried fruit, etc.
There are lots of tips and tricks for making delicious gluten-free treats. You'll find plenty of recipes online, but here are a couple of tips to keep in mind when creating your own gluten-free fruity pebble treats.
First, if you're not familiar with gluten-free flour, start small. Gluten-free flour blends tend to be very expensive, so try starting with a simple mix of rice flour, tapioca starch, and xanthan gum. Once you feel comfortable working with those ingredients, you can add more complex mixes.
For now, let me give you some tips and tricks to help you make the most delicious treats using gluten-free cereals.
Start with the ingredients. You'll notice that I didn't include any sugar in my recipe. Sugar isn't necessary for making tasty treats. Instead, try adding cinnamon, vanilla extract, nutmeg, cardamom, ginger, cloves, etc. These flavors pair well with the fruity flavor of the cereal with milk.
Keep in mind that the texture of the treatment depends on the consistency of the dry cereal itself. Some cereals are crunchier than others. Try experimenting with different types until you find the ones that work best for you.
Don't forget to measure your ingredients carefully. Measurements matter!
Don't worry about measuring every single ingredient. Just eyeball it and adjust accordingly.
Now that you've learned all those tips and tricks, feel free to experiment with your favorite gluten-free bowl of cereal and come up with your own unique creations.
Cutting Of Treats
Cutting cereal treats is easier if you use a bread knife or serrated knife. You'll find that cutting the treats with a regular kitchen knife tends to crush them instead of slicing them neatly. Using a bread knife or serrate knife makes it easier to slice through the treat without crushing it.
Hey'all I'm Amy, a born foodie and diagnosed with celiac disease 7 years ago. I refused to cave into tasteless, boring gulten free food and create my own!
On my blog you'll find info & cool facts along with recipes, all on gluten free foods!