Is Hidden Valley Ranch Gluten-free?
In fact, Hidden Valley's website states that "most" of their products are gluten-free but some may contain the gluten proteins found in wheat, rye, and barley. For those looking for 100% assurance that a product is gluten-free, it is recommended to check for a "Gluten Free" statement on the label.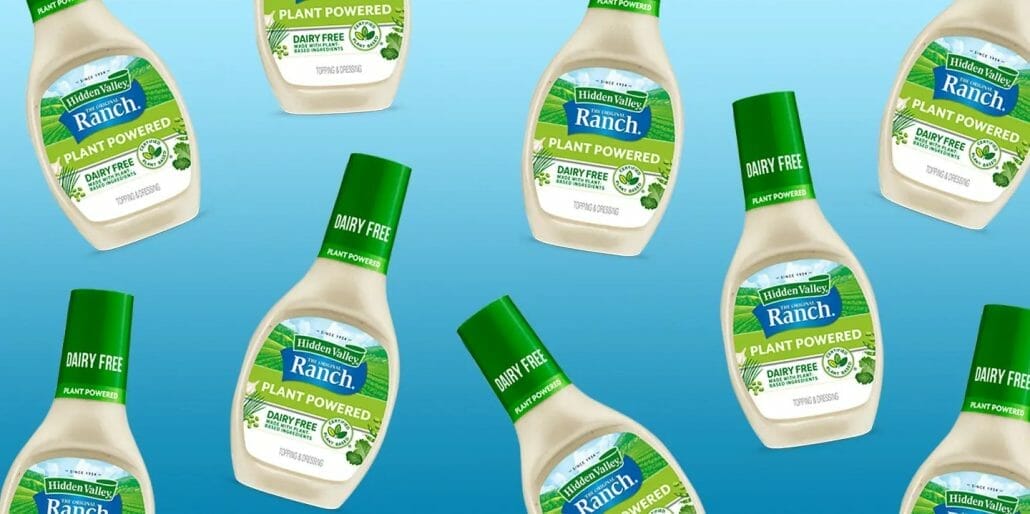 However, this may not always be available and it's important to refer to the ingredient statement on package labels or contact them for clarification.
It was interesting to note that while some products state they are gluten-free there are plenty of others where you should look closely at the label before buying. Especially when it comes to their most popular ranch dressing – The Original Ranch – there isn't an explicit advisory stating it as being gluten-free.
So if you're following a strict gluten-free diet, make sure you do your due diligence before purchasing Hidden Valley Ranch!
What Exactly Is Hidden Valley Ranch?
Hidden Valley Ranch is a major manufacturer of ranch dressing and dips based in the United States. It got its start in 1954 on a lonesome California ranch called, you guessed it, Hidden Valley Ranch.
The original recipe for the tangy buttermilk dressing was made by a couple there who began to share it with friends and family. After its popularity continued to grow, the business expanded and now includes flavored ranch dressings, dips, and seasonings to make all your favorite dishes taste amazing.
The brand has become popular all around the U.S., with its products found in just about every large grocery store nationwide as well as restaurants around the country.
You can also use Hidden Valley Ranch products to make veggie or chip dip or even use it as a grilling sauce. Plus, lots of folks enjoy using ranch seasoning to flavor their potatoes, vegetables, and protein dishes.
What Are Some Other Hidden Valley Ranch Products?
Hidden Valley Ranch produces a huge variety of products that are perfect for adding a delicious twist to your meals. Their product lineup includes salad dressings and condiments, dips, and dried seasonings.
Ranch Condiments
One of the other Hidden Valley Ranch products you should know about is their ranch condiments. These delicious condiments make a great addition to any dish, adding an extra burst of flavor and texture. They range from classic BBQ and Buffalo sauces to cocktail sauces and mustards, allowing for endless possibilities for recipes.
These Ranch Condiments are made with all-natural ingredients including herbs and spices, making them a great choice for those who are health-conscious but still want to enjoy some good old-fashioned ranch flavors. Plus, they're gluten-free so everyone can enjoy them!
Ranch Dips
Hidden Valley Ranch offers a variety of ranch dips for you to choose from. Their original ranch dip option is a classic and perfect for any occasion. If you're looking for a little extra flavor, then their Fiesta Ranch Dip is sure to please your taste buds!
If you're in the mood for something more savory, try their French Onion Dip – it's always a crowd-pleaser. You can also find Hidden Valley Ranch dip mix packets, which can be used to make your own ranch dip at home.
Ranch Seasonings
Hidden Valley Ranch has a wide range of delicious ranch seasoning options that are sure to add flavor and excitement to your meals. Their Original Seasoning Shaker is perfect for adding some classic ranch flavors to any dish, while the Homestyle or Spicy Seasoning Shakers can give it a bit more kick.
The Ranch Night Zesto Potato Premium Seasoning Mix is a great way to add texture and flavor to crispy potatoes, while the Ranch Night Taco Premium Seasoning Mix will spice up your tacos in no time.
If you're looking for some exciting new flavors in your chicken dishes, try their Buttermilk Chicken Premium Seasoning Mix or their Buffalo Ranch Premium Seasoning Mix.
Finally, the Original, Buttermilk and Spicy Ranch Seasoning Mix Packets make adding different varieties of ranch bite-size ingredients super-easy. No matter which of these Hidden Valley Ranch fat-free products you choose, having them on hand is sure to help you create memorable meals with lots of flavorful fun.
What Is Ranch?
The ranch is a type of salad dressing that has become wildly popular in the United States! It's a creamy buttermilk-based dressing that has herbs and seasonings added to it, giving it a unique flavor.
It's tangy and almost sweet with a creamy texture that makes it perfect for salads, wraps, and sandwiches. People also love to use it as a dip for chicken wings, vegetable sticks, or chips.
In addition to its popularity as a salad dressing, people are now using the dry version of a ranch in their seasoning mixes. It can be used on grilled meats, potatoes, and vegetables—really anything you want!
What Ingredients Are Used In Ranch?
If you're looking for an answer to the question of what ingredients are used in ranch, then look no further. Ranch dressing is usually made with pepper, buttermilk, garlic, mustard, onion, salt, spices, and herbs. Additionally, ranch dressings can be made with either mayonnaise, yogurt, or sour cream as its base.
By understanding the secret ingredients used in original ranch salad dressing and choosing your favorite combination of flavors and textures, you can make your own custom buffalo-style ranch dressing that can be enjoyed with everything from salads to chicken wings!
What Do You Mean By Gluten?
Gluten is a protein found in most notably wheat products, and it acts as the "glue" that helps everything to stay together and maintain its shape. This means that gluten is naturally occurring and cannot be removed from grain products like durum, wheat, barley, Kamut, farro, bulgur, rye, spelt, and semolina.
Hidden Valley Ranch is one of many companies that sell numerous gluten-free products. This includes dressings, dips, sauces, and even baking mixes.
Although some of their items contain wheat or other gluten-containing special ingredients (barley malt extract, corn starch), those items are clearly marked on their product packaging so customers know what they're getting.
Is Ranch Gluten-Free?
If you're wondering if the ranch is a gluten-free food, the answer is yes – most of the time. That's because ranch dressings and dips are most commonly made with buttermilk, garlic, onion, mustard, herbs, salt, pepper, and spices.
These ingredients are naturally gluten-free; however, it's always a good idea to review the favorite ingredient list to look for any hidden sources of gluten.
Fortunately, Hidden Valley Ranch offers several products that are all certified gluten-free by the Celiac Support Association. These products include their Original Ranch Dressing & Dip Spinach Dip Mix and Restaurant Style Ranch Dip Mix.
All you have to do is add your own mayo and buttermilk to mix up perfect snack dips! So there you have it – when it comes to Hidden Valley Ranch products, you can rest easy knowing that they are all free from hidden sources of gluten. Enjoy delicious snacking without any worries!
Does The Hidden Valley Ranch Seasoning Contain Gluten?
One question that is often asked about Hidden Valley Ranch products is whether their seasonings contain gluten ingredients. According to the Hidden Valley Ranch website, their Original Seasoning Shaker, Buttermilk Ranch Seasoning Mix Packet, and Spicy Seasoning Shaker have all been tested and certified to have gluten-free ingredients.
However, it's always important to double-check packaging labels and look out for a gluten-free label before purchasing a product. This type of labeling typically means that tests have been run on the product to make sure that its level of gluten is lower than 20 ppm (as regulated by the FDA).
Thus, by checking the packaging you can ensure that you're really getting a product that has been verified as gluten-free. By following these simple tips when shopping for Hidden Valley ranch products, you can rest assured knowing your purchases are safe for those with food sensitivities or allergies.
Hey'all I'm Amy, a born foodie and diagnosed with celiac disease 7 years ago. I refused to cave into tasteless, boring gulten free food and create my own!
On my blog you'll find info & cool facts along with recipes, all on gluten free foods!