Our List Of The Best Vegan KFC Options In 2023
KFC was a popular food take-out choice for many of us growing up and still is now, we all know KFC is most popular for its fried chicken, but what about if you want to eat vegan? Does KFC have vegan options?
KFC does have some vegan options on offer such as their sides like beans, they did also introduce plant-based chicken back in January 2022 but it has since then been discontinued. 
We've put together a great guide to eating vegan at KFC below along with some tips and tricks to still get a delicious meal deal which is vegan-friendly!
The History Of KFC & Vegan Options
Before we get into our list of vegan friendly foods you can order at KFC, let's start with KFC and its vegan history, this food eatery has often been spoken about in the media for having limited vegan food options. 
We've listed some main historical points where this food establishment became more vegan-friendly below. 
June 2019 – KFC launched the 'Imposter' chicken sandwiches in the UK, these were a great success but were then discontinued. 
August 2019 – For one day KFC introduced beyond-meat chicken options in Atlanta.
November 2019 – A plant-based chicken sandwich and vegan popcorn chicken was sold in Canada in partnership with Lightlife.
January 2020 – All of the UK food chains introduced a plant-based chicken burger option with a Quorn patty. 
February 2020 – The KFC beyond fried chicken option was extended to Tennessee and North Carolina.
September 2021 – KFC stopped their KFC beyond fried chicken strips and said they want to adjust their flavour, which they will release again in the future.
Jan/Feb 2022 – KFC introduces its Beyond fried chicken buckets for a limited amount of time.
What Was Beyond Fried Chicken?
One of the most popular vegan options at KFC was the KFC beyond fried chicken combo meal which has now been discontinued by KFC but could relaunch in the future. 
Although this chicken was vegan, it was not stated as a vegan combo meal if you ordered the secret recipe fries, this is because the fries are not made in a separate fryer, they are free of animal ingredients however.
You could order KFC Beyond fried chicken in the following ways below –
Order a six or twelve-piece – Make sure to have it without dipping sauces.
Order as a combo meal – The secret recipe fries do not contain any animal products.
Have it without dipping sauces – The dipping sauces at KFC are not vegan.
Which Options Are Vegan At KFC? 
Now we have discussed the history of KFC and its KFC beyond fried chicken, let's move on to which menu items at KFC are currently vegan.
Sides 
Corn on the cob without butter. 
Green beans. 
Sweet kernel corn. 
Baked beans. 
Secret recipe fries. 
Salad 
The house side salad without croutons and light Italian dressing.
Dipping Sauces 
Ketchup. 
Lemon juice packet. 
Strawberry jam packet. 
Sweet and tangy sauce. 
Light Italian dressing. 
BBQ. 
Grape jelly packet.
Beverages 
Capri sun fruit punch. 
Strawberry lemonade. 
Tropicana drinks. 
Sobe Lifewater. 
Pepsi fountain drinks. 
Sweet tea. 
Colonel lemonade. 
Dairy Free Dessert
Musselman's Applesauce. 
Apple turnover. 
What Is Considered Not Vegan At KFC?
It's always important to check the ingredients of food options from KFC, some might seem vegan but have animal-derived ingredients.
KFC biscuits. 
Mashed potatoes. 
Coleslaw and potato salad. 
Macaroni and cheese. 
KFC sauces. 
Colonel's Buttery Spread.
Croutons. 
Cornbread. 
Tips For Ordering Vegan At KFC
If you're ordering your vegan KFC online, make sure to follow these essential tips below to ensure your food options remain completely vegan.
Check the full nutrition guide – To be on the safe side we recommend checking the full nutrition guide from KFC, this is where allergies will be vegan too. Menu options and ingredients can change often at KFC.
Be clear – If you want to substitute vegan ingredients then be very clear when ordering dressings, meat or butter. Make sure the server listens well.
Be cautious of seasonal products – Seasonal editions of comfort food options might not be vegan, always re-check the ingredients again to be on the safe side.
Browse the menu beforehand – If you are planning to eat at KFC, double-check the menu beforehand and pick out vegan options to avoid getting overwhelmed.
Other Vegan Friendly Take Away Options 
If you're not satisfied with the vegan options that KFC offers, there are lots of other vegan-friendly takeaway options with different food items for a quick dinner. 
We've listed some below to help you out.
Italian 
Bella Italia – Vegan cheese pizza, vegan pasta and vegan risotto, they also have vegan chicken. 
Ask Italian – Ask Italian to have vegan pizza and pasta on offer, all made with vegan dough.
Pizza Express – Pizza Express is one of the best options for vegan meals, from vegan dough balls to vegan pizza and vegan carrot cake or sorbet.
Zizzi – Zizzi has lentil ragu pasta and jackfruit pizza on offer for vegans.
Prezzo – From the Arrabbiata pasta to the vegan pizza, Prezzo have lots of vegan options on offer, including desserts!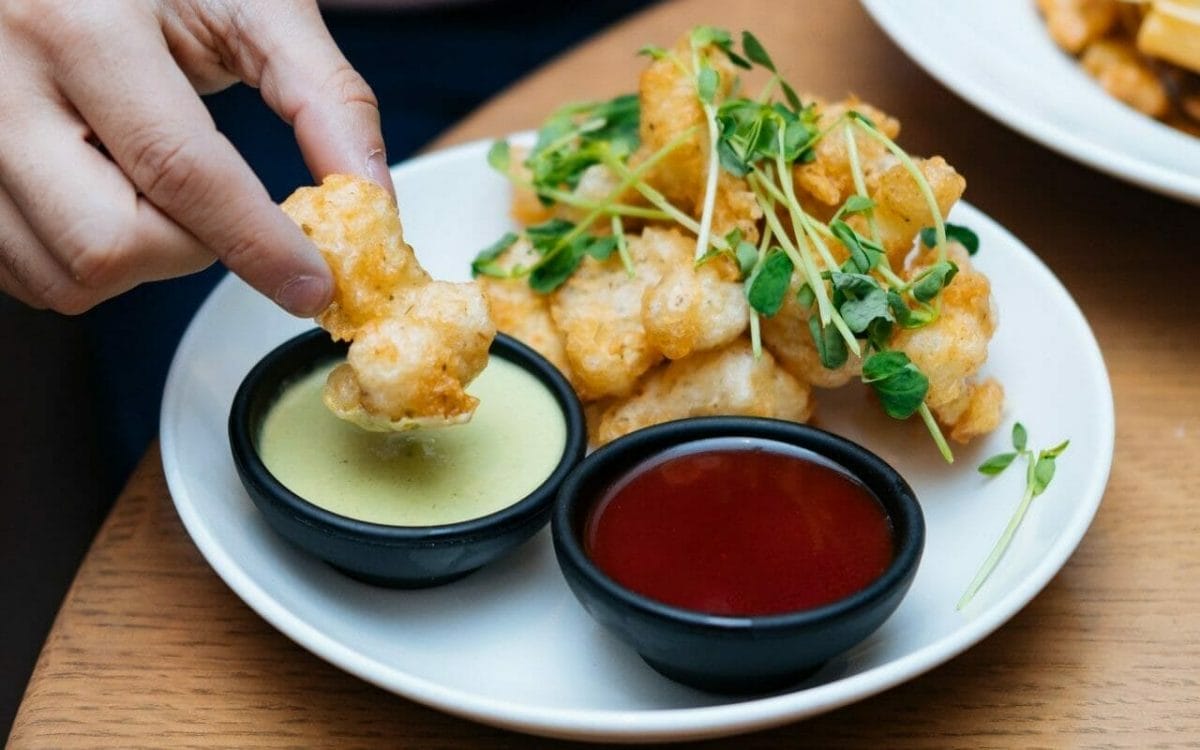 Burgers & Fast Food 
McDonald's – Mcdonald's has the vegan McPlant burger made with vegan cheese and vegan mayo, a great option to replace the food classic.
Fridays – Fridays have their specific vegan chicken which can be had in their vegan fajitas and tacos.
Gourmet burger kitchen – This restaurant uses the Beyond meat patty with vegan cheese and mayo.
Nandos – Nandos is well known for the Great Imitator Burger, made with vegan chicken, paired with some garlic bread and chips, avoid the dips.
Burger king – From vegan chicken burgers cooked on a separate grill to vegan fries and nuggets, Burger kind is one of the best fast food chain options for vegan indulging.
Dominos – The PepperoNAY and the Chick-Ain't are two popular vegan pizzas for a pizza takeaway night at home.
Frankies & Benny's – Hot dogs, burgers and jackfruit wings are all vegan at this restaurant. 
Asian Food 
Itsu – From vegan sushi to vegan meatballs, these dishes are also very healthy in comparison to fast food.
Wagamama – wagamama has a whole vegan menu from the Yasai Pad Thai to the Vegatsu.
YO sushi – With egg-free mayo, this YO sushi chain has lots of vegan options from the Yasai Roll to the Shiitake Mushroom Ramen.
On The Go 
Costa Coffee – Costa has lots of vegan sweet treats as well as meals like the Vegan Smoky Ham & Cheeze Toastie and Vegan Macaroni Cheeze, they also offer plant-based alternative kinds of milk for their drinks.
Starbucks – Starbucks have some vegan options such as their beyond meat brekky roll and lots of plant-based milk alternatives for their drinks such as almond milk, oat milk, coconut milk and soy milk. 
Subway – Subway has many vegan subs from the Meatless Meatball Marinara and the TLC, make sure to avoid butter, cheese and other dressings.
FAQs About KFC Vegan Options 
What KFC dipping sauce options are vegan?
Some KFC sauce options which are vegan are; BBQ Dipping Sauce, Grape Jelly Packet, Marzetti Light Italian Dressings and Strawberry Jam Packet.
Is the tangy coleslaw at KFC vegan?
No, the bowls of coleslaw at KFC are not vegan due to the eggs.
What are the vegan drink options at KFC?
KFC has lots of vegan drink options such as Pepsi fountain drinks and Tropicana drinks.
Is the apple dessert at KFC vegan?
Yes, the apple turnover is vegan at KFC and the apple sauce, and other dessert options are not vegan.
Why did they stop KFC Beyond Chicken?
KFC felt like there wasn't a good enough response to the KFC beyond chicken and the taste wasn't where they wanted it to be, that's why they discontinued it.
Which fast-food chain option is vegan?
Lots of fast food chains options offer vegan menus and food options as we mentioned above, some to name are; Starbucks, Taco bell, Pizza hut and Fridays.
Is Taco Bell vegan?
Taco bell has both vegan and meat options at the restaurant, you can make Taco bell vegan by switching out the meat for beans and leaving off the cheese and sour cream.
Last Words 
Overall, KFC does have some vegan options on offer, although most of them are sides, they did offer a Beyond chicken burger last year but then discontinued it, although it may be returned in the future. 
We always recommend double-checking the ingredients of meals at KFC to be on the safe side, especially seasonal options which can often have variations in ingredients.
Hey'all I'm Amy, a born foodie and diagnosed with celiac disease 7 years ago. I refused to cave into tasteless, boring gulten free food and create my own!
On my blog you'll find info & cool facts along with recipes, all on gluten free foods!