Does McDonald's Have Vegan Options?
Yes, McDonald's does have vegan options. The main options include Mcdonald's French Fries, hash browns, apple slices, fruit and yogurt parfait, oatmeal with no sugar added (although you will need to ask for it without the cream), McWraps with condiments, and various salads without meats or cheese.
You can also look for other vegan items like sides and drinks that aren't listed on the menu. To guarantee your meal is 100% vegan, check the ingredients list provided by McDonald's and stay away from items containing milk products such as whey or butter oil just to be safe.
Vegan Options At McDonald's
No matter what time of day you've decided to visit McDonald's, there are plenty of vegan-friendly options available that will leave you feeling satisfied after your meal! Even though we're still waiting for McPlant in America, vegetarian eaters can get creative until then.
Breakfast
Breakfast at McDonald's can be a great option for vegans, with options like fruit and maple oatmeal, McCafé Premium Roast Coffee, an Americano, and orange juice. The fruit and maple oatmeal bowl is a healthy breakfast option that should be ordered without the added cream or milk – just water-based oats.
Premium Roast Coffee is freshly roasted and brewed every half hour with care. Enjoy it with a pinch of sugar, but avoid any creamers as they usually contain dairy. For those who prefer a bolder cup of coffee, there's the vegan-friendly Americano which is made with signature McCafé espresso combined with hot water.
Last but not least, you can also grab a fresh glass of orange juice to make your morning meal even more delicious! And don't forget about the vegan baked apple pie at McDonald's – flaky pastry layers with gooey sweet filling make it the most appetizing vegan option available in American stores.
Vegan Bread
McDonald's has many vegan options available to customers looking for plant-based alternatives. One of the best vegan bread choices when visiting McDonald's is their flour tortillas or English muffins.
The flour tortillas are a great option as they are soft and have a delicious, lightly crispy texture. The English muffins provide a slightly denser outer layer with a soft center, making them an excellent choice for sandwiches.
Once you've decided on the type of bread you would like, you can start to create your own vegan sandwiches by filling them up with the choice of veggies and dips available at McDonald's.
This DIY veggie sandwich will satisfy any hungry person and provide an excellent medley of flavors. Don't forget to add some extra sauce for even more tasty goodness!
Vegan Lunch And Dinner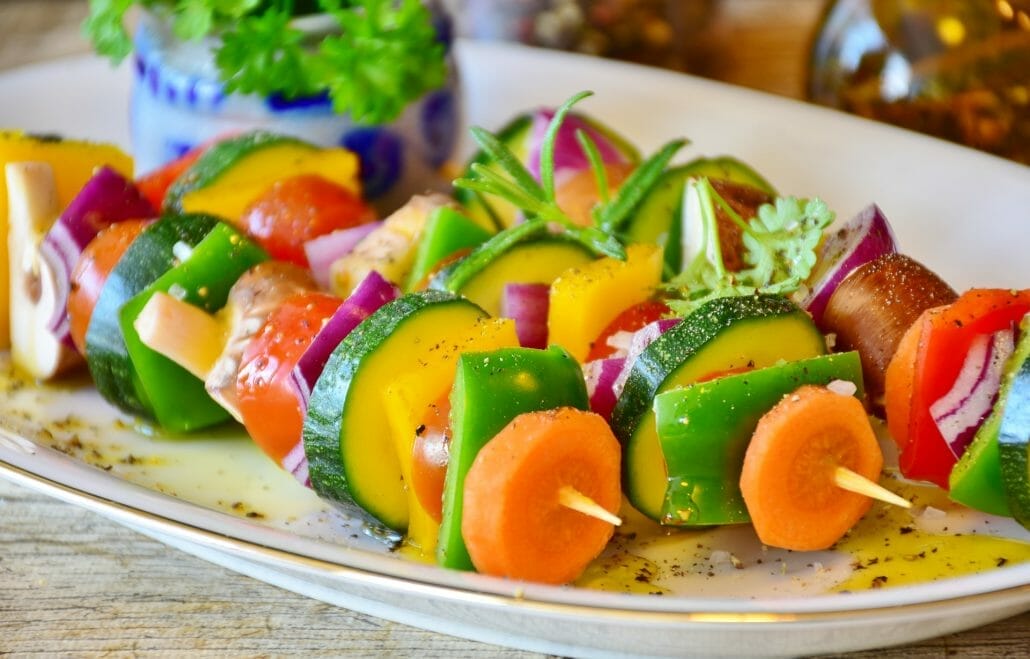 If you're looking for vegan lunch and dinner options at McDonald's, you're in luck! With a few small adjustments, you can make nearly any of their menu items 100% vegan. From the Southwest Salad to the Veggie Artisan Roll sandwich, there are plenty of vegan-friendly options to choose from when dining at McDonald's.
For lunch, try the Southwest salad without cheese or Southwest dressing, served with your favorite dressing and a beverage. Or if you're in the mood for something more filling, try ordering a Premium Bacon Salad without cheese, bacon, or ranch dressing and add some extra lettuce and tomato for extra flavor.
For dinner, why not create your own Veggie Wrap by ordering two flour tortillas on the side with a Southwest Salad (again no cheese or dressing) and topping it with your favorite dressing?
You can also order any vegan food, sandwich, or vegan burger without beef, cheese, and mayo and top it off with extras like mushrooms, pickles, or jalapenos. Also, don't forget to pair a side salad with any wrap/sandwich combo for added nutrients!
So next time you find yourself craving some fast food giant but want to make sure it caters to those plant-based needs of yours – head on over to McDonald's for plenty of vegan-friendly lunch and dinner options.
Vegan Sandwich Or Wrap
It's time to start crafting your own vegan options at McDonald's! Making your own vegan sandwich is a cinch. Simply order either a soft tortilla, an English muffin, or an artisan roll without any meat and fill it up with southwestern salad (no cheese) or a side salad with ketchup and mustard vegan sandwich sauce to taste.
You don't have to worry about spending too much money because vegan sandwiches at McDonald's can be really affordable. A fulfilling lunchtime meal doesn't have to break the bank!
Mix and match your ingredients for endless possibilities. Try adding more vegetables such as tomatoes, cucumbers, lettuce, onions, and bell peppers for a healthier version. You can also substitute the ketchup and mustard with special vegan sauces like BBQ or ranch dressing for added flavor.
As you can see, there are plenty of ways to make delicious vegan sandwiches with real ingredients from McDonald's. So what are you waiting for? Start crafting the perfect vegan sandwich today.
Drinks
Drinks are an important part of any meal and at McDonald's, there is no shortage of vegan options to choose from. From slushies to sodas, there are plenty of drinks that don't include any animal byproducts. Some of the vegan options at McDonald's include
Fanta Orange
Iced Tea (both sweetened and unsweetened),
Lemonade Slushie
and Minute Maid Blue Raspberry Slushie.
Diet Coke
Coca Cola
Minute Maid Strawberry
Sprite
Watermelon Slushie
Hi-C Orange Lavaburst
Minute Maid Pink
Dr. Pepper
For those looking for something healthier or caffeine-free, there are also Black Filter Coffee, Black Iced Coffee Americano as well as other juices such as Minute Maid Premium Orange Juice and Apple Juice. So whatever your preference is you can find a delicious vegan option.
Snacks
One of the most popular vegan snacks at McDonald's is the Apple Slices. These slices come from the happy meal menu and can be ordered as a side dish. They're perfect for adding to salads, DIY sandwiches, and oatmeal bowls, so they make an excellent health-conscious and exciting snack.
Another perfect snack option is the Baked Apple Pie. This treat is surprisingly vegan all over the world and it's absolutely delicious! The Baked Apple Pie is filled with gooey apple cinnamon filling surrounded by crispy flakey layers of pastry. It's without a doubt one of the most appetizing vegan options available in American McDonald's stores.
Dipping Sauces
Adding a dipping sauce can really change the game when it comes to your McDonald's meal. And if you're vegan, you'll be pleased to know that McDonald's has plenty of vegan options.
Spicy buffalo sauce, Ketchup, mustard, BBQ sauce, sweet and sour sauce, and maple syrup are all vegan and available for dipping at McDonald's restaurants. You can use these sauces on ethical food items such as fries and nuggets – or even create your own dipping combo with two or more sauces
What Is Not Vegan At McDonald's USA?
It can be surprisingly difficult to find vegan options at McDonald's in the US! While there are some items that can be made for vegans, such as a McVeggie sandwich or classic side salad without cheese, there are also many menu items that cannot be made vegan-friendly.
The list of menu items that are not vegan at McDonald's in the USA is quite long. All biscuit and muffin fillings, sausage burritos, burgers (all burger patties are meat-based), hotcakes, pancakes, smoothies, hash browns, MCFlurries, sandwiches, nuggets, and bakery items, and fries cannot be made vegan due to animal products being used in their recipes.
Are McDonald's Fries Vegan?
Unfortunately, no. Even though McDonald's fries look vegan on the surface, they are not vegan in the United States. This can be deeply disappointing for vegans around the country who are used to being able to grab plant-based food at Burger joints and still eat vegan by choosing their sides.
Hey'all I'm Amy, a born foodie and diagnosed with celiac disease 7 years ago. I refused to cave into tasteless, boring gulten free food and create my own!
On my blog you'll find info & cool facts along with recipes, all on gluten free foods!