Which Brands Of Microwave Popcorn Are Vegan?
If you're in the mood for a movie night snack but worried about the ingredients in your microwave popcorn, then you'll be pleased to hear that there are some vegan popcorn brands available.
Bob's Red Mill Yellow Popcorn, Orville Redenbacher's Popcorn, Pop Secret, Jolly Time, Pipcorn Sea Salt, Proper Corn, Angie's Vegan Salted Caramel Popcorn, and Just The Caramel Corn Popcorn are all brands of popcorn that are suitable for vegans.
When picking out the right microwave popcorn for your vegan lifestyle, it's important to take a close look at each label so you know what you're buying. Ingredients such as milk or butter won't necessarily make it clearly obvious they're included so double-check just to be sure.
But luckily there is a wide range of delicious vegan microwave popcorn snacks available today so no need to miss out on the cinema popcorn experience.
In conclusion, it's important for vegans to check labels carefully for any ingredients which may not be animal-derived. Fortunately, the range of vegan microwave popcorn options means that no one needs to miss out on movie night snacks.
1. Orville Redenbacher's Popcorn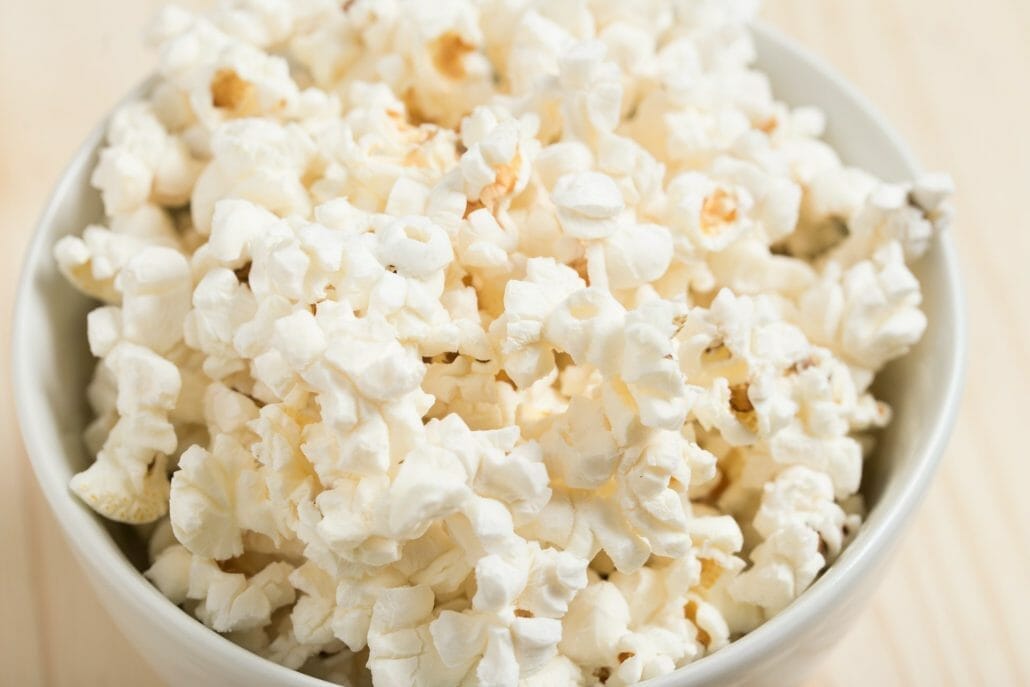 Orville Redenbacher's popcorn is a vegan-friendly snack option. Its exclusive kernel is specifically designed to be lighter and fluffier than typical plain popcorn, and its butter coating is evenly distributed across the kernels.
Smart pop is the only variety that can be considered vegan, as it contains whole-grain popping corn, sucrose, salt, palm oil, and vitamin E. Although the palm oil in this product could potentially cause some deforestation and harm to animals due to oil extraction, it's available in such small amounts that vegans don't seem to mind it much.
One of the major pros of Orville Redenbacher's Popcorn is its high-quality yellow kernels, which are 100% whole grain, gluten-free, and non-GMO organic. Plus there is no need for additional seasonings or oils for preparation. Just follow the easy cooking instructions.
One possible downside of this pre-popped popcorn brand lies in the fact that premeasured kernels are not provided with each order. Additionally, no oil or seasonings come included with Smartpop either.
2. Proper Corn
ProperCorn is a vegan brand of microwave popcorn designed with mindful consumers in mind. Its products are certified B-Corp, meaning they meet high standards of social and environmental performance. Plus, its popped kernels have unique deep flavors that can't be found anywhere else.
The microwaveable variety comes in cinnamon, sweet, and salted flavors as well as sun-dried tomato & chili, vanilla peanut butter & almond, lightly sea-salted vegan, sweet & salty, and perfectly sweet vegan popcorn options. It also offers a brown sugar-coated popcorn option!
On top of that, all its products are gluten-free, and dairy-free, and contain natural seasonings that make this a great option for those looking for a healthy snack alternative! The only downside is that it's available in basic flavor only.
3. Angie's Vegan Salted Caramel Popcorn
Angie's Vegan Salted Caramel Popcorn is the perfect treat for both sweet and savory taste buds. This delicious snack was created by Angie Bastian and her husband, starting from a simple garage sale. Now available at grocery stores across the country, this delightful vegan popcorn will be sure to please even the pickiest of eaters.
The vegan popcorn flavor is a perfectly balanced mix of salty and sweet, with a slightly milder kettle corn flavor that will delight any palate. Not only is it vegan friendly, but it's also Non-GMO, gluten-free, and low in sodium – making it an ideal snack for health-conscious consumers.
Additionally, you'll get to experience all the deliciousness without having to pop-cook it – just heat it up in your microwave and you'll be good to go!
From the 11 vegan flavors offered by Angie's Popcorn to their deliciously classic Plain and Sea Salt flavor offerings – there's something here for everyone. So if you're looking for a tasty snack that won't destroy your diet or bank account then Angie's Vegan Salted Caramel Popcorn might just be for you.
4. Jolly Time
Jolly Time is a well-known name in the popcorn market, having been around for 100 years. They have a huge variety of buttery and naturally flavored popcorns for all your different spicy, sugary, and flavor cravings. The Simply Popped Sea Salt flavor is almost vegan, as it contains palm oil but all the other ingredients are safe and simple.
Another vegan option is the 100 Calorie Healthy Pop Kettle Corn which comes in white, yellow, and organic kernels so you can choose what's best for you. It's Non-GMO, gluten-free, high in fiber, and low in cholesterol which makes it perfect to eat while on any type of diet.
While some may find Jolly Time popcorn to be less flavorful than others, overall it's an excellent brand for picking up some vegan-friendly popcorn on your next grocery run.
Unfortunately, some customers have reported finding their microwave popcorn products to be less flavorful than competitors. However, most vegans would agree that there is no reason not to give this brand a try.
5. Pipcorn Sea Salt
Pipcorn's Sea Salt flavor is definitely worth a try if you're looking for vegan microwave popcorn. This unique brand uses heirloom seeds, giving their popcorn an earthy taste that you can't find anywhere else. The sea salt popcorn comes with olive oil and is made with non-GMO ingredients, to ensure it meets vegan standards.
The Mini Popcorn Packs are a great way to sample this delicious treat. Plus, the crunchiness of Pipcorn makes it easier to chew than some other popular brands out there. The salty flavor pairs nicely with the earthy notes for an amazing taste like no other!
On the downside, Pipcorn can be on the pricier side when compared to conventional microwave popcorn brands. But when you consider its superior taste, quality ingredients, and convenient packaging size, this vegan-friendly snack might just be worth the splurge.
Although Pipcorn Sea Salt is non-GMO and has all these advantages, it does come with one downside: it's quite expensive. But if you're looking for a top-notch vegan popcorn experience, then this is definitely worth checking out.
6. Pop Secret
Pop Secret is a popcorn brand owned by Snyder's-Lance, a subsidiary of Campbell Soup Company. It is famously known for the colored popcorn mix it sold in the 90s which consisted of yellow, green, and blue, as well as a mystery bag that contained a surprise color. The popcorn is drenched in butter for flavor, making it popular among fans of convenience food.
When it comes to vegan offerings from Pop Secret, there are some vegan-friendly options such as Sweet 'n Crunchy Kettle Popcorn. While this does contain palm oil, it isn't explicitly non-vegan. Sea Salt with Whole Grain Popcorn which includes palm oil and sea salt is also vegan-friendly.
Pop Secret popcorn has some positive features such as being low in fat and calories and also being kosher-certified and non-GMO popcorn. However, because of its popularity, it can be expensive compared to other brands on the market.
7. Bob's Red Mill Yellow Popcorn
Bob's Red Mill Yellow Popcorn is the perfect vegan popcorn for those looking for an all-natural treat. Founded by Bob Moore, his company's goal is to provide delicious snacks with nothing but the best ingredients available.
Their Yellow Popcorn kernels are made with only one ingredient which is wholegrain yellow corn. It makes them perfect for making a tasty vegan snack with your favorite seasoning. And you don't have to worry about oils or salt added, as they come completely oil-free and high in fiber.
Moreover, preparing these kernels couldn't be simpler: just pop them in the microwave and enjoy! The package size is great if you want to stock up and keep some on hand at all times, though you should store any opened kernels in an airtight container.
Whether you're looking for a healthy snack or something sweet and savory, Bob's Red Mill Yellow Popcorn is the way to go.
8. Just The Caramel Corn Popcorn
If you're a vegan looking for a delicious and healthy snack, Caramel Corn Popcorn from one of the major popcorn brands is the way to go. This product is free from partially hydrogenated oils and corn syrup, as well as gluten-free, non-GMO, and nut-free, certified.
It has only natural ingredients like soy lecithin, popcorn, salt, sunflower oil, and brown sugar. And since it's vegan-friendly, it's ideal for those who are conscious of their diet – although the added sugar could be a problem for some vegans.
The product itself comes with many advantages like being non-GMO and containing no artificial flavors or preservatives. Moreover, it's certified gluten-free and kosher. The only downside may be its cost but overall this Caramel Corn Popcorn is an excellent choice if you're after a vegan microwave popcorn brand.
How Can I Tell If My Microwave Popcorn Is Vegan?
When it comes to knowing if your microwave popcorn is vegan or not, the first step is looking for an allergen warning at the end of the ingredients list.
If the box says "CONTAINS MILK" then that type of microwave popcorn is not vegan. However, if it reads "MAY CONTAIN MILK" it could still be made with no dairy involved in the production process.
In other words, you can trust that it was made in a facility where dairy products are made but there was no intentional use of animal byproducts in making the microwave popcorn itself. This "may contain milk" usually serves as a legal safeguard and should still generally be considered vegan-friendly.
If you want to guarantee it is 100% vegan, however, looking for an appropriate label such as "certified plant-based" or "vegan-certified" will ensure you make an informed choice when selecting a vegan microwave popcorn.
Milk Microwave Popcorn Ingredients
When it comes to microwave popcorn, it's important to watch out for milk ingredients. Common dairy ingredients you might find in many brands of microwave popcorn include dried butter, natural white Cheddar flavor, butter oil, natural butter flavor, butter, natural flavor (including milk), dry buttermilk, dried Cheddar cheese, white Cheddar powder, clarified butter, dried Parmesan cheese.
However, it's possible to find dairy-free microwave popcorn made without any of these milk-based ingredients so you can still enjoy the delicious snack without worrying about potential allergens.
Just keep an eye out for some of the most common dairy ingredients listed above and make sure that your popcorn is 100% vegan when shopping for microwavable snacks.
Microwave Popcorn Contains "Gray Area" Ingredients
When it comes to microwave popcorn, there are certain ingredients that vegan consumers should be aware of. Sucralose and palm oil are considered by many to be vegan-friendly, but their questionable sourcing and testing methods may give some people pause. Additionally, the use of artificial colors in some popcorn flavors can also raise red flags for conscious vegans.
These ingredients could certainly fall into what's known as the "gray area," meaning that vegans have differing opinions about them. That said, when it comes to microwave popcorn brands, any dairy products should be avoided due to their obvious animal byproducts.
Since there are so many considerations regarding which vegan microwave popcorn brands are safe, it pays to read labels carefully before purchasing or consuming them. Doing so will help ensure that you're not inadvertently consuming anything sourced from animals in order to preserve your vegan sensibilities.
Similarly, artificial colors and sucralose used in certain flavors can sometimes be problematic due to animal testing issues. As such, vegans should practice caution and check labels carefully before making a purchase.
Is Movie Popcorn Vegan?
If you're wanting to know whether movie popcorn is vegan, it's best to contact the theater before going. It can be difficult to ascertain if popcorn is vegan, as many theaters smother their popcorn with butter or other animal-based products. You cannot simply read the bag ingredients like you would store-bought brands.
The answer may not always be clear and cinema staff may not know what vegan really means. That is why it's important to get definitive information either through an allergy guide or by directly contacting the movie theater.
Cross-reference this information with a list found online of which specific theaters have already been contacted regarding their vegan options. This way, you can ensure that the popcorn you eat upon arrival at the movies is vegan.
Cinemark
When it comes to movie popcorn, vegans can now enjoy delicious popcorn without worry. Cinemark offers vegan popcorn that's certified and verified, so you don't have to worry about non-vegan ingredients being added. Plus, all you have to do is make sure to not add butter – making it easy and delicious!
For more information on their nutritional info, check out their website, which has all the necessary info available. Cinemark takes pride in offering its patrons a variety of snacks and treats that are vegan-friendly.
Not only is their popcorn totally vegan-friendly, but you're also sure to find plenty of other snacks and refreshments that meet your dietary requirements.
Regal
Regal is a great option if you're looking for popcorn that's vegan. They informed me that their ingredients vary from theatre to theatre, so it's always best to ask whenever you go for some popcorn.
Unfortunately, finding an allergen guide on their site can be difficult, but the good news is that you can contact Regal directly and get all the information you need. This way, you know exactly what's in your popcorn so you can enjoy it without worry.
So if you're looking for movie popcorn that's vegan-friendly and delicious, then be sure to give Regal a try.
AMC
If you're looking for vegan popcorn, look no further than AMC! They pop their popcorn in coconut oil to ensure that it's dairy and animal-product-free. It's a delicious, healthy snack option that vegans and non-vegans can enjoy.
Plus, you can see all of AMC's allergen information here which outlines every ingredient used in their popcorn recipe. So next time you're at the movies and feeling snacky, grab some vegan popcorn from AMC – it's sure to hit the spot!
FAQs
Is Pop Secret A Vegan Product?
Pop Secret is one of the few major brands of microwave popcorn that offers a range of vegan options! Eight delicious flavors are indeed vegan: Popfetti, Kettle Corn, 94% Fat-Free Kettle Corn, Sweet 'n Crunchy Caramel, Sea Salt, Sweet 'n Crunchy Kettle Corn, Pumpkin Spice, and Kidz First Order Kettle Corn.
That's right – every one of these flavors is a safe snacking option for vegans. However, it's important to note that other Pop Secret varieties contain milk ingredients and therefore are not suitable for those following a vegan diet. So next time you're looking for a vegan-friendly treat you know what to grab.
If you're looking for a delicious snack that's vegan-friendly and all-natural, then consider giving Pop Secret a try! Not only is it a great meal alternative for vegans or anyone trying to eat healthier, but it's perfect for movie night or just as an afternoon snack.
Is Newman's Own Popcorn Vegan?
Newman's Own Popcorn comes in a variety of flavors and luckily, two of these are vegan-friendly. Tender White and Sea Salt both contain no animal ingredients, so vegans can enjoy their popcorn without worry. However, the other flavors all have milk ingredients, making them unsuitable for vegans.
The full range of Newman's Own microwave popcorn flavors is Touch of Butter and Organic Butter, Organic Touch of Butter, Movie Theater Butter, Tender White, Butter, and Sea Salt.
Unfortunately, Butter and Movie Theater Butter contains Natural Butter Flavor while Organic Touch Baklava and Touch of Butter contain Natural Flavor (which has milk).
So if you're looking for a vegan-friendly snack option from Newman's Own Popcorn line then you should opt for either Sea Salt or Tender White.
Is Microwave Popcorn From Boom Chicka Pop Vegan?
Are you wondering if Boom Chicka Pop's microwave popcorn is vegan? The answer is yes – only two of their flavors are vegan-friendly! Lightly Sweet Kettle Corn and Sea Salt Microwave Popcorn both qualify as vegan options. But on the other hand, their Real Butter Popcorn flavor, unfortunately, cannot be enjoyed by vegans, since it contains butter.
So make sure to read the flavor labels when purchasing and you'll be able to find out which ones are vegan and which ones aren't! It's fast and easy, so no more guesswork. Now you can always choose your favorite snacks with the confidence of knowing if they're vegan or not.
Is Vegan Orville Redenbacher Popcorn Available?
Yes, there is vegan Orville Redenbacher popcorn available! Six of the flavors are completely vegan – Skinnygirl Lime & Salt, Avocado Oil Popcorn, SmartPop Kettle Corn, Naturals Light: Simply Salted, Naturals: Simply Salted, and Kettle Corn. The other flavors contain milk ingredients such as butter, butter oil, and natural flavor.
The full list of Orville Redenbacher microwave popcorn flavors and their ingredients can be found on the company website. Pour Over Movie Theater Butter, Butter, Tender White flavors, Ultimate Butter, Light Butter, and Movie Theater Butter all contain butter.
Cheddar Cheese contains butter oil and natural flavor (including milk). SmartPop Butter also contains butter while Naturals Light: Skinnygirl Butter & Sea Salt and Butter & Sea Salt contain only butter.
So if you're looking for a delicious snack that caters to your vegan diet then be sure to check out Orville Redenbacher's six vegan-friendly popcorn flavors. They are a delicious and healthy alternative to regular non-vegan snacks.
Final Thoughts
When it comes to finding vegan microwave popcorn, there are plenty of excellent options out there. While you may miss the buttery crunch of conventional popcorn, these vegan brands definitely have some delectable flavors that totally make up for it.
Taking the time to check labels before purchasing a product is always worth it in the end so you can be confident when enjoying your snack. All in all, if you're looking for vegan-friendly microwave popcorn, there are plenty of delicious and reliable options available.
However, regardless of which product you go with, always check the label yourself to be sure that it doesn't contain any animal-derived ingredients. With any of these vegan microwave popcorn brands, you can now enjoy the perfect pop and crunch in a cruelty-free fashion.
Hey'all I'm Amy, a born foodie and diagnosed with celiac disease 7 years ago. I refused to cave into tasteless, boring gulten free food and create my own!
On my blog you'll find info & cool facts along with recipes, all on gluten free foods!