Papa John's Vegan Menu 2023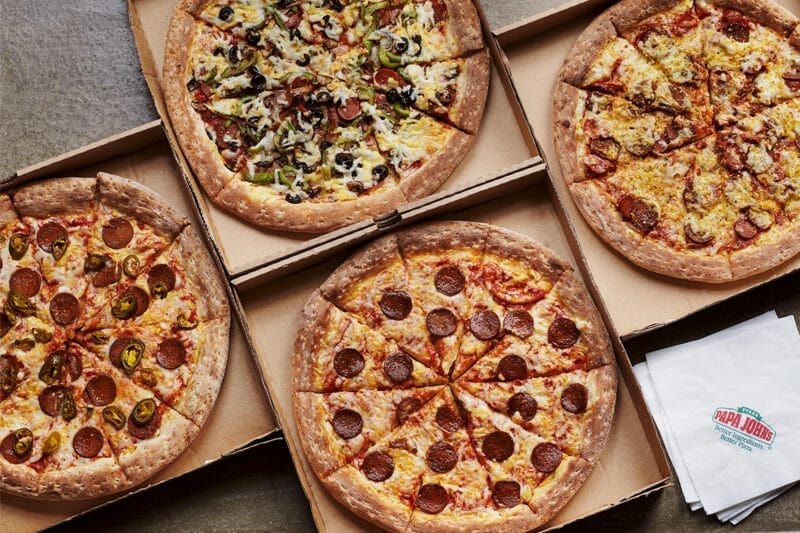 If you're vegan, you'll be pleased to know that Papa John's has specially crafted a menu for those of us with plant-based diets.
The dough and sauce are both vegan-friendly, so you can order Breadsticks with your favorite sauce without having to worry about animal products being used.
That said, if your preference is pizza, then the best way to get value for money is by looking for deals that feature multiple toppings. This will save you from paying too much money on individual veggies per topping.
You can also explore their new Vegan Menu 2023 which features delicious options like vegan wings and cheese!
So don't worry – no matter how strict your dietary requirements are, they always have something to satisfy everyone at Papa John's!
Pizza Crust
When you're looking for vegan pizza at Papa John's, you have to watch out for the crusts.
The original hand-tossed dough is indeed vegan and contains sugar, unbleached enriched wheat flour, water, salt, yeast, and soybean oil.
However, the thin crust and gluten-free crust contain either milk or eggs – or both – so those are not really suitable for vegans.
Just keep an eye out when ordering at Papa John's and you'll be able to find yourself a delicious vegan pizza!
Toppings
At Papa John's, they offer a delicious selection of fresh veggies and toppings that you can have atop a cheese-less pizza.
You can choose from a variety of options, such as spinach, green peppers, onions, Roma tomatoes, mushrooms, green olives or black olives., banana peppers, jalapeno peppers, and pineapple.
With so many possibilities to choose from, you can create the perfect vegan pizza for yourself. Whether you're looking for something spicy or sweet, Papa John's has it covered!
So, go ahead and top your vegan pizza with the freshest ingredients from Papa John's – it'll be sure to hit the spot!
Sauces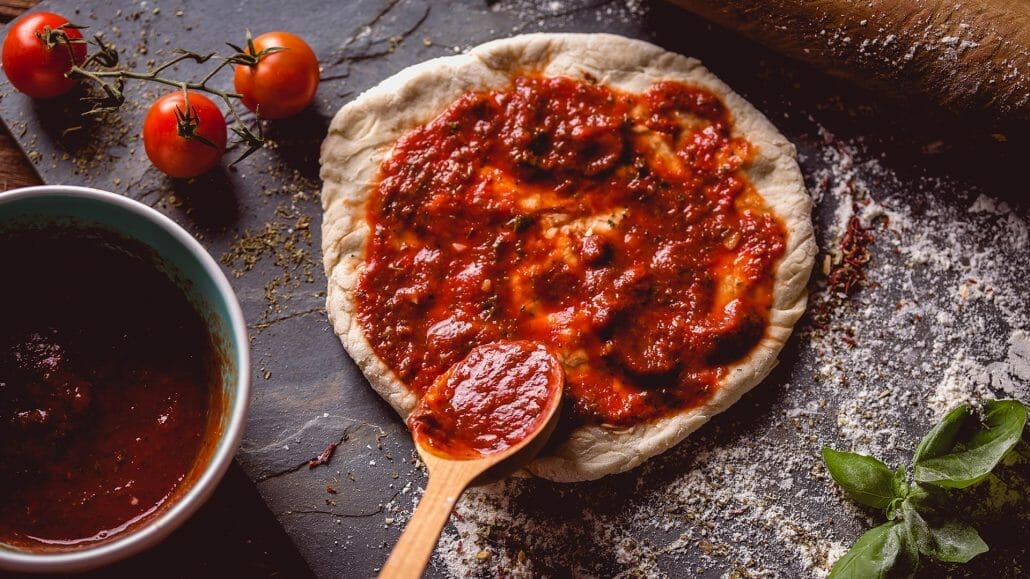 When ordering a vegan pizza from Papa John's, you can select between two delicious plant-based sauces. The basic tomato sauce or BBQ pizza sauce will bring out the flavors of your favorite veggies or plant-based proteins.
The restaurant also offers a wide selection of convenient dipping sauces to take your vegan masterpiece to the next level.
These individual cups come packed with Buffalo, BBQ sauce, Pizza dipping sauces, and Signature garlic sauce (which is made with soybean oil as opposed to butter)—making it incredibly easy to enjoy every bite!
Seasonings
If you're looking for a little extra flavor when you order from Papa John's, look no further than their seasoning packets – either the crushed red pepper flakes or the special seasoning.
The special seasoning packet packs a punch with a mixture of soybean oil, dried onion, natural flavoring., garlic, wheat starch, paprika extract, salt, and spices.
Perfect for vegans and vegetarians alike! Whatever your preference, either one is sure to enhance your pizza-eating experience.
So if you're in the mood for delicious vegan pizza from Papa John's be sure to grab a seasoning packet and add some flavor to your meal!
Desserts
If you're looking for a vegan-friendly dessert at Papa John's, unfortunately, your options are limited.
All desserts at the restaurant contain either eggs, dairy, or both, and in some cases gelatin. This means that popular items like brownies, cinnamon, and chocolate chip cookies pull-apart are all off-limits for vegans.
This is disappointing news for vegans, but luckily there are still many other vegan options on the menu such as salads and pizza without cheese.
Sides
When it comes to vegan sides, Papa John's has you covered. Their original breadsticks make the perfect side – they're made of the same hand-tossed dough used in their pizzas, giving them the same flavors and texture.
If you're looking for a bit of something spicy, try adding a side of whole pepperoncini. These seasoned peppers are pickled and give just the right amount of kick to your meal.
So whether you want something traditional or something with some flair, Papa John's has got you covered.
Is The Garlic Dipping Sauce From Papa John's Vegan?
Are you a vegan looking for a delicious dip to go along with your Papa John's pizza? Well, look no further because the garlic dipping sauce at Papa John's is 100% vegan!
We know it's one of the best dipping sauces out there, so we are excited to announce that vegans can enjoy it.
But that's not all – Papa John's has other vegan-friendly dipping sauces too. The buffalo dipping sauce, bbq dipping sauce, and pizza dipping sauce are also vegan, giving you even more options to choose from when wanting to pair your favorite pizza with a tasty dip.
So load up that garlic sauce and get ready for a yummy vegan experience with Papa John's!

Is The Pan Crust From Papa John's Vegan?
When it comes to vegan options at Papa John's, there is no pan-crust pizza option.
However, they do offer their Original Hand Tossed Dough which is crust vegan. In addition, they have two other crust options including a thin crust and a Gluten Free crust.
Unfortunately, the thin crust contains milk so if you're looking for a vegan option that isn't buddha bowl or just veggie toppings on a regular pizza, your best bet might be to opt for the Original Hand Tossed Dough.
The Gluten Free Crust also contains milk and egg so it wouldn't be suitable either.
So, if you're in search of a vegan pizza from Papa John's then you're in luck! Their Original Hand Tossed Dough is totally plant-based, giving you that vegan-friendly pizza experience!

Are The Cinnamon Knots From Papa John's Vegan?
Well, if we're talking about the restaurants in the United States, then unfortunately the answer is no. Our Papa John's offers Cinnamon Pullaparts which contain milk and egg, so they cannot be considered vegan.
But if we look at the United Kingdom, it appears that Papa John's here may have vegan Cinnamon Knots! Whether or not this is true is still unknown as definitive information on this has been hard to come by.
However, it does appear that some UK branches serve up a tasty cinnamon dessert that is 100% free from any animal products.

Is Vegan Cheese Available At Papa John's?
I'm sure many vegans and vegetarians have been asking this same question ever since Papa John's released their vegan menu. Sadly, the answer is No.
While Papa John's now has a webpage dedicated to how to order a vegan pizza, there is still no vegan cheese option. This can be quite frustrating for anyone looking to enjoy a vegan version of their favorite pizza!

Are The Breadsticks From Papa John's Vegan?
The breadsticks from Papa John's are as vegan as it gets! You'll be delighted to know that the breadsticks vegan are made with only six simple ingredients: salt, sugar, Unbleached enriched wheat flour, yeast, soybean oil, and water.
No additives or preservatives here! You don't have to worry about any unpronounceable ingredients when you're chowing down on Papa John's breadsticks. They have proved to be a great source of vegan snacks and meals.
So if you're looking for something that's both delicious and animal-free then this is the perfect place to start.
Hey'all I'm Amy, a born foodie and diagnosed with celiac disease 7 years ago. I refused to cave into tasteless, boring gulten free food and create my own!
On my blog you'll find info & cool facts along with recipes, all on gluten free foods!