Is Pesto Vegan?
Pesto is a famous and delicious sauce that has been around for centuries. It's made with basil, garlic, pine nuts, olive oil, and cheese or parmesan. The original recipe was created in Genoa, Italy, by the Ligurians to preserve their fresh produce during the winter months. This simple sauce can be used on pasta, pizza, vegetables, chicken, fish, and desserts!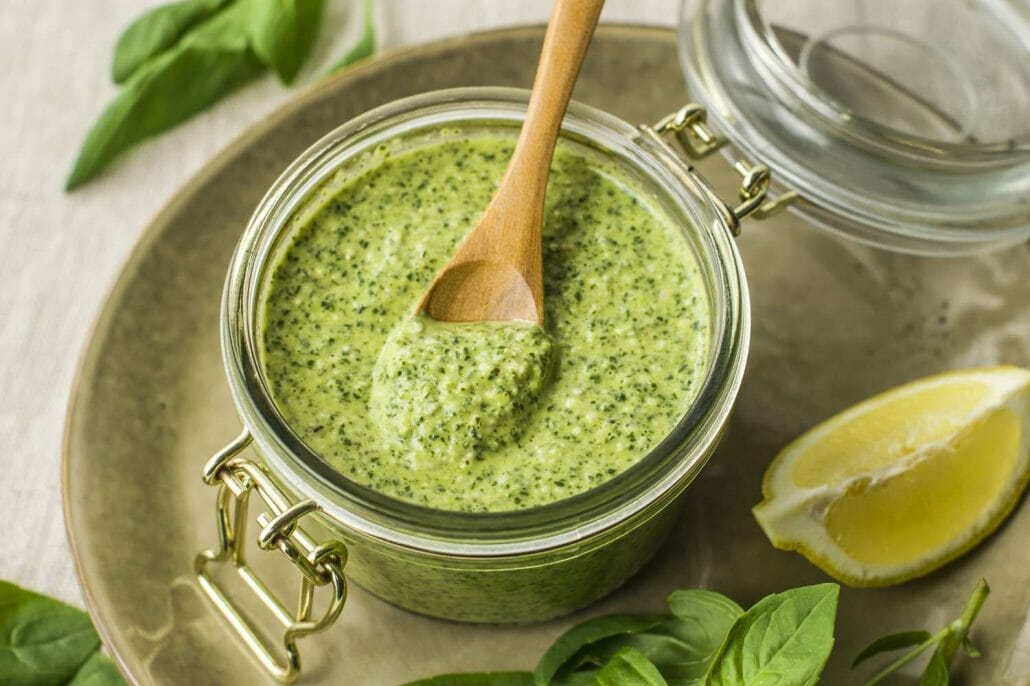 But, you might wonder, is pesto vegan? The answer is yes; pesto is certainly vegan! Pesto is made from basil leaves, garlic, and other ingredients, which are all very low in fat and contain no dairy products. The pasta is also made with nutritional yeast. However, many people use Parmesan cheese when making cheesy flavor pesto. While this cheese contains small amounts of milk proteins, it also contains large amounts of calcium, and vitamin D. These nutrients help your body absorb more iron and zinc. So, while using Parmesan cheese in pesto isn't strictly necessary, it does add some extra nutrition.
The best part about pesto is that it's so versatile. You can make it into a dip, spread, salad dressing, marinade, or sandwich topping. And, because it's so easy to make, you can whip up a batch whenever you need one.
Origin Of Pesto
The origin of pesto runs back thousands of years. There are several theories regarding where it came from. Some believe that it originated in Egypt. Others think that it was invented in China. Still, others claim that it was created in Greece. But, regardless of its origins, pesto is now enjoyed worldwide.
Why Most Pesto Is Not Vegan
There can be instances why you may want to avoid eating pesto if you have specific dietary restrictions. For example, if you follow a strict vegan diet, you should probably avoid any food containing eggs or dairy products. If you do not eat gluten, you will likely want to steer clear of anything containing wheat flour.
However, most pestos are made without these ingredients. They don't contain them. That means that they are safe for vegans to enjoy.
Types Of Vegan Pesto
There are different types of pesto available. Here are just a few:
• Basil Pesto – This pesto is made with a fresh basil leaf and lemon juice. It's often served as a dipping sauce or spread.
• Tomato Pesto – This version uses tomatoes instead of basil. It's usually served as a salad dressing.
• Pine Nut Pesto – This variation includes pine nuts along with basil. It is typically served as an appetizer or side dish with vegan cheese.
• Pumpkin Seed Pesto – This garlic pesto is made with pumpkin seeds and spices like cinnamon, nutmeg, vegan cheese, and cloves. It's great as a snack or dessert topping.
Making a vegan pesto alla Genovese is quite simple. All you need is a blender or food processor. Combine basil leaves, garlic, virgin olive oil, salt, and pepper. Then, blend everything until smooth. Finally, add whatever additional ingredients you desire. The majority of pesto sauces only have these ingredients. 
You can serve the store-bought pesto plain or over pasta, veggies, bread, or baked goods. Just remember that it tastes better when it's freshly made.
Types Of Non-vegan Pesto
Non-vegan pesto is similar to vegan pesto recipes. However, it doesn't include any animal products. Instead, it contains things like cashew butter, cheese, egg yolks, cream, or yogurt.
This type of store-bought pesto is generally used as a base for sauces, dips, dressings, spreads, and toppings. It's also commonly added to soups, stews, and casseroles.
To make a non-vegan pesto, you will need to replace the vegan ingredients with their non-vegan counterparts. For example, you would use butter instead of olive oil. Egg yolks would be replaced with whole eggs. Cream would be swapped out for heavy whipping cream. Yogurt would be substituted for sour cream. Cheese would be swapped for parmesan cheese.
So, whether you choose to go vegan or non-vegan, you can still enjoy your favorite foods. You just need to know what you're getting into!
Pesto Alternatives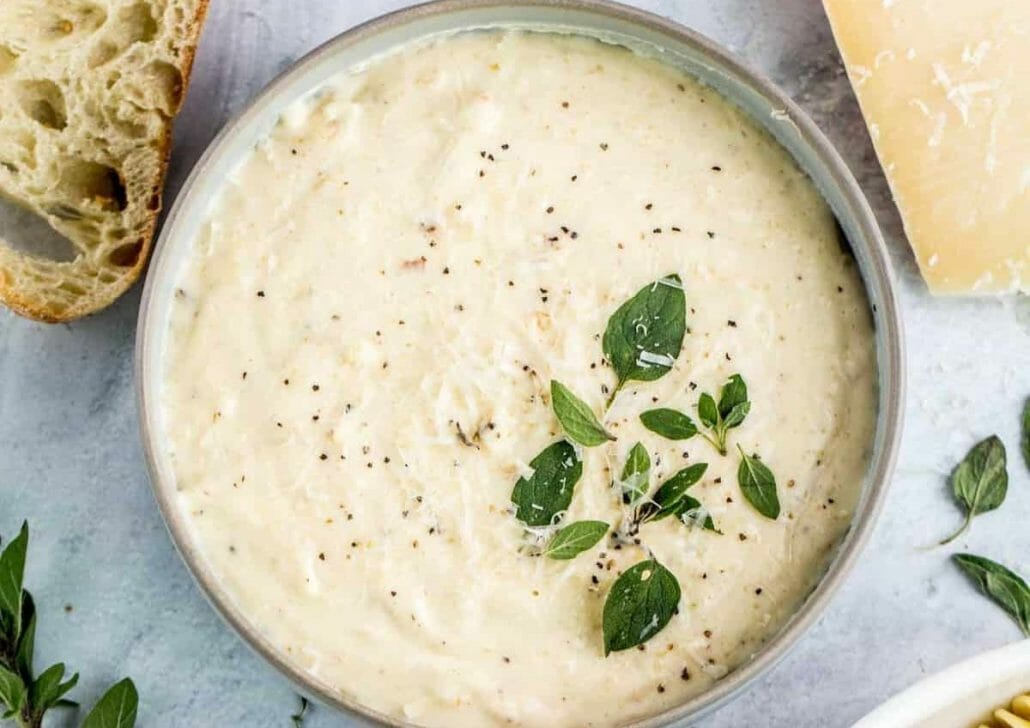 Classic pesto is one of those classic dishes that everyone loves. It's so versatile that you can use it on almost anything. From salads to sandwiches, pizzas, pasta, and more, best-selling vegan pesto goes well with just about anything.
That said, you might find yourself wanting something else. Perhaps you prefer a different flavor or texture. Or perhaps you'd like to try something new, like:
Basil Oil
Using basil oil as an alternative to pesto is a delicious way to get some extra zing. The best part? It's easy to make. Simply combine basil leaves with olive oil. Let this mixture sit overnight before straining off the excess oil.
Different Sauces
Other pasta sauces are perfect alternatives to your favorite pesto recipes. These include:
• Alfredo Sauce
• Béchamel Sauce
• Marinara Sauce
• Ragu Sauce
• Salsa Verde
These sauces all have their own unique flavors and textures. So, if you want to explore other options, there are plenty of choices.
FAQs
Is Pesto Gluten-free?
Fresh pesto can be made gluten-free if the ingredients are carefully selected. In fact, many people who are allergic to wheat don't react to jarred pesto at all.
However, if you have celiac disease, you should avoid using regular flour. Instead, look for gluten-free flour blends. Some brands include rice flour, tapioca starch, potato starch, cornstarch, arrowroot powder, and sorghum flour.
Is Sainsbury's Pesto Vegan?
Yes, Sainsbury's has a variety of vegan ingredient in pesto available. They include:
• Traditional Basil & Garlic
• Classic Basil & Pine Nut
• Sun Dried Tomato & Oregano
• Roasted Red Pepper & Rosemary
• Lemon & Parsley
• Cilantro & Lime
• Mint & Parmesan
• Black Olive & Thyme
Is Tesco's Pesto Vegan?
Yes, Tesco has several varieties of vegan homemade pesto recipe available including:
• Traditional Basil
• Fresh Basil
• Sun Dried Tomatoes
• Roasted Red Peppers
• Lemon & Parsley
• Cilantro & lime
• Mint & Parmesans
• Black Olive & thyme
• White Truffle & Basil
Is Trader Joe's Pesto Vegan?
Trader Joe's traditional pesto recipes are also vegan. However, they only offer two types:
• Traditional Basil Pesto
• Sun Dried Basil Pesto
Are There Any Other Options?
Hey'all I'm Amy, a born foodie and diagnosed with celiac disease 7 years ago. I refused to cave into tasteless, boring gulten free food and create my own!
On my blog you'll find info & cool facts along with recipes, all on gluten free foods!