Is Ramen Vegan?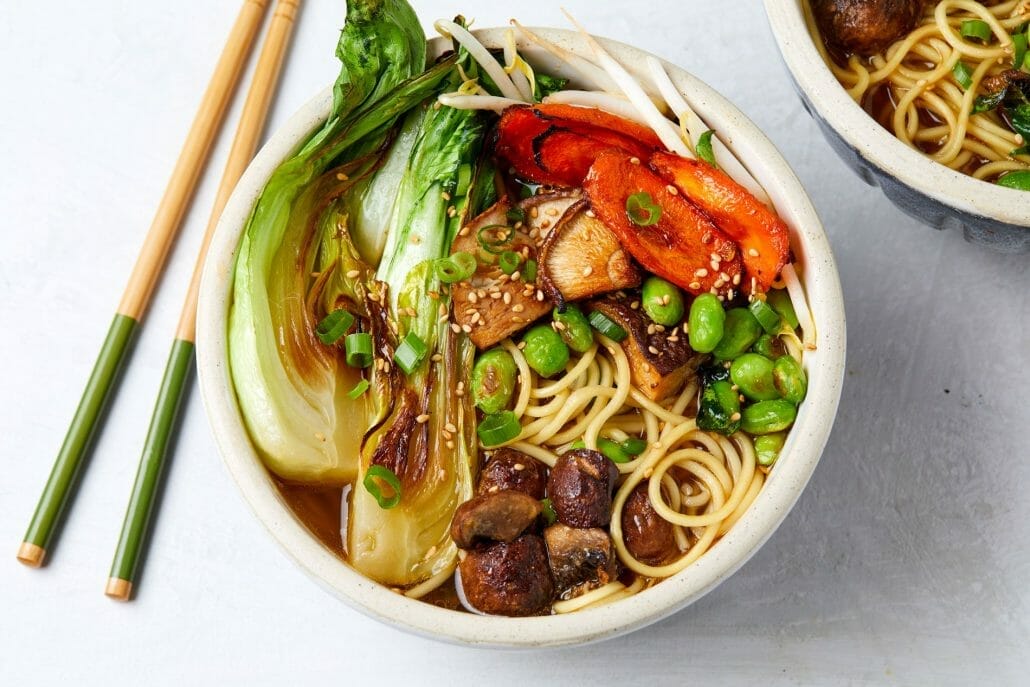 This tasty and convenient lunchtime favorite is usually made with wheat flour and can easily be adapted to a vegan diet. Not all packages are created equal though, so it's important to keep an eye out for any animal by-products listed on the label when shopping for your vegan-friendly ramen.
You can even find gluten-free varieties if you have dietary restrictions! So next time you're looking for a filling and tasty lunch option, consider picking up a package of vegan-friendly ramen noodles.
What Do You Mean By Ramen?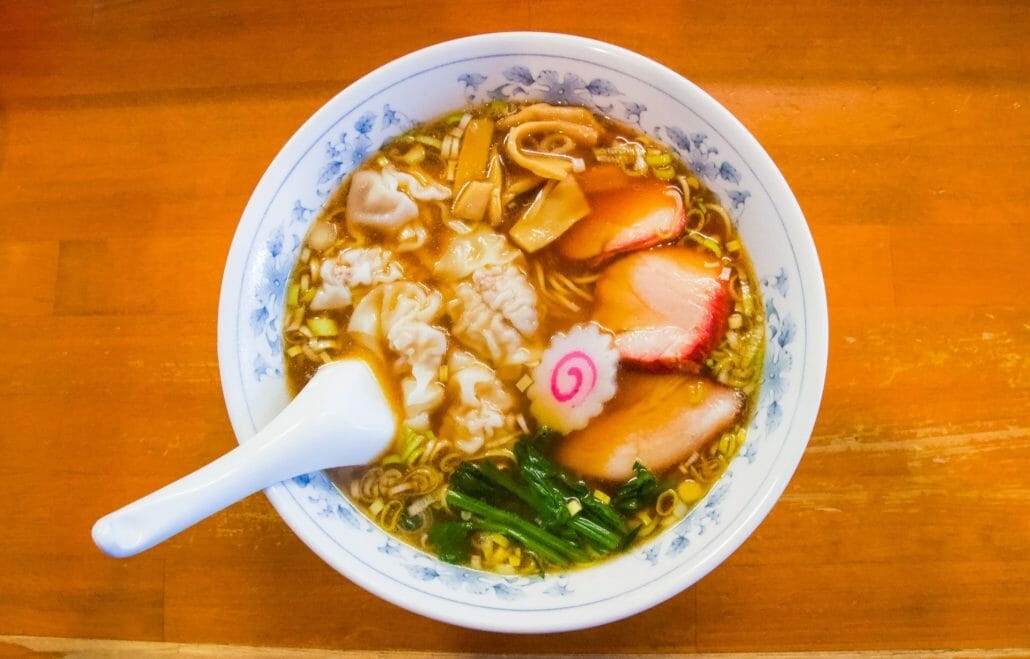 When people think of ramen, they usually think of pre-cooked instant ramen noodles that come in a dried block with a little pouch of flavorful broths. However, this is only one type of ramen. In fact, there are many different types and varieties of egg-free ramen noodles around the world.
Momofuku Ando is credited with inventing instant ramen in post-WWII Japan in 1958. After seeing citizens huddled around a traditional ramen noodles stand, Ando thought that delectable noodles were the simple and inexpensive solution to world hunger.
It's easy to cook instant ramen. Just boil water in your kettle, pour it over the curly noodles, cover them to steam, and you've got an amazing meal.
Authentic Ramen noodles are vegetarian-friendly as they typically contain only wheat flour and oil, plus some occasional potato starch or salt.
But keep your eyes peeled for those tiny flavor packets because most often these contain animal-based ingredients list like beef or chicken which would make them unsuitable for vegans.
What Are The Ingredients Used In Ramen?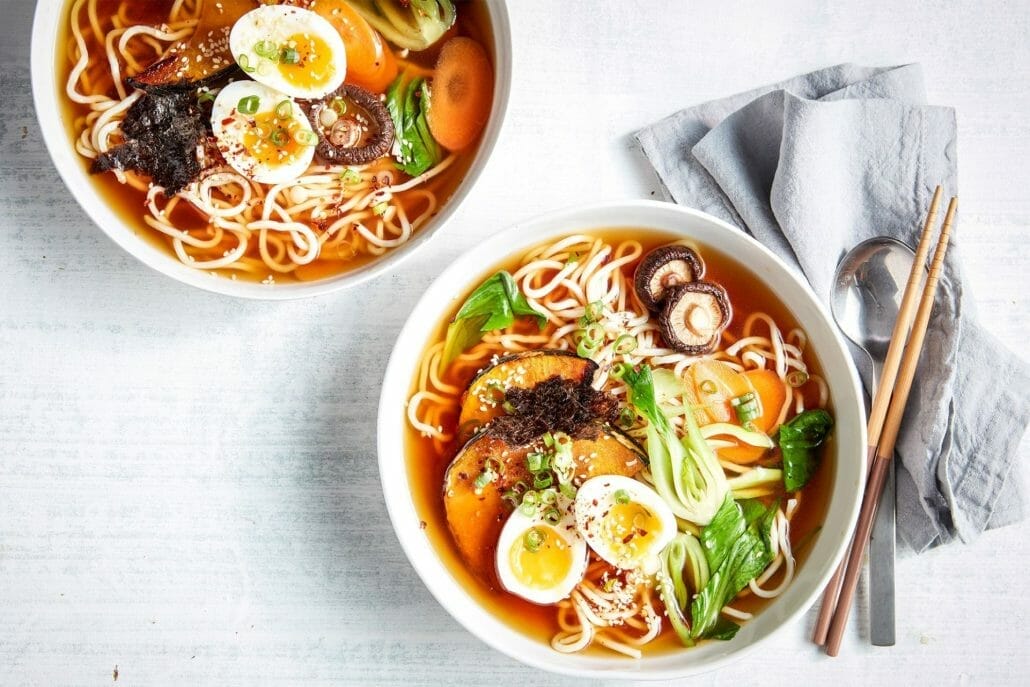 When it comes to making ramen, the ingredients used are salt, water, wheat-based flour, cooking oil, kansui, potato starch, and baking soda. Wheat flour is perfect for those with a vegan diet as it is free of any animal products. It also helps give the noodle its shape and texture.
Water helps moisten the mixture and acquire the correct dough texture, while salt not only adds flavor but also strengthens the gluten network. Kansui is added to intensify the taste as well as bring out the yellow hues of the glorious noodles.
Is Chicken Ramen Vegan?
Chicken ramen typically includes various ingredients such as beef or chicken stock, which is not inherently vegan. Although it may contain other animal-based ingredients like fish sauce or egg, the key component to look out for when determining if it is vegan is the chicken stock.
Are Instant Ramen Noodles Vegan?
Are you a vegan who loves cheap ramen noodles? If so, we have some great news for you! In short: the noodles themselves are vegan, but unfortunately, the flavoring packets usually are not.
It all begins with Momofuku Ando back in 1958 when he invented instant pre-cooked ramen noodles packaged with a powdered soup base flavor.
Now billions of bowlfuls of these tasty and affordable noodles are eaten every year around the world. So if you're looking for a quick, easy and delicious vegan-friendly dish then instant ramen is your go-to.
Instant Ramen Noodle Brands That Are Vegan
Here are some vegan-friendly brands of Instant Ramen Noodles:
1. Dr. McDougall's Right Foods
If you're looking for vegan instant noodle brands, then you should definitely check out Dr. McDougall's Right Foods. They offer a wide selection of vegan noodle-in-a-cup options, including a chicken flavor that is surprisingly tasty.
Plus, if you don't want to go for a traditional ramen dish, then their Vegan Pad Thai is an incredibly delicious choice as well. All of their products are completely free from animal products making them a great option for those who are following vegan diets.
2. Nissin Top Ramen
Nissin Top Ramen is one of the most beloved and delicious instant ramen noodle brands on the market. They offer two vegan varieties, Chili and Soy Sauce, so those looking for a healthier option can still enjoy all the deliciousness of fresh ramen noodles.
Nissin is well-known for its quality ingredients and tasty combinations, so vegans don't have to sacrifice taste in order to stay true to their lifestyle. With these two vegan flavors, you are sure to love Nissin Top Ramen every time you indulge.
3. Nissin Cup Noodles
If you're looking for vegan-friendly instant ramen noodle brands, then Nissin Cup Noodles should be your number one choice. Their Very Veggie Soy Sauce Flavor Cup Noodles come with a full serving of vegetables, including edamame, bok choy, and carrots.
This means that you are getting not just an instant ramen product, but also a balanced meal that is delicious and nutritious. Plus, at just the right price point, this vegan option is sure to satisfy any budget.
4. Koyo
Koyo has plenty of vegan ramen noodle flavors that are sure to tantalize your taste buds. They offer many delicious options, like their flavorful Garlic Pepper, Shiitake Mushroom, and Lemongrass Ginger varieties.
All of their vegan ramen noodles are made with non-genetically modified ingredients and no artificial preservatives or MSG.
5. Thai Kitchen
If you're looking for delicious vegan instant ramen, look no further than Thai Kitchen! With their wide variety of flavors including Thai Ginger, Garlic & Vegetable, and Spring Onion, you'll be sure to find one that you really enjoy.
Their noodles and sauces are so tantalizing that they'll make your taste buds sing. Not just vegan, these delights are also plant-based and MSG-free.
6. Crystal Noodle
When it comes to vegan-friendly instant ramen noodle brands, Crystal Noodle is a great choice. Their Spicy Tofu Ramen Bowl is the perfect way to get a little bit of protein and spice into your meal. It's also certified vegan, so you know you're getting quality noodles with no animal byproducts.
7. Lotus Foods
Lotus Foods is also a great choice if you are looking for vegan-friendly instant ramen noodles. They have an extensive Rice Ramen collection with numerous flavors that are suitable for vegans.
One of the tastiest options is their Brown Rice & Purple Potato version, which looks so attractive and delicious.
Hey'all I'm Amy, a born foodie and diagnosed with celiac disease 7 years ago. I refused to cave into tasteless, boring gulten free food and create my own!
On my blog you'll find info & cool facts along with recipes, all on gluten free foods!