Are Reese's Pieces Vegan?
Are Reese's Pieces vegan? Unfortunately, the answer is a resounding "no." This delectable candy contains animal products that one wouldn't suspect with its hard outer coating, making it inadequate for those who follow a vegan diet.
For sweets connoisseurs out there who still want to taste something peanut buttery and delicious but are adhering to a vegan lifestyle.
Pasokin Original Peanut Snack is an excellent alternative. It does not have any animal by-products making it a secure option for vegans.
Plus, this traditional Brazilian treat is considerably healthier than most candies containing just 75 calories per piece with 2 grams of protein and 1 gram of dietary fiber – perfect for those wanting to indulge in moderation.
Why Are Reese's Pieces Not Vegan?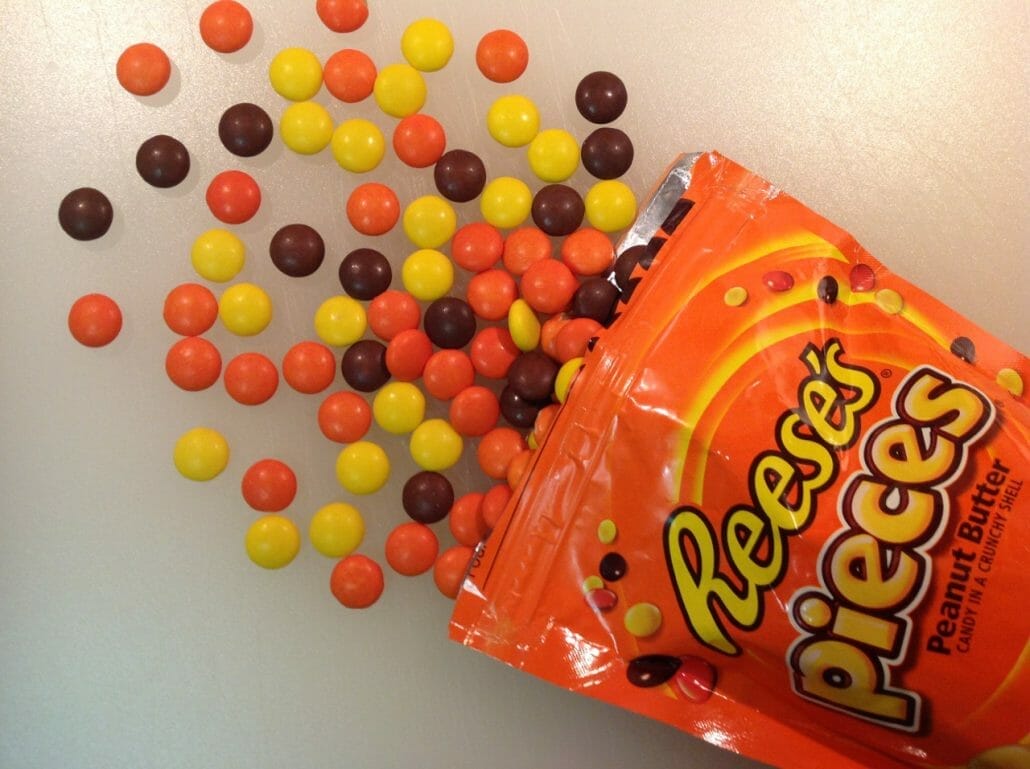 Reese's Pieces Peanut Butter Candy is not vegan-friendly due to its many non-vegan ingredients. The biggest offender is the milk ingredient, which is a non-negotiable for vegans.
On top of that, the classic Reese's Pieces packs also contain sugar and confectioner's glaze, neither of which are necessarily vegan.
Sugar isn't necessarily animal-based but it is sometimes refined with bone char, which makes it off-limits to some vegans. The same goes for confectioner's glaze which contains shellac taken from insect secretions, making it unsuitable for many vegans as well.
Even artificial colors may not be vegan because some companies test them on animals despite there being no animal ingredients in sight!
Lastly, lecithin can come from both vegan and non-vegan sources – so it's uncertain whether they're vegan or not.
It's therefore clear why Reese's Pieces Peanut Butter Candy cannot be considered to be vegan – making it an unfortunate case for those who follow a strictly plant-based diet.
Are Reese's Peanut Butter Cups Made Of Vegan Ingredients?
Are Reese's Peanut Butter Cups made of vegan ingredients? Unfortunately, the answer is no. All varieties of Reese's Cups contain milk ingredients and are therefore not suitable for Vegans.
On top of that, the original Reese's Milk Chocolate Peanut Butter Cups may contain sugar processed with bone char, as well as artificial colors or natural flavors from an unknown source.
While there are some creative recipes for vegan-friendly 'homemade' Reese's cups out there, if you want to stick to the classic store-bought version then unfortunately you won't be able to enjoy them on a vegan diet.
Are Reese's Pieces Bad For Your Health?
The answer to this question is yes, they are not good for you, due to the high sugar content and extra calories.
Consumption of sugary products can result in weight gain and chronic diseases, such as cavities or cancer, kidney and liver disease, tooth decay, diabetes, inflammation, and cardiovascular disease.
Therefore one should enjoy Reese's Pieces as a rare treat instead of regularly consuming them. Too much added sugar can certainly lead to many health issues.
Even having just the serving size might be too much for some people because the fat and sugar add up quickly.
Eating Reese's Pieces may lead to weight gain and other risks associated with high sugar consumption.
Do Reese's Pieces Contain Gluten?
Reese's Pieces are a popular candy, and many have been wondering if they contain gluten. The good news is that Reese's Pieces are gluten-free!
This means that if you have an allergy or intolerance to gluten, these candies are safe for you to enjoy.
That said, not all Reese's products are gluten-free, such as their seasonal-shaped items, like Reese's Pieces Eggs.
But all other varieties of the candy, including original peanut butter cups and the Fast Break Bar, Nutrageous Bar, and Unwrapped Mini Minis are all labeled as gluten-free.
So you can rest assured knowing that it is still ok to indulge in these delicious treats!
Vegan Alternatives To Reese's Pieces That Are Healthy
When searching for vegan alternatives to Reese's Pieces, Dark Chocolate Peanut Gems by Unreal Snacks are a great and healthy choice.
Not only are they vegan-friendly, but they also contain no artificial ingredients as the colors come from sources such as beets and spirulina.
Plus, you can feel good about what you're eating since these treats are guilt-free!
So if you're looking for healthier alternatives to Reese's Pieces that also happen to be vegan-friendly, Dark Chocolate Peanut Gems by Unreal Snacks make for the perfect snack.
Hu, Cashews & Vanilla Bean Hunks
Hu has created the perfect vegan-friendly Reese's Pieces alternative with their Cashew & Vanilla Bean Hunks. Made with cacao, cocoa butter, unrefined coconut sugar, a hint of sea salt and organic vanilla bean, and organic cashews.
Hu has crafted a delicious combination that tastes like the real thing! These vegan-friendly and gluten-free treats are lightly sweetened so you can indulge without feeling guilty.
Not only do these hunks taste great, but they're also made with USDA Organic ingredients and are certified Paleo, Kosher, and Vegan.
On top of all that, Hu makes sure to ensure customers are getting high-quality products without added "natural flavors." You won't find anything artificial here – just pure goodness!
These Reeses' Pieces have some nutritional benefits too; each serving is 170 calories with 12 grams of fat, 10 grams of carbs, and 4 grams of protein – making them a great snack option for health-conscious folks alike.

Nelly's Organics, Organic Peanut Butter & Coconut Bar
Nelly's Organics brings you their Organic Peanut Butter & Coconut Bar, deliciously vegan and certified organic by the USDA.
Made with only organic ingredients and high in protein, vitamins (such as Vitamin E and A), and essential fatty acids, this bar is a dream come true for those who want to enjoy something sweet but also healthy!
The ingredients of this flavor include organic peanut butter, raw blue agave, cacao butter, coconut oil, raw coconut, pink Himalayan salt, cane sugar, raw pumpkin seeds, and organic chocolate liquor.
What's more amazing is that not only is it vegan-approved but also dairy-free and soy-free!
And nutritional facts of 1 bar (45gm)show -260 calories 18g of total fat 17g of carbs 7g of protein. Plus its low sodium content makes it even healthier!
So if you're looking for a nutritious treat for your snack time needs look no further and go for Reese's Pieces Vegan Bar from Nelly's Organics!

Barnana, Organic Dark Chocolate Peanut Butter Banana Bites
Barnana's Organic Dark Chocolate Peanut Butter Banana Bites are the perfect vegan-friendly alternative to Reese's Pieces.
Combining creamy peanut butter with decadent dark chocolate, these bite-sized treats are not only a healthier and organic option but also low in sodium.
These delicious snacks feature high-quality ingredients such as Certified Sustainable Palm Kernel Oil, Sea Salt, Peanut Flour, and Cacao Butter.
Plus, they're vegan, dairy-free, and Kosher certified, as well as being USDA Organic certified too.
With just 185 calories per serving and 8g of fat combined with 25g of carbs and 2g of protein; these Barnana bites will satisfy those cravings without any guilt!
Just make sure that you check the package first if you have any allergies to Soy or Peanuts since they're both present in the snack.

Justin's, Dark Chocolate Peanut Butter Cups
Justin's Dark Chocolate Peanut Butter Cups are a decadent and healthy alternative to Reese's Pieces and Reese's Peanut Butter Cups.
These cups are made with only the finest vegan, organic, and gluten-free ingredients; including and com sunflower lecithin, organic peanut flour, organic palm oil, organic peanut butter, organic dark chocolate, sea salt, and organic cane sugar.
All the ingredients by Justin's have been certified USDA Organic, low sodium, and kosher.
Moreover, the palm oil used is rainforest alliance certified giving an assurance that no sustainable forests were destroyed in the process of making these delightful treats!
Not only this but each delicious cup contains 220 calories worth of nutrients; 14g of total fat, 20g of total carbs, and 4g of protein. So whether you're vegan or not these vegan peanut butter cups should be on your next shopping list!
Hey'all I'm Amy, a born foodie and diagnosed with celiac disease 7 years ago. I refused to cave into tasteless, boring gulten free food and create my own!
On my blog you'll find info & cool facts along with recipes, all on gluten free foods!