Sunflower Seeds VS Almonds: Which One Should I Choose?
If you are looking to add some healthy snacks into your daily diet, you might be tempted to add sunflower seeds or almonds into your meals or as a snack, but which one is better?
Both sunflower and almonds have benefits when added to your diet, but there is some key difference between the two such as fibre and fat content.
We've discussed in further detail below the benefits of eating almonds, and sunflower seeds and a comparison of their nutritional info to see which one is right for your diet and what you need.
What Are The Benefits Of Eating Almonds?
Before we compare both almonds and sunflower seeds, we will first start with the basic nutritional benefits of adding a small portion of almonds into your diet each day. 
They are high in vitamin E – Almonds are an excellent source of vitamin E which is a fat-soluble anti-oxidant. 
Could help with blood sugar control – These nuts are low in carbs and sugar but high in fat and protein which can make them useful for blood sugar control.
Lots of anti-oxidants – Almonds are loaded with antioxidants which can help to protect against oxidative stress in the body. 
Magnesium can help with blood pressure – The magnesium in Almonds has been proven to help with blood pressure control, and magnesium deficiency is linked to high blood pressure.
What Are The Benefits Of Eating Sunflower Seeds?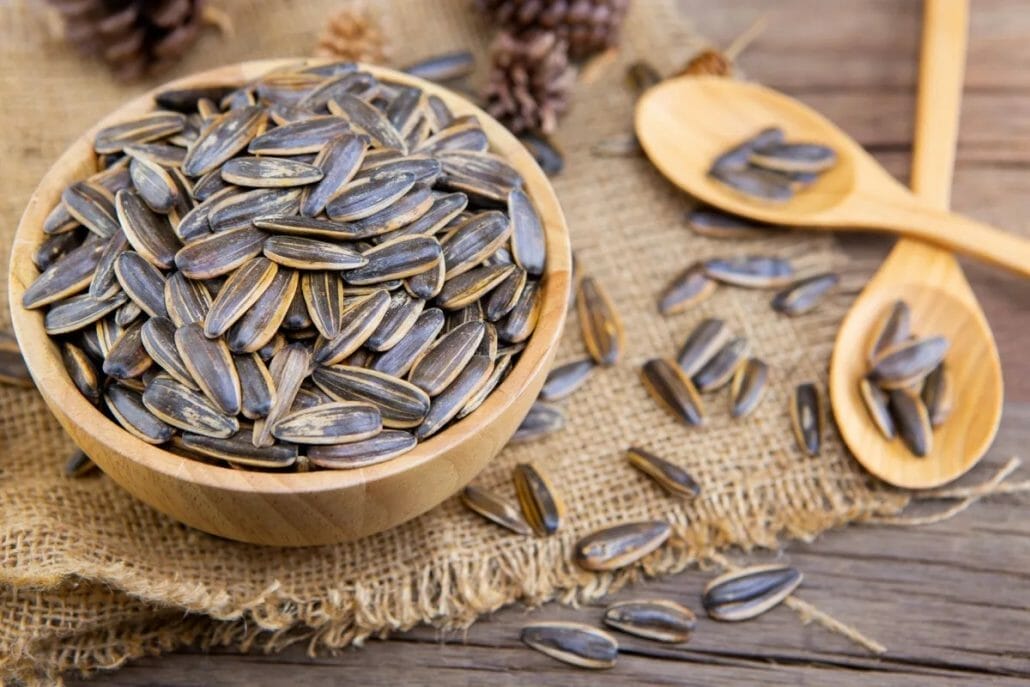 Now we know all about the benefits of adding almonds to your diet, let's move on to sunflower seeds. 
Can help blood sugar – Just like almonds, sunflower seeds are high in fat and protein, which makes them a good snack for people with high blood sugar, it's also due to the chlorogenic acid in the seeds.
Prevent heart disease – Sunflower seeds could potentially lower your blood sugar since they have a compound in them which stops the restrictions of blood in your body, the fatty acid can also lower cholesterol.
Bring down inflammation – C-reactive protein can be a high inflammatory marker in people who have an increased chance of getting heart disease, sunflower seeds have been said to lower the amount of this protein thanks to the omega-3 fatty acids.
Sunflower Seeds Vs Almonds – What's The Difference?
Now we know why both sunflower seeds and almonds are good for you, let's highlight the key similarities and differences between both of these superfoods and how they benefit you. 
Sunflower seeds and almonds both have a similar calorie content with almonds having 579 calories for 110g and sunflower seeds having 584 calories. 
Sunflower seeds have 2% less protein than almonds. 
These seeds for carbs are better than almonds having nearly 8% less, which means they could be better for blood sugar too.
Sunflower seeds have 3% more fat than almonds. 
Sunflower seeds are very high in B amounts of vitamin while almonds have much less.
Frequently Asked Questions About Sunflower Seeds & Almonds 
Do sunflower seeds have vitamin E? 
Yes, like almonds sunflower seeds are a good source of vitamin E and have a generally high vitamin content.
Are almonds higher in dietary fibre than sunflower seeds? 
Both almonds and seeds are high in fibre however almonds have slightly more than these seeds.
What are the benefits of omega-6 fatty acids? 
Sunflower seeds are high in Omega fatty acids, these are said to be good for skin and hair growth, and bone health and also help with hormones and the reproductive system.
Do sunflower seeds have B vitamins?
Sunflower seeds are loaded with B vitamins such as; Vitamin B1, Vitamin B2 and Vitamin B3, this can be especially great if you're on a vegan diet.
Last Words
 To conclude, sunflower and almonds are both healthy snacks to have on the SW plan, they are however very high in calories so need to be consumed mindfully in moderation.
We would recommend choosing almonds over these seeds when you want to lose weight, but for nutritional benefits, sunflower seeds are much better, see our guide for eating chia seeds here.