Are Udon Noodles Vegan?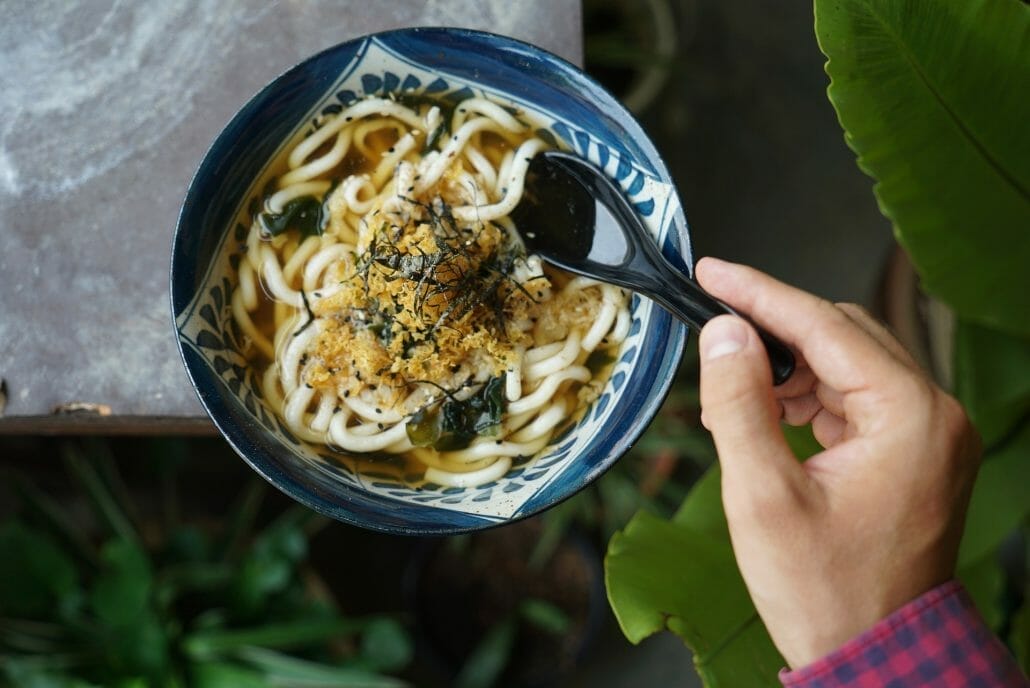 Udon noodles are one of the few types of noodles that don't contain eggs, so they are commonly considered vegan.
In its simplest form, udon is served hot as a noodle soup, but can also be served alongside numerous dishes — both vegan and non-vegan.
When it comes to fresh udon noodles, are usually made with wheat flour and water. This means that you don't have to worry about them containing any animal ingredients or products.
On top of that, there are several brands of vegan-friendly udon Asian noodles available on the market that allow you to enjoy this delicious type of pasta without any worries.
It's important to keep in mind though that just because udon Asian noodles themselves are vegan does not mean that all dishes containing them will automatically be vegan as well.
Many dishes will use non-vegan ingredients such as fish sauce or chicken stock for flavor enhancement.
So if you want to make sure your meal is 100% vegan, be sure to check all the ingredients used before digging in!
Vegan Udon Noodles
Yaki Udon noodles can be a great vegan-friendly dish if you know where to look. Yaki Udon noodles are egg-free, making them one of the few Japanese cuisine noodles that are completely vegan-friendly.
Manufacturers often food label them as "fake noodles" in Western countries, but this doesn't make them any less vegan!
When purchasing udon noodles or ordering udon dishes at a restaurant, always check the ingredients on the label or find out what add-ons were used in the dish. Egg proteins may sometimes be used as binders, so it's always best to double-check in case.
However, since wheat flour already contains enough gluten to act as a binder, yaki udon noodles typically do not contain eggs. The golden color of some varieties is usually due to carotenoids found in plants rather than egg yolk.
You can make delicious vegan Udon noodle recipes with ease by boiling water and adding your favorite toppings like greens, mushrooms, and seaweed. Or you can even enjoy cold Udon dips!
Vegans need to beware of certain dishes like Kake udon though because it frequently includes a soup called kakejiru which often contains dashi made from fish stock.
In general, vegans should also remember to be aware of non-vegan ingredients when eating any type of food both at home and in restaurants alike!
KA-ME Udon Stir Fry Noodles
Introducing KA-ME Udon Noodle stir fry, an excellent vegan option for Japanese noodle meal lovers.
These noodles are made with four simple ingredients: lactobacillus (lactic acid) derived from microorganisms, water, wheat flour, and tapioca flour.
So you can rest assured that these noodles are completely vegan! With their unique chewy texture, these tasty udon noodles are the perfect addition to your favorite Asian dishes.
Plus, they're low in fat and cholesterol-free, making them a healthier option than other udon noodles on the market.
Whether you're looking for something to put in your stir fry or just want to enjoy a delicious vegan meal, KA-ME Udon Stir Fry Noodles will definitely hit the spot!
Myojo Udon Soup: Hot & Spicy Flavor
Myojo Udon Soup: Hot & Spicy Flavor is a delicious vegan alternative to traditional udon Japanese noodles. This soup contains enriched wheat flour, salt, water, lactic acid, and natural flavors.
So it's suitable for vegans who don't mind the presence of lactic acid and naturally derived flavors in their meals.
The hot & spicy flavor features robust spices that will make your taste buds tingle. It's perfect for those looking for something a little more flavorful than the standard udon noodle soup mixes.
So if you've been looking for a way to spice up your vegan diet, Myojo Udon Soup: Hot & Spicy Flavor is just what you need!
What Are The Health Benefits Of Udon Noodles?
Udon noodles are a delicious and versatile addition to any diet, not to mention they offer a host of health benefits. When it comes to digestion, udon noodles are super easy on the stomach.
Not only that, but they can also help with weight loss and reduce your risk of heart disease, type 2 diabetes, and colorectal cancer!
Their complex carbs give you energy while not causing fat build-up, making it easier for you to get through your day feeling more energized.
Vitamin content is also high in content of udon noodle bowl—thiamine, niacin, and other vitamins all help reduce stress levels as well as improve circulation throughout the body.
One serving-size bowl of udon noodles will deliver about 160kcal with 1g total fat, 0g saturated fat, 0m cholesterol, 0mg sodium, 65g carbohydrates, 2g dietary fiber, 0g sugar, and 28g protein.
Overall Udon noodles are great for anyone looking for a tasty addition that can be part of a healthy vegan diet. With their low nutritional content though you may want to mix them up with other items to make sure that your diet is balanced and complete!
Homemade Vegan Udon Noodles Recipe
Making a vegan yaki udon noodle recipe at home is a breeze. With this delicious and easy recipe, You'll be able to whip up savory sesame beef yaki udon noodles in no time!
Plus you'll also get to enjoy homemade vegan seitan beef strips for an extra burst of flavor.
These comforting, satisfying noodles will quickly become your go-to meal when you're looking for something quick and delicious that can be made from basic ingredients without much fuss.
So grab some pre-cooked Japanese udon noodles, toss them in the savory sesame sauce, and top with the homemade vegan seitan beef strips – a hearty vegan meal awaits!
Ingredients
Sesame Savory Sauce
2 tbsp brown sugar, 2 tbsp water, 1/4 cup soy sauce, 3 cloves garlic, minced, 1 tbsp cornstarch, 1 tbsp sesame oil, 1 tsp sambal oelek, 1 tbsp white rice wine vinegar, 1/2 tbsp minced ginger, and 2 tbsp agave nectar.
Vegan beef
If you're looking to add some extra protein and flavor to your vegan meal, then TYBM's Homemade Vegan Seitan Beef is an ideal option. This pre-cooked vegan beef can be cut into strips and added to any dish, including a delicious udon noodle dinner.
Simply sauté the yellow onion, broccolini, seitan beef strips, and pre-cooked vegan udon noodles in sesame oil until everything is cooked through – it's that easy!
You'll get all the protein and flavor of beef without any of the cruelty associated with animal products.
Now you can enjoy a totally vegan meal with delicious vegan beef!
Instructions
Making vegan udon noodles is easy and delicious! Start off by heating up a teaspoon of sesame oil in a large skillet or wok, followed by adding some chopped yellow onion and sautéing until it becomes translucent.
Next, add the broccolini and 1 tbsp water to the pan, cooking for 6-8 minutes until softened. While that's happening, mix together all the savory sauce ingredients together apart from the cornstarch before creating a slurry with 2 tbsp of prepared sauce and the cornstarch.
Once done, pour your udon noodles into the pan alongside everything else, covering for 2 mins to loosen them up.
Now add in ½ of your sauce mixture to coat the noodles evenly before throwing in your "beef" strips along with the remaining sauce plus cornstarch mixture.
Heat for 3-4 mins more until it thickens correctly. You can serve immediately following this step with cilantro, green onion, and sesame seeds as desired toppings!
Equipment Required
If you're looking to whip up some delicious vegan udon noodles at home, you'll need a few items.
First, you'll need a large wok or pan and tongs or another stirring device to make sure your imitation noodles cook evenly and the ingredients don't stick too much.
These tools are essential to creating an amazing vegan udon noodle dish, so make sure you have them ready before you get to the cooking process! With these items on hand, you can easily create a delicious vegan meal in no time.
How To Stir Fry The Udon Noodles?
If you've been looking for a tasty vegan dish, look no further than stir-frying udon noodles! This easy-to-make dish packs a flavor punch and is sure to please even the fussiest eater.
Start by heating sesame oil in a large frying pan or wok over medium to medium-high heat. Saute yellow onion until translucent, which should take about five minutes.
Next, add chopped broccolini and 1 tablespoon of water, cooking it together with the onion for another 10 minutes, until the water has completely dissolved.
In a separate bowl, mix together all sauce ingredients except cornstarch. Before adding this to your stir fry pan/wok, create a slurry using 2 tablespoons of the sauce mixture combined with cornstarch in a small bowl and set aside.
Now it's time to add the sweet noodles and half of the flavorful sauce to your pan, quickly tossing them around until coated with that delicious flavourful glaze.
You can opt for vegan beef (or any other protein you fancy) along with the remainder of your dipping sauce plus that wonderful cornstarch mixture.
Serving
UDON Noodles are perfect for any vegan meal, and the best way to enjoy them is to serve them warm. Every recipe yields about 4 large servings, so it's easy to feed your entire family with one batch of noodles.
You can customize your serving by adding various crisp vegetable flakes and toppings; whether you want a light lunch or create a flavorful and hearty dinner, UDON Noodles have got you covered!
Don't worry if there are leftovers either – these noodles are extremely versatile and can be enjoyed cold in udon noodle salad jars or in hot dishes such as noodle soups. Enjoy them however you like – the possibilities are endless!
Garnishes
Garnishes are the perfect finishing touch to these vegan sesame "beef" udon noodles. Adding fresh cilantro, a squeeze of lime, and thin slices of spring onion to your bowl will give it some extra flavor and texture.
To add a pop of color, sprinkle either black or white sesame seeds on top! With just a few simple garnishes, you'll take your udon noodles from plain to tasty in no time.
So don't forget to finish off your vegan bowl with these tasty accouterments for the ultimate dining experience!
Storage
When it comes to storing your udon noodles, an airtight container in the fridge is your best bet. The noodles can stay fresh for up to 5 days when stored like this.
For reheating, you have two options: either a minute or two straight in the microwave, or a quick stir-fry on the stove to make sure they're warmed through.
Either way, you won't be stuck eating cold noodles! So get creative and enjoy some delicious udon dishes at home with no worries about how long they can stay good.
Substitutions
If you're searching for vegan udon noodles, there are several substitutions you can make to customize this recipe to suit your needs. Instead of baby bok choy, any vegetables you have on hand can be added in.
For the vinegar component, you could substitute lime juice or white vinegar instead. Similarly, soy sauce can be replaced with dark soy sauce or reduced-sodium soy sauce.
For those seeking a protein switch-up, try crispy vegan tofu – just make sure to use extra firm!
Alternatively, Soy Curls work great too! You may also want to swap out the cooked udon noodles for dry ones or rice noodles.
For instance, if using one of these options, always follow the package instructions for preparation. As for sugar substitutes? Try using maple syrup or coconut sugar instead of brown sugar.
These ingredients guarantee a delicious and nutritious bowl of vegan udon noodles that fits your dietary preferences and cravings!
Hey'all I'm Amy, a born foodie and diagnosed with celiac disease 7 years ago. I refused to cave into tasteless, boring gulten free food and create my own!
On my blog you'll find info & cool facts along with recipes, all on gluten free foods!