The Best Bread Brands for Vegans
There are a number of delicious and nutritious bread brands that are perfect for vegans.
Whether you're looking for a hearty sandwich bread or a crunchy artisan loaf, each brand has something to offer.
If you're vegan, here are some of the best bread brands to check out:
Dave's Killer Bread
Dave's Killer Bread is one of the best bread brands for vegans. This organic, whole-grain bread contains no animal products and is completely dairy-free, making it totally vegan-friendly. Not only that but Dave's Killer Bread is made with five super grains: oats, wheat, rye, Spelt bread, and barley. It also contains 15 grams of protein per serve!
Moreover, Dave's Killer Bread is also a Non-GMO Project Verified, meaning it meets the highest safety standards with regard to GMOs and chemicals.
And to top it off, this amazing bread tastes great too! With a wide range of varieties including Organic 21 Whole Grains and Seeds, Good Seed®, Honey Oats & Flax, and Rockin' Ancient Grains®, there's something for everyone.
Choose Dave's Killer Bread for a vegan-friendly option that packs in nutrition and fantastic taste – you won't regret it!
Food for Life
Food for Life Gluten Free is one of the best bread brands for vegans. They specialize in vegan-friendly whole-grain bread, bagels, and tortillas that are free from animal products, additives, and preservatives. This makes them an ideal option for nutritional-conscious vegan diets.
Their products are packed with fiber, protein, vitamins, minerals, and other essential nutrients – including sprouted grains – which provide an easily digestible source of energy.
The brand also commits to using only the highest quality organic ingredients sourced from family farms around the world creating wholesome food that is good for your health and the planet. With a wide selection of tasty options, Food for Life offers something delicious for everyone!
Rudi's Bakery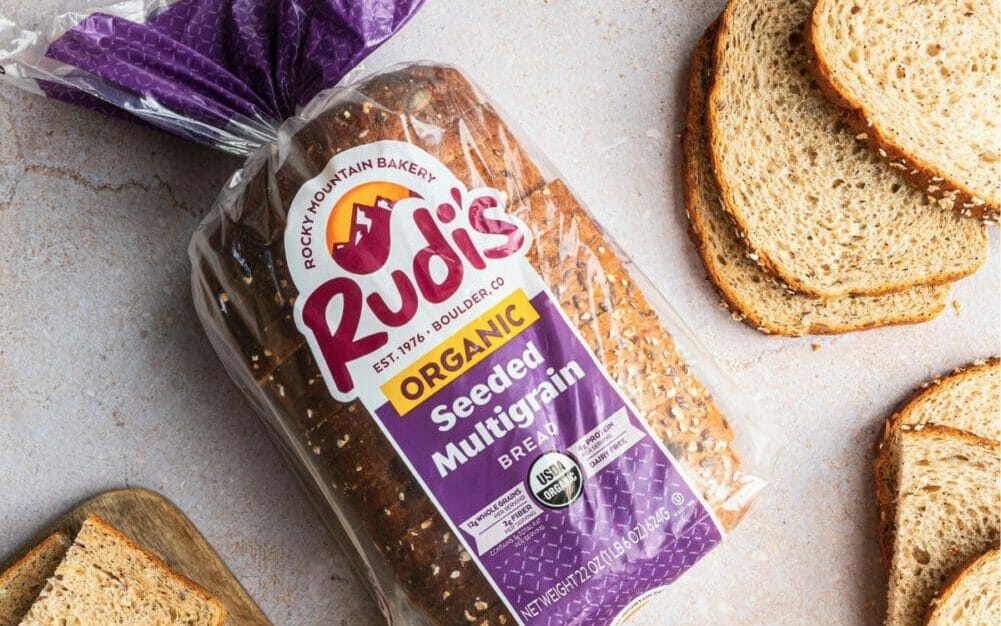 Rudi's Bakery is one of the best bread brands for vegans. Their selection of plant-based bread is free of dairy and eggs, completely suitable for any vegan lifestyle.
The company sources organic ingredients to ensure its bread products are preservative-free and additive-free. Plus, they offer a variety of flavors and grains so that there's something available to please all taste buds!
Angelic Bakehouse
Angelic Bakehouse is one of the best bread brands for vegans. They offer a variety of vegan-friendly products, including their popular Signature 7-Grain and 4 Seed varieties.
All of their bread is made without the use of any animal-based ingredients and are 100% Non-GMO. Plus, they use only organic grains and seeds in all of their products.
Additionally, Angelic Bakehouse takes great pride in offering delicious and nutritious products that are free from additives or preservatives.
Many of their bread is also free from common allergens like gluten, dairy, egg, and soy making them ideal for those with dietary restrictions or special sensitivities to certain foods.
Nature's Own
Nature's Own is a great option for vegans looking for the best bread brands. Their bread is plant-based and dairy-free, and they also use non-GMO ingredients. Nature's Own bread are delicious and nutritious, making them a great choice for any vegan diet.
Plus, they have a wide variety of flavors to choose from like Ancient Grains, Cinnamon Swirl, White Wheat, and more!
Arnold, Oroweat & Brownberry Breads
Arnold, Oroweat & Brownberry Breads offer a variety of vegan bread options for those seeking to add plant-based products to their diets. Alvarado Arnold bread, Oroweat, and Brownberry bread all bring something unique to the table:
Arnold's healthful grains provide whole grains for extra nutrition; Oroweat's "Soft Wheat" is the perfect choice for sweeter recipes, and Brownberry has several flavors that accommodate savory or sweet dishes.
With these vegan bread brands, there's something for everyone! All of these bread are also certified vegan by Vegan Action so you can rest assured that what you're getting is 100% plant-based.
Each company offers a variety of wholesome ingredients like oatmeal and flaxseed, to make sure your seedy sandwiches are not only delicious but also healthy. With plenty of options to its name, Arnold Bread, Oroweat & Brownberry Breads are the perfect choice for anyone looking for a vegan bread brand.
Bakers Delight
Bakers Delight is one of the best vegan bread brands on the market. They offer a variety of delicious and nutritious vegan loaves, buns, rolls, and bagels that are perfect for any occasion.
Whether you're looking for something to top with your favorite spreads or a hearty sandwich option – Bakers Delight has got you covered. All of their products are plant-based, dairy-free, and egg-free so there's something for everyone to enjoy!
Berlin Natural Bakery Breads
Berlin Natural Bakery Country Breads is the perfect bread option for vegans and those looking to have a healthy, plant-based diet. All their basic bread are made with natural ingredient lists that are free from GMOs, cholesterol, and added sugars.
They offer a variety of products from rye bread to sourdough loaves to cinnamon buns, offering something for everyone's taste. The company also offers gluten-free options so that those with celiac disease or gluten sensitivities can still enjoy the same delicious treats.
With amazing flavor and texture, Berlin Natural Bakery White Breads will make the perfect addition to your vegan diet!
Bloomfield Farms Breads
Bloomfield Farms Breads is a vegan brand of freshly baked bread made with wholesome ingredient lists. Their products are free from the animal-based ingredients list, artificial preservatives, and GMOs.
They offer a variety of artisanal loaves, including whole wheat, multi-grain, and focaccia. Bloomfield's proprietary baking process uses only whole grains and ancient grains to create unique flavor combinations that are sure to please vegans and non-vegans alike.
In addition to its signature loaves, the company also has a range of specialty items such as ciabatta buns, baguettes, and flatbreads.
All of the products are made with non-GMO, organic ingredients that are healthy for everyone in the family. With Bloomfield Farms Breads you can be sure your family is getting the highest quality plant-based nutrition with every bite.
BFree Foods Breads
BFree Foods Breads are the perfect choice for vegan bread lovers. All of their pieces of bread are vegan-friendly, made with natural ingredients, and free from preservatives, dairy, and gluten.
Whether you're looking for a classic sandwich loaf or a specialty bread like quinoa brown bread dough, BFree has you covered with delicious vegan options.
Carbonaut Breads
Carbonaut White Bread aims to make it easier for everyone to enjoy delicious breakfast bread vegan. They use top-quality ingredients and traditional baking methods to create amazing taste and texture in each of their loaves.
Whether you're looking for a sandwich loaf, a sourdough boule, or something else, Carbonaut has you covered! You can get their products delivered fresh or frozen so that you can enjoy the same quality and additional flavor no matter when you eat them.
Best of all, they use organic and sustainable ingredients so you don't have to worry about artificial colors, preservatives, or any other chemicals in your food. They also strive to support local farmers with every purchase!
Delba Gluten-Free Vegan Breads
Delba Gluten-Free Vegan Breads are perfect for anyone looking for a delicious and nutritious vegan alternative to regular pieces of bread.
The Delba line includes a variety of tasty vegan gluten-free bread that are all made without any animal source products. They're also dairy-free, nut-free, soy-free, and certified gluten-free.
Eatsane Breads
Eatsane Bread is a vegan bread brand that specializes in providing delicious and nutritious bread for a wide variety of dietary needs. Their mission is to provide wholesome, organic, vegan-friendly products that are made from the finest ingredients.
Every loaf is free from genetically modified organisms (GMOs), preservatives, and other nasty ingredients so you can be sure that you're getting high-quality bread every time.
Franz Bakery Breads
Franz Bakery Breads are one of the best vegan bread brands on the market. Using only a select few ingredients, these bread are free from dairy, eggs, and any artificial preservatives or additives, making them perfect for vegans who want to maintain their lifestyle while enjoying delicious bread products.
Happy Campers Gluten Free Vegan Breads
If you're looking for a vegan bread brand that is also gluten-free, Happy Campers Gluten-Free Vegan Breads is a perfect choice! This delicious bread piece is made with all-natural ingredients, including almond flour and psyllium husk powder for an extra dose of nutrition.
The bread also comes in various natural flavors, including classic wheat bread, seeded multigrain sourdough, and cinnamon raisin swirl. It's also low-glycemic and has no added sugar.
Hovis Breads
Hovis Breads is a great vegan bread option for those looking to reduce their intake of animal products. This brand is known for making high-quality bread with 100% plant-based ingredients that are rich in dietary fiber and low in fat.
Hovis also offers various natural flavors, from multigrain to wholemeal and sunflower seed, allowing you to create delicious vegan recipes anytime.
Plus, Hovis bread can be found in most major grocery stores, making them more accessible than ever before.
Mestemacher Gluten-Free Breads
Mestemacher Gluten-Free Breads is one of the most popular vegan bread brands on the market today. Their gluten-free bread is made from 100% natural wholemeal flour and contains no added sugars or preservatives.
The bread is high in fiber, completely plant-based, and suitable for vegetarians, vegans, and those who need to follow a gluten-free diet.
Little Northern Bakehouse
Little Northern Bakehouse is one of the best vegan bread brands on the market today. They offer a wide range of delicious and nutritious bread that are free from dairy, eggs, and honey – making them 100% vegan.
Not only are their products delicious, but they're also all-natural. Little Northern Bakehouse only uses wholesome and natural ingredients to create its delicious plant-based bread.
The company also prides itself on being sustainable as well, using renewable energy sources in its production processes.
Kingsmill Bakery
If you're looking for vegan bread brands, then look no further than Kingsmill Bakery. They offer a wide selection of delicious vegan-friendly bread, including their signature, sliced Seeded Plant Powered Bread, Wholemeal & Wheatgrain Oaty Bread, and Kingsmill Softity White Bloomer.
All of their vegan bread is made from plant-powered ingredients such as oats, wheat, pumpkin, and sunflower seeds, and are 100% animal-free and cholesterol-free.
Each loaf is also high in fiber and rich in flavors like whole grain flour and natural honey to make them ideal for any meal occasion.
Manna Organics
Manna Organics is one of the leading vegan bread brands on the market. Their bread is handmade with love and care, and they're all gluten-free, non-GMO, and 100% vegan. They are also made without preservatives, dairy, additives, or artificial ingredients.
In addition to their delicious bread, Manna Organics also offers granola bars that are perfect for on-the-go snacking. Their unique flavor combinations taste amazing and provide a healthy alternative to other snacks on the market.
O'Doughs Breads
O'Doughs Breads is one of the leading vegan bread brands in the market. Their main product line includes a variety of unique, delicious, healthful options for any lifestyle.
Whether you're vegan, gluten-free, or simply looking for an alternative to store-bought bread, O'Doughs Breads have something that will fit your dietary needs.
From their signature grainless and high-fiber loaves to their artisan sourdough and multigrain sandwich thins, they have something for everyone!
What to Look For
Flour Base
If you're looking for the best ingredients to make delicious homemade bread, you can't go wrong with flour. Flour is the gluten-containing base of all bread and it's important that you use a high-quality product – like those from King Arthur Flour – when baking.
The difference between lower-cost flours and those of King Arthur Flour is apparent when you see, feel and taste the finished goods;
King Arthur Flour is milled from hard wheat varying in color depending on its origin, while cheaper flours are typically milled from soft wheat which can produce baked goods that lack flavor, texture, and structure.
Sprouted Grains
Sprouted grains are a healthier alternative to regular grains because they have a higher nutritional content. Sprouting grains not only increases their nutritional value but also decreases their cooking time, making them much easier to prepare.
Fresh grains will have an earthy smell and won't be discolored or soggy. Additionally, check the packaging for a "best if used by" date and make sure it hasn't expired.
Finally, try to buy organic sprouted grain whenever possible as non-organic products may contain pesticides or other chemical residues that you don't want in your diet.
Simple Ingredients
When it comes to choosing the best products for your needs, there is one key factor that you should look for – simplicity. No matter what product you are in the market for, opting for ones with simple ingredients is always a smart option.
Simple ingredients are better for your body and easier on your wallet as well. When you know exactly what you're putting in or on your body, you can make an educated decision about whether a product is right for you or not.
Simple ingredients mean fewer chemicals and less hassle overall.
Hey'all I'm Amy, a born foodie and diagnosed with celiac disease 7 years ago. I refused to cave into tasteless, boring gulten free food and create my own!
On my blog you'll find info & cool facts along with recipes, all on gluten free foods!