Are Saltine Crackers Gluten-free?
When it comes to Saltine crackers, most of them contain flour made from wheat, which means they're not gluten-free. If you're following a gluten-free diet and looking for a safe cracker to enjoy as a snack or topping for your soup, then you'll have to look for certified gluten-free options instead of regular saltines.
If you're searching for gluten-free saltines or soda crackers at the store, then look out for terms such as "table crackers" or "soda crackers."
Be sure to check for the certified gluten-free label on the package and read the ingredients list carefully in case there are any hidden sources of gluten.
With these tips in mind, anyone with gluten sensitivity should be able to find suitable saltine or soda cracker options that fit into their lifestyle!
What Exactly Are Saltine Crackers?
Saltine crackers, also known as soda crackers, are a type of cracker that has become very popular due to their thin and square shape and their neutral flavor. They're easy to digest and make for an ideal snack or appetizer for any occasion.
But what exactly are saltine crackers? They consist of flour, salt, and vegetable oil. The dough is rolled out into thin sheets, cut into small squares, then baked in the oven until they become crispy.
Depending on the brand, some may contain sugar or shortening as well. For gluten-free bread options, make sure you check the ingredients list before buying in order to avoid any gluten-containing additives.
What Are The Ingredients In Saltine Crackers?
Saltine crackers are a popular snack and may be found with various ingredients. Premium Saltine Crackers have been made with the same recipe for decades and are made up of a handful of key ingredients.
These include unbleached enriched flour, which consists of reduced iron, riboflavin (vitamin B2), folic acid, niacin, wheat flour, and thiamine mononitrate (vitamin B1). salt, malted barley flour, palm oil, Canola oil, and sea salt are also added to the mix. To bring it all together baking soda and yeast are essential elements in making Saltines.
These simple ingredients come together to create an enjoyable crispy cracker that's full of flavor and perfectly salted. Premium Saltines provide a quick snack or companion to soups and salads when you're feeling puckish!
Gluten-Free Saltine Cracker Brands
Finding gluten-free Saltine Crackers can be a challenge, as most crackers come with some sort of wheat flour. Thankfully, there are some brands that have gluten-free saltine crackers that make it possible to enjoy them without the worry of getting sick.
These companies offer table crackers and light snacks which are perfect substitutes for saltines in a variety of cooking recipes or snacking situations. All three brands have their version of delicious gluten-free homemade crackers and snacks.
Absolutely Gluten-Free Crackers
If you're looking for an absolutely gluten-free cracker that's like a saltine, then these grain-free flatbread crackers are a perfect choice.
They are thin, crispy, and light like your favorite saltines, yet made with all-natural ingredients including natural vinegar, salt, egg yolks, palm oil, tapioca starch, potato starch, honey, potato flakes, and water.
Glutino Gluten-Free Table Crackers
Have you been searching for a delicious and gluten-free saltine cracker? Look no further than Glutino's Gluten-Free Table Crackers. They are the perfect snack or soup toppers! Despite being certified gluten-free and non-GMO crackers, they are deliciously thin and crispy just like traditional saltine crackers.
These crackers contain only natural, wholegrain-based ingredients such as sugar, corn starch, palm oil, cellulose gum, sea salt, and soy flour to name a few. You don't have to worry about dairy or any other allergen, so everyone can enjoy these wonderful crackers.
Schar Gluten-Free Table Crackers
Schar Gluten-free Table Crackers are the perfect alternative for all of those who are looking to avoid gluten but still want to enjoy a traditional saltine cracker.
Schar's offers a distinctive blend of seasonings made from a variety of non-GMO corn starch, sunflower oil, and palm fat for an unbeatable taste.
What Are Some Brands Of Gluten-Free Crackers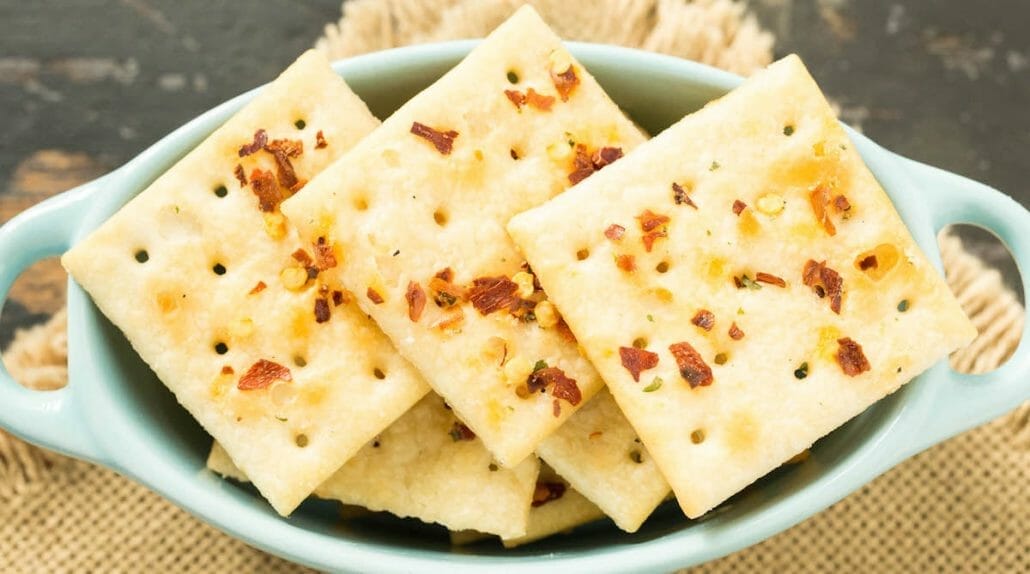 Going gluten-free brand doesn't mean you have to give up on your favorite crackers. There are plenty of brands that now produce delicious and tasty crackers that are meant for those with gluten intolerance or sensitivity.
Absolutely Gluten Free
Absolutely Gluten Free crackers offer a delicious and gluten-free snack. These all-natural crackers are certified by the Gluten-Free Certification Organization (GFCO) which means they meet the stringent standards of less than 10ppm, extremely low levels that make them safe to consume for anyone with a gluten sensitivity.
Back to Nature
Back to Nature Foods is one of the leading brands in gluten-free crackers. With three flavors, their rice thin crackers are certified gluten-free, with less than 10 ppm (GF-10).
Known for producing quality, safe food products for people who need to avoid wheat, these rice thins are processed on shared equipment that does not contain milk, tree nuts, and soy.
Crunchmaster
When it comes to gluten-free crackers, Crunchmaster is at the top of the list. All of their crackers are made from a variety of seeds and grains including pure, non-GMO California-grown rice.
So if you're looking for a delicious snack that won't disrupt your diet then look no further than Crunchmaster's line-up of gluten-free crackers!
Edward & Sons Trading Company
Edward & Sons Trading Company is a leader in perfect gluten-free crackers. Their Brown Rice Snaps—round rice crackers packaged in clear plastic—are available for purchase at most supermarkets, and come in organic as well as conventional varieties.
Flavor choices are cheddar, sesame, unsalted sesame, vegetable, toasted onion, onion garlic, and plain. People looking for gluten-free alternatives no longer have to wander the grocery aisles trying to find something that fits the bill
Ener-G
Ener-G is a leading manufacturer of gluten-free crackers and other allergy-friendly foods. All of their products are certified free of gluten, which means they contain fewer than 5 ppm of gluten (GF-5).
They produce different types of crackers in savory flavors, flax, and even cinnamon which make for great snacks or appetizers.
Glutino
Glutino is a great option for those looking for delicious gluten-free crackers. They offer seven different types of crackers – Cheddar, Sea Salt, Original, Vegetable, Rosemary & Olive Oil, and Multigrain – perfect for pairing with your favorite gluten-free dishes or enjoying on their own as a snack.
Plus, all of Glutino's products are certified by the Gluten-Free Certification Organization and tested to ensure they contain fewer than 10 ppm (GF-10). So you can be sure that you're getting truly gluten-free products when you go with Glutino.
Foods Alive
Foods Alive is a great go-to for anyone looking for gluten-free crackers. Not only do they make their products certified gluten-free, but also non-GMO, kosher, vegan, and dairy-free! Plus, they craft these items in a dedicated gluten-free facility that you can trust works to keep all of your food safe and free of gluten.
Mary's Gone Crackers
Mary's Gone Crackers is the perfect choice for those who are looking for a gluten-free cracker. Not only are they Kosher, organic, and vegan certified, but they are also certified gluten-free by the GFCO and non-GMO verified.
Whether you are gluten intolerant or just want to try something new, Mary's Gone Crackers is definitely worth checking out!
Natural Nectar
If you are in search of a gluten-free cracker to enjoy, then look no further than Natural Nectar's Crackle bred. These delicious morsels come in three distinct flavors: Original, Multigrain, and Sun-Dried Tomato & Oregano.
No matter which one you choose, each is certified by the Gluten-Free Certification Organization and contains only 10 parts per million or less of gluten.
Hey'all I'm Amy, a born foodie and diagnosed with celiac disease 7 years ago. I refused to cave into tasteless, boring gulten free food and create my own!
On my blog you'll find info & cool facts along with recipes, all on gluten free foods!