Does Tylenol Have Gluten In? – Our Guide
When you start a gluten free diet, whether, for preference or medical reasons, you'll start to find that gluten is in nearly everything, even in some medications! But what about tylenol, is it gluten free?
Tylenol is typically considered to be gluten free and has been tested to see if they contain gluten, however, there are some versions of this medication which might contain gluten such as their Tylenol Rapid Release which does not have a gluten free label.
Down below in our guide, we will discuss why some medication has gluten, a list of Tylenol products which have been tested against gluten, other brands of medication which are gluten free and some tips for identifying which medications are and are not gluten free.
Why Do Some Medications Have Gluten? 
Depending on your chosen medication, most pills contain ingredients such as; protectants, binders, lubricators, bulking agents, active components and absorbents which is what allows the pills to dissolve in your digestive tract. 
Gluten content is unlikely to be found in the ingredient components of the medication, but, if detectable levels come from somewhere, this might be due to starch content in the pills. 
Unfortunately, it's not an easy job to see if medication has gluten ingredients, especially if the pill is under the generic name, so it's always best to check with your doctor. 
We've listed some common gluten products which can be found in general medication below.
Pregelatinized modified starch when no source.
Modified starch when no source.
Pregelatinized starch when no source.
Dextrates when no source.
Dextrin * if the source is corn or potato it's okay.
Dextrimaltose barley malt.
Caramel coloring barley malt.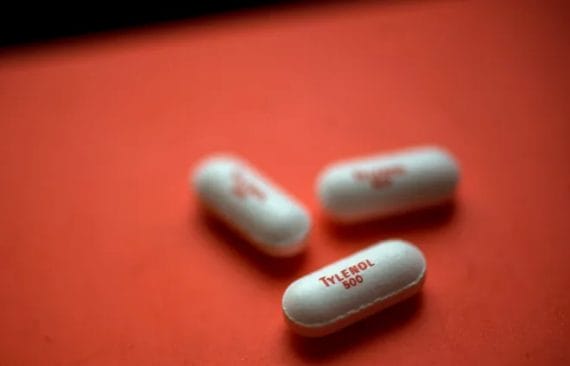 Which Tylenol Products Are Gluten Free?
As we mentioned above, most Tylenol products are gluten free, but they do have some gluten-containing products to be aware of too. Tylenol is made from acetaminophen products and is typically used to treat mild pain like headaches. 
We've listed some gluten free pain reliever products of this brand below.
Children's Tylenol Meltaways Bubblegum Burst
Children's Tylenol Suspension Grape
Extra Strength Tylenol Tablets
Children's Tylenol Meltaways Grape Punch
Children's Tylenol Suspension Bubblegum
Children's Tylenol Suspension Cherry Blast
Children's Tylenol Meltaways Wacky Watermelon
Tylenol Cold Day Non Drowsy Caplet
Children's Tylenol Suspension Strawberry
Children's Tylenol Flavor Packets Bubblegum
Children's Tylenol Flavor Packets Apple
Children's Tylenol Flavor Packets Strawberry
Extra Strength Tylenol Geltabs
Extra Strength Tylenol Gelcaps
Children's Tylenol Flavor Packets Chocolate
Extra Strength Tylenol Caplets
Infant's Tylenol Drops Plus Cold
Infant's Tylenol Drops Cherry
Infant's Tylenol Drops Grape
Tylenol Sinus Day Caplets
Jr. Tylenol Meltaways Grape Punch
Regular Strength Tylenol Tablets
Tylenol Arthritis Pain Relief Caplets
Tylenol 8 Hour Caplets
Tylenol 8 Hour Geltabs
Tylenol Allergy Sinus Caplets
Tylenol Sinus Severe Congestion
Jr. Tylenol Meltaways Bubblegum Burst
Tylenol Cold Severe Congestion Caplets
Tylenol Severe Cold & Flu Liquid
Tylenol PM Caplets
Other Brands Of Gluten Free Medication 
As we mentioned above, figuring out what is and isn't gluten free on the product label of your medication can be difficult, we've listed some other brands of pharmaceutical products which are gluten free to help you out below.
Advil – This ibuprofen-containing pain reliever unfortunately might have gluten-containing ingredients, there Advil Liqui-Gels and Advil Migraine could potentially contain wheat, which also raises questions about the rest of their products which could have cross contamination. 
Walgreens – Walgreens do stock ibuprofen and acetaminophen in the generic drug products form which is classed as gluten free, but not all of their medications are gluten free, always check the label.
St Joseph – This maker of Tylenol has had two gluten free products previously but is now owned by another brand so might not be gluten free anymore.
Aleve – Aleve is made from naproxen sodium and is said by its manufacturer to be gluten free although it could potentially have cross contamination.
Tips For Identifying Gluten In Medication 
Figuring out whether branded or generic medication has gluten is not always easy, so to help you out, we've listed some of the best tips for identifying gluten in medication below. 
Read the label well – Lots of medications have the same active ingredients but depending on the brand there will be additional inactive ingredients such as starches, these might be from corn which is fine, but if they are from wheat there is gluten.
Ask the manufacturer – Till now, medicine labelling is not regulated the same way that food labelling is, for the best clarity it might be a good idea to contact the manufacturer directly to ask if the product has gluten.
Ask your doctor – Asking your doctor if a certain medication has gluten-containing ingredients is also a good idea to be on the safe side, they are experienced with most forms and brands of drugs.
Double check online – Some online sites such as pill boxes can help you to figure out if pain medicines have gluten in them, do your research to be on the safer side.
Frequently Asked Questions About Tylenol & Gluten 
What supplements should people with celiac disease take? 
Trying to avoid gluten and stay as healthy as you can with your diet as someone with celiac disease is important, we've listed some important supplements to be adding to your diet such as; Calcium, vitamin D, B complex, zinc and magnesium. 
Are cold & sinus caplets gluten free? 
Most cold and sinus medications are gluten free for people with coughs, however, we suggest always double-checking the label just in case.
What are some common gluten ingredients found in medication?
Some common ingredients could be wheat derivative, modified starch from wheat and dextrin.
Last Words 
To conclude, Tylenol is mostly gluten free, although some of their medications can have gluten or gluten traces such as their Tylenol Rapid Release. 
So as you can be on the safe side when taking medication, always cross check the label for any gluten products such as starch and wheat as we listed in our guide above and do your research before taking the drug.