Are Welch's Fruit Snacks Vegan?
The answer is unfortunately no. Welch's Fruit Snacks are not vegan as they contain gelatin, usually coming from beef or pork sources. Additionally, these delicious fruit snacks may also contain refined sugar that has been processed using bone char. This means that if you're a strict vegan, then you'll want to avoid these tasty treats.
If you love gummy bears or other fruit-flavored snacks but don't want to break your vegan lifestyle commitments, then there are still plenty of excellent alternatives out there.
Lily's Gummy Bears Sweet Fruity Friends and SmartSweets Fruit Gummy Bears both offer great vegan options, while the Better Bears Variety Pack offers a range of natural and artificial flavors that are sure to tantalize your taste buds.
So even if Welch's Fruit Snacks aren't quite for you, there are still plenty of tasty and ethical snack options for vegans out there.
Non-Vegan Ingredients In Welch's Fruit Snacks
Welch's Fruit Snacks may be vegan-friendly, but that doesn't mean they don't have a problematic ingredient list. The biggest meat-based ingredient in Welch's Fruit Snacks is gelatin.
It's commonly derived from animal sources like pigs, and it can also come from ligaments, bones, tendons, and boiling skin. While Welch's has never said where their gelatin comes from, there is a chance it could be of animal origin.
Other animal ingredients in Welch's Fruit Snacks include artificial colors, which can often be harvested from insects or tested on animals before reaching stores; sugar, which may be filtered through something called bone charring (which requires the charred bones of cattle).
Nutrition Information
Let's take a closer look at the nutrition information of Welch's fruit snacks to determine whether they are vegan or not. These delicious treats come in a wide variety of flavors and their nutritional information is quite similar across all varieties.
Welch's Mixed Fruit Snacks
Welch's Mixed Fruit Snacks are the perfect way to satisfy your sweet tooth while still enjoying healthy snacks. Made with real fruit purée, sugar, gelatin, corn syrup, modified cornstarch, and more, these delicious and nutritious treats are sure to become a hit.
Each pouch contains 10g of carbohydrates (4% DV), 45 calories, 10mg sodium, and 6g of sugar (10% DV), as well as vitamins A, C, and E. So you can feel good about snacking.
Unfortunately for vegans, these popular fruit snacks do contain some problematic ingredients such as sugar, gelatin, and artificial colors. That said if you're looking for a vegan-friendly snack that still gives you great taste with plenty of nutrition benefits Welch's Mixed Fruit Snacks is still worth trying!
Welch's Superfruit Snacks
Welch's Superfruit snacks are a delicious way to get real fruit into the diets of kids and adults alike. With added direct fruit juice, these snacks provide added vitamin content plus a more popular fruit snack flavor than usual in these types of snacks. Plus, parents can feel good knowing their kids don't have to eat overly sugary snacks.
The common ingredients list includes modified cornstarch, citric acid lactic acid, turmeric, coconut oil, carnauba wax, alpha-tocopherol acetate, vitamin A palmitate, vegetable juice, annatto, gelatin, fruit purée, corn syrup, ascorbic acid, sugar, fruit, sodium citrate, and natural flavors.
Each pouch contains 230 mcg of vitamin A (25% DV), 1 g of protein, 8 mg of vitamin E (25% DV), 20 mg of sodium, 23 mg of vitamin C (25% DV), 70 calories, 17 g carbohydrates, 10 g sugar.
Welch's Reduced Sugar Berries N' Cherries Snacks
Welch's Reduced Sugar Berries N' Cherries Snacks is the perfect choice for parents who want to limit their child's sugar intake. This fruit snack still provides essential vitamins and nutrients but has less sugar than other Welch's Fruit Snacks.
The major ingredients in this snack include fruit purées with pear, chicory root extract, lactic acid, citric acid, strawberry, modified cornstarch, blackberry, and cherry as well as corn syrup, peach, ascorbic acid, raspberry, sugar, and gelatin. There is also natural and artificial flavoring along with alpha-tocopherol acetate, and vitamin A palmitate which provides an extra boost of healthy nutrients.
Every single pouch of these snacks has 17g carbohydrates (6% DV), 3 g fiber (11% DV), 7 g sugar (10% DV), 1 g protein, and 60 calories per serving with 5 mg sodium. You will also get 23 mg of Vitamin C (25 % DV) and 230 mcg of Vitamin A (25% DV ). Furthermore, each pack has 8mg of Vitamin E/ 25%DV.
Healthy Vegan Alternatives
The following is the healthy vegan-friendly list of alternatives:
SmartSweets Fruit Gummy Bears
The SmartSweets Fruit Gummy Bears are a great vegan and healthier alternative to the traditional Welch's fruit snacks. These fruity treats are full of all-natural flavors, Allulose, malic acid, monk fruit extract, non-GMO isomalto-oligosaccharides, citric acid, carnauba wax, coconut oil, Soluble tapioca fiber, gelatin, and fruit and vegetable juice as their organic ingredients which add a delicious taste to them.
On top of that, they have an impressive nutrition facts label with 9g of fiber- providing 32% daily value (DV) and 110 calories per bag. Plus they only have 36g of carbohydrates and 4g of sugar per bag which is 13% DV. All in all these tasty gummies offer both flavor and nutrition.
Lily's Gummy Bears Sweet Fruity Friends
Lily's Gummy Bears make the perfect sweet and fruity friends! Parents can feel great about giving their kids a snack that is relatively healthy, as each serving of these gummy bears contains less than one gram of sugar.
Nutrition-wise, Lily's Gummy Bears offer 105 mg of sodium (or 5% Daily Value), 42g of carbohydrates (or 15% Daily Value), 70 calories per 51g serving, and 25g of fiber (or 88% Daily Value). All of this with virtually no sugar! So don't wait any longer and invite Lily's Gummy Bears to be your sweet and fruity friends today.
Better Bears Variety Pack
Better Bears Variety Pack is the perfect choice for adults and kids alike who love tasty treats with a healthy twist. The variety pack offers low-sugar gummy bears in several flavors and it's gluten-free, keto-friendly, and plant-based. Plus, this snack is packed with fiber, providing you with up to 118% of your daily value.
It contains Fruit and vegetable juice, Malic acid, Coconut oil, Isomalto-oligosaccharide, Natural flavors, Stevia leaf extract, Citric acid, Sodium citrate, Carnauba wax, Modified potato starch, and Pectin.
This means that one bag of Better Bears has 50 calories per serving with 33g of dietary fiber. On top of that though it only contains 1 gram of sugar which makes it an incredibly healthy treat no matter what diet you prefer.
Are Welch's Fruit Snacks Good For You?
It has been heavily debated as to whether or not Welch's Fruit Snacks are good for you. While there was a lawsuit concerning the packaging of Welch's Fruit Snacks and their alleged lack of honesty regarding its ingredients, it was ruled in favor of Welch's despite attempts to revive the lawsuit.
We can't be certain just how much fruit is in the fruit puree listed on the ingredients, many argue that they're misleading. Nonetheless, they do contain added vitamins which make them slightly healthier than other snacks on the market.
Are Welch's Fruit Snacks Vegetarian?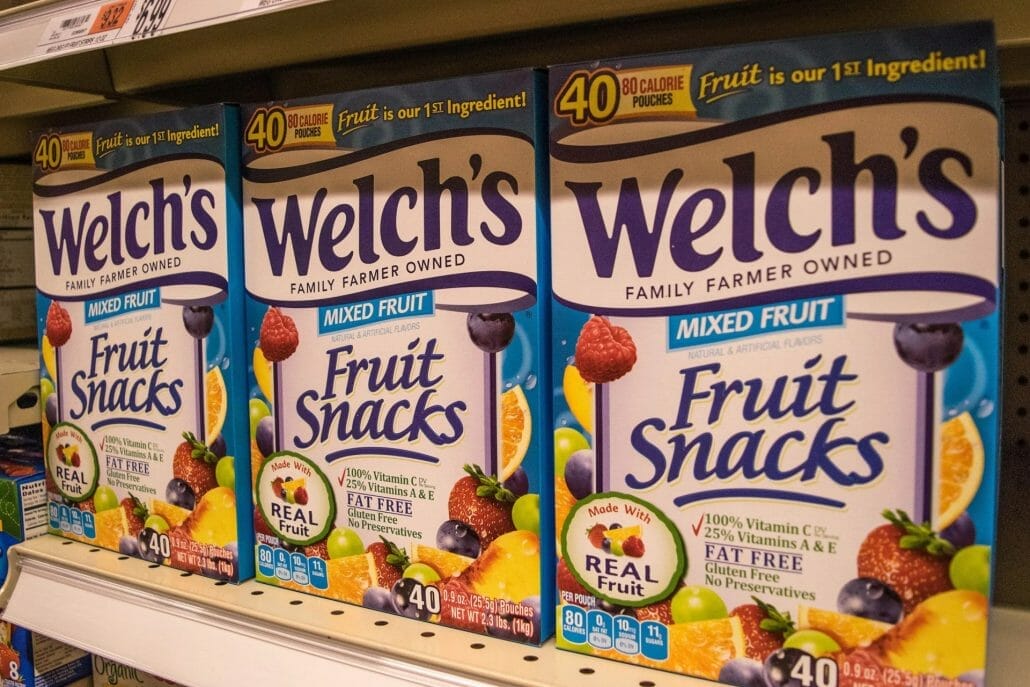 Unfortunately, Welch's Fruit Snacks are not vegetarian. This is because one of the ingredients in these snack packs is gelatin, which is derived from animals through boiling a variety of tissues and bones.
Despite the fruit puree and other vegetarian-friendly ingredients found in Welch's Fruit Snacks, it doesn't make them suitable for a vegetarian diet. If you are looking for snacks that are suitable for vegetarians, we suggest searching elsewhere.
Is Welch's Fruit Snacks Contain Gluten?
Testing has confirmed that Welch's Fruit Snacks are free from gluten, and the product is labeled as gluten-free on its packaging.
All of the flavors we have tried so far have not contained gluten, and that includes the new ones. But if you happen upon a new flavor, it is best to check the labels just in case.
Hey'all I'm Amy, a born foodie and diagnosed with celiac disease 7 years ago. I refused to cave into tasteless, boring gulten free food and create my own!
On my blog you'll find info & cool facts along with recipes, all on gluten free foods!