Are Sprinkles Vegan?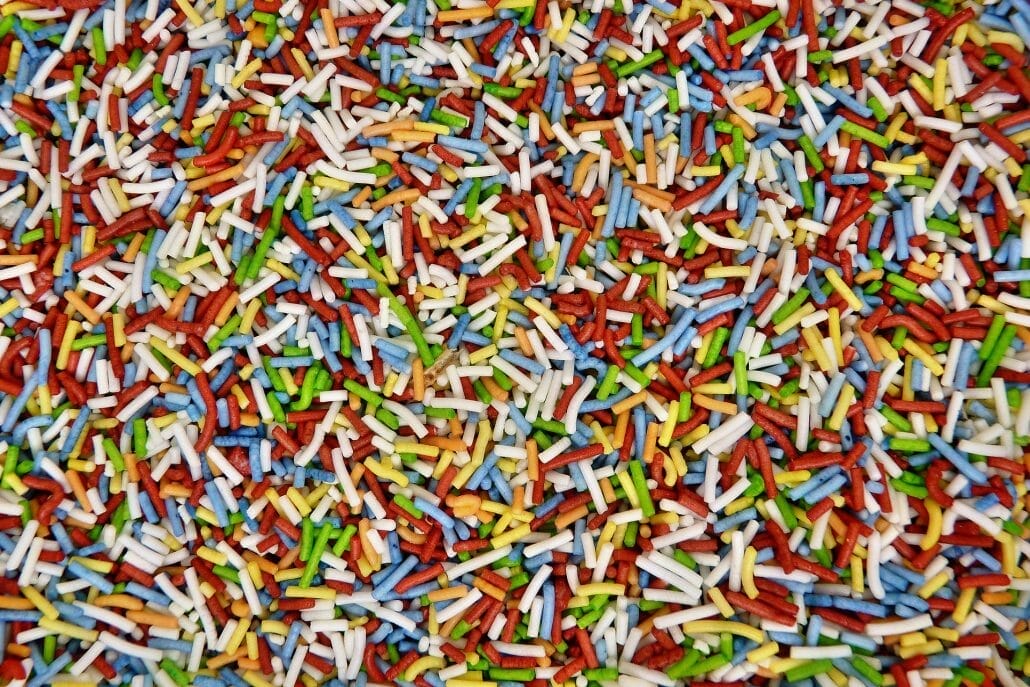 The long and short of it is that most brands are not vegan, however, there are some vegan-friendly options out there. It's important to read the ingredient label carefully when shopping for sprinkles to be sure about their contents.
Generally, ingredients like white sugar, oil, cornstarch, or artificial coloring will often be labeled alongside animal-based derivatives like whey and shellac which should be avoided if one is looking for a vegan product.
What Are The Ingredients Used In Sprinkles?
Sprinkles are a staple topping for cakes, cookies, and cupcakes, and in typical store-bought varieties, they are made up of a variety of ingredients.
The main ingredient is usually corn syrup, organic cane sugar, or glucose syrup while other common ingredients include vegetable oil, coconut oil, or soybean oil to give it a thicker texture. Other traditional ingredients include vanilla extract, carnauba wax, and confectioner's glaze to preserve its shape and color.
To give its sweet taste natural flavors are used like soy lecithin. Starch such as tapioca starch or cornstarch may also be added as well as corn syrup and sea salt. Depending on what type of non-vegan sprinkles you've got, cocoa powder can also be included for chocolate variations.
Are All Sprinkles Vegan-Friendly?
Many people wonder whether all sprinkles are vegan-friendly or not. While it's true that making sprinkles require minimal ingredients, what may seem like a simple treat may actually contain ingredients that come from animals. Therefore, most sprinkles are not considered vegan-friendly.
In order to be sure if a certain brand of sprinkles is vegan-friendly, it would be best to avoid consumption until you have read the packaging for an accurate list of all the ingredients and their sources.
Questionable Ingredients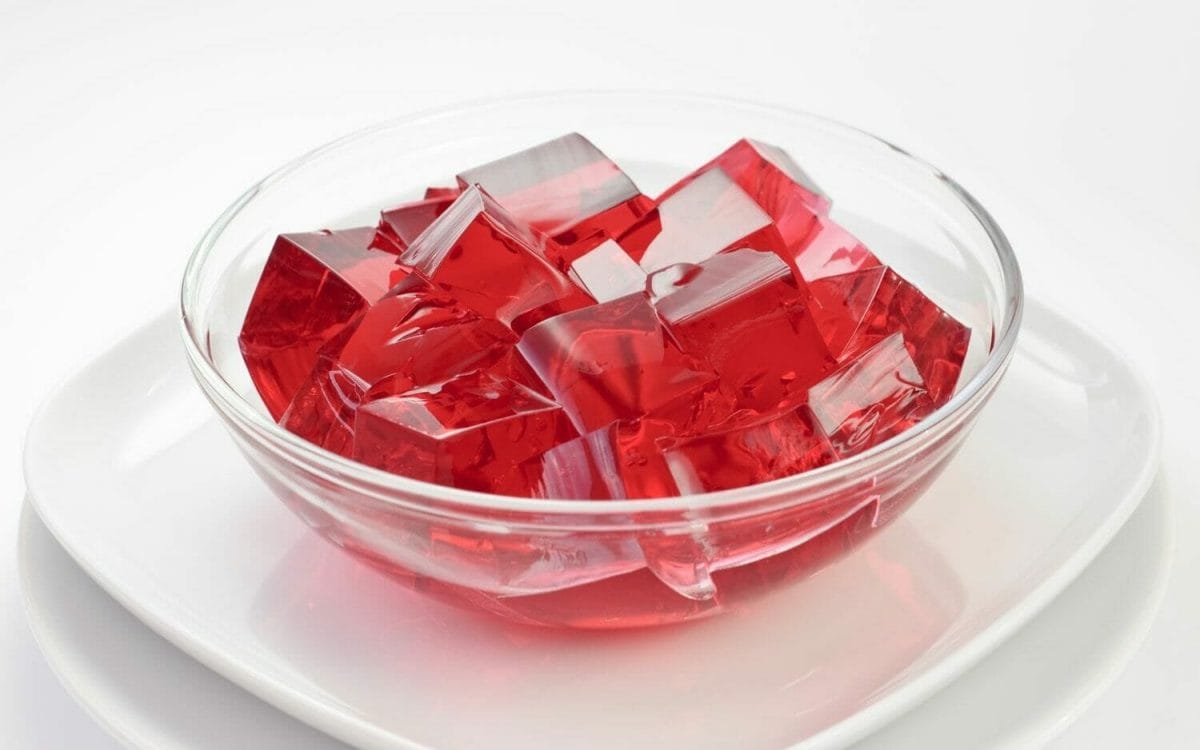 These are the ingredients you should check for when purchasing sprinkles:
Confectioner's Glaze
The confectioner's glaze is a common ingredient used in many sprinkles. It's responsible for the sprinkle's shiny appearance and helps extend their shelf-life. What may be lesser known is that confectioner's glaze, also known as resinous glaze, shellac, natural glaze, pharmaceutical glaze, confectioner's resin, candy glaze, or sometimes even beetle juice is a type of shellac derived from the female lac insect.
This insect-derived product isn't exclusively meant for sprinkles. It can also shine wood and furniture! That said if you want vegan-friendly sprinkles make sure to check labels for this ingredient as it commonly appears in candy products (such as sprinkles).
Gelatin
Gelatin is an animal protein ingredient that can often be found in Sprinkles. This product is typically created by boiling different parts of animals, such as connective tissues and skin. Gelatin not only adds structure to baked goods but also helps retain moisture.
This means your treats stay fresh longer and have a nice, chewy texture! Unfortunately, this ingredient isn't suitable for vegans or vegetarians since it's derived from animal sources.
Red Food Coloring
When it comes to sprinkles, you may want to take a closer look at the ingredient list for any of the following: E120, natural red 4, carmine lake, carminic acid, carmine, cochineal extract, natural red dye, crimson lake, or cochineal. All these ingredients get their striking red color from crushed bugs.
If you'd rather avoid that kind of ingredient in your baking cupboard, opt for vegan-friendly alternatives such as beetroot powder or vegetable extracts instead.
Don't be afraid to experiment and find a good alternative that'll work just as well in your recipes and help you create beautiful and unique colored decorations or dishes!
Bees Wax
If you're looking for sprinkles with natural insect-derived ingredients, Bees Wax is a great option. It's derived directly from hives, so it's an animal-based product.
Some may shy away from using this type of wax because it's not vegan-friendly, but if you're looking for a sprinkle with a more natural and authentic touch, then beeswax might be perfect for you.
Sprinkles Brands That Are Vegan-Friendly
Here are some popular vegan-friendly brands of sprinkles:
Let's Do Organic Confetti Sprinkelz
Let's Do Organic Confetti Sprinkelz is a perfect choice for vegan-friendly sprinkles. They're not only certified vegan, but their colors come from plant-based sources and they are free from gluten and organic as well.
What's even more amazing about this brand is that Palm oil has never been used in their products. That means you know exactly what your sprinkles are made of and can be sure that all the ingredients are clean and safe.
Color Kitchen
Color Kitchen is the answer for vegans who want to enjoy the sweetness of cake-mate sprinkles. This brand offers two types of vegan-friendly options: rainbow sprinkles and nonpareils.
All of the colors used for these products are completely plant-based, so you can be sure that no animals were harmed in the making of them.
Plus, Color Kitchen takes great care in carefully sourcing its ingredients. Their rainbow sprinkles are made with sustainable palm oil and their nonpareil sprinkles contain absolutely no oils whatsoever. So if you're looking for the perfect topping for your vegan desserts, then Color Kitchen has you covered!
Sweetapolita
For those looking for vegan-friendly sprinkles, Sweetapolita is the perfect brand. This Canadian company specializes in a container of sprinkles and they offer an impressive variety of vegan products.
Best of all, their ingredients are clearly stated on their website, so you can check if there is any palm oil used before making a purchase.
365 Everyday Value
365 Everyday Value is a great brand to look for if you're looking for vegan-friendly sprinkles. They make three types of vegan sprinkles that are sure to appeal to everyone: rainbow, white nonpareils, and even chocolate.
Watkins
Watkins is one of the best vegan-friendly sprinkle brands on the market. All their colorful sprinkles are colored using natural ingredients, like spirulina and turmeric, instead of synthetic dye. But that's not all!
Their chocolate sprinkles also contain palm oil while their rainbow sprinkles don't. This ensures that no matter what type of sprinkle you choose, it won't contain any animal-based products or cause any harm to our environment.
Supernatural
For vegan-friendly sprinkles, look no further than Supernatural. These all-vegan images are brightly colored with plant-based colors and spices, making them a great option for topping cupcakes, cakes, ice cream, and other sweet treats.
Baking Time Club
If you're a vegan looking for delicious commercially produced sprinkles, then you've got to check out Baking Time Club. This company was founded by a vegan with the goal of providing scrumptious vegan-friendly treats.
Their range of ethical sprinkles is made without the use of animal-based ingredients and palm oil, making them perfect for any vegan diet.
Kate's Safe & Sweet
When it comes to vegan-friendly sprinkles, you can't go wrong with Kate's Safe & Sweet. Their products are 100% vegan, including their delicious sprinkles which are naturally colored and flavored with vegetable dyes.
Fancy Sprinkles
Fancy Sprinkle is a great option for those looking for vegan-friendly products in sprinkles. Although the company focuses mainly on non-vegan products, they offer an edible vegan glitter line that is sure to add something special to your baking and decorating needs.
Dr. Oetker
Dr. Oetker is a well-known brand that is beloved around the world for creating delightful vegan-friendly sprinkles. They offer two types of special vegan rich sprinkles, the Unicorn Confetti Sprinkles and Professional Colored Sugar Strands, both available exclusively in the UK.
Hey'all I'm Amy, a born foodie and diagnosed with celiac disease 7 years ago. I refused to cave into tasteless, boring gulten free food and create my own!
On my blog you'll find info & cool facts along with recipes, all on gluten free foods!